NO SNOW?
NO WORRIES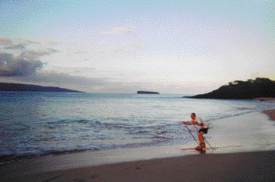 DO IT IN THE SAND!
By Jess Crandall





Snow was hard to find last winter, especially in the first half of the season. One had to become creative with training methods. I had resorted to striding on a 2-km stretch of a trail that still had snow cover and skating on a 300-meter loop in one of the hay fields at my house in rural Drummond, Wis.

After that snow disappeared, I skied on a fun little shaded 400-meter loop that was kept operational by hauling snow from nearby snow banks.

I wanted more though, so I dug deeper. I am sure that many skiers can remember seeing an article about Bill Koch skiing on the sand beaches of Hawaii. There were some cool pictures of him looking very fit and skating along with some surf in the background. I saw the article and the pictures and thought that it would be great to try skiing on sand.

My chance came last winter when I visited some friends on the Hawaiian island of Maui. I planned do some early-season skiing, then take a break at the end of December. I thought I'd stay fit by skiing on a beach. The first part of the plan didn't work out so well. As my departure for Maui drew nearer, I became more and more disgusted with the mild weather the Midwest endured last winter.

I didn't know much about sand skiing, so I decided to look on the Internet for more about Bill Koch's experience. The website, www.sandskiing.com, contains information about skiable beaches and offers other tips. After the lack of snow in November and December, I was excited to do any sort of skiing that didnít involve pavement. I decided to email the people at sandskiing.com to ask where to ski on Maui and if there was any chance of renting or borrowing equipment. To my surprise, I got a message back from Bill Koch himself. I grew up in the Cable Area Bill Koch Ski League and have skied at Telemark on the Bill Koch trail and others since before I can remember. I was gratified to get a response from the most well known American cross country skier

.

He told me the name of a beach to try, but said it wasn't likely I'd find rental skis on Maui. Probably similar to trying to rent a surf board at Telemark.

In fact, you can rent anything from a Dodge Viper to beach chairs on Maui, but finding winter sports equipment is a bit of a challenge. So I did what any rational skier should do if the snow is thin; I wrapped up my skis and poles and packed my boots and checked them onto the plane to Maui.

In Maui, I was the only person in the open air baggage claim area to have skis come down the chute, but people were so intent on finding their bags that I got only a few funny looks. The newly heightened security was not a problem. I arrived at about 6 p.m., and it was starting to get dark so I had to wait until the next day to go to the beach and strap on my boards. In a note to me, Koch suggested that I try to get on the beach as early as possible to get the best surf and avoid crowds. A skier on the beach would be a novelty, people still would want run in and out of the water without being hit by a ski pole, and I didn't want to be dodging swimmers on my first attempt at skiing on sand.

I got up with the dawn the next morning and drove to Makena State Park. Big Beach at Makena is the largest undeveloped white sand beach on Maui. It is about 1 km long and made up of very fine, light colored sand. I walked down to the beach carrying my skis, boots and poles and changed from sandals to my Pilot skating boots. I stepped into the binding of one of my skis and slid the ski on the dry sand to see what it felt like. It was surprisingly slippery soI was pretty pumped to see what would happen once I got down onto the wet sand where the waves were washing up. I put on the other ski and slipped into my poles It was a strange feeling to be on a beach, looking at the Pacific Ocean and wearing skis and poles. It was about 70 degrees and the sun was just starting to appear in the morning ski.

I pushed off toward the surf and the wet sand that would serve as my ski trail.

The dry and damp sand didn't allow for much glide so I walked down to the area that was being wet by the surf. I started to skate along on the sand. It was surprisingly snow-like. I stayed near surf as it receded from the beach, skiing along on the sand that was covered by a thin layer of water. As waves break and run back to the ocean, a thin film of water is left on top of the sand. That is where you want to be for the best sand skiing experience. It felt like I was really skiing. Occasionally awave would recede more slowly than expected and my boots would get covered with water. At first that bothered me because I had the strange idea that I wouldn't be getting wet. That was a foolish. My boots quickly filled up with water and there was nothing I could do but enjoy the fact that I was indeed skiing at a site normally reserved for snorkeling and sunbathing. I was also a little worried about what the sand and saltwater would do to my skis and boots but it was a little late to change anything. If anything, the bases of my skis looked better than when I started. Sand tended to bind up my Solomon Profil bindings, but as long as I rinsed and dried them, I figured I would be all right.

Skating down the beach, I experimented with different techniques. I was able to V1 pretty effectively, but found thatV2 was the best technique because I needed the power to keep myself moving along. The glide was similar to what you would find in very wet snow, but with good technique you could get some pretty good glide. It wasn't sticky at all and every now and then I would catch some sand at just the right point and move nicely.

Sand skiing is an amazing workout. Since the glide isn't what you would expect on snow or roller skis, you really have to focus on technique and balance. As when skiing on snow, I could feel myself going fastest when I was ableto commit all of my weight to the gliding ski. In addition to needing good technique to move well on the sand, it tooka lot of power to maintain momentum.

On the first morning I skied for about 45 minutes. In that time, I covered only about 4 km, but I was exhausted. I was ready for a big breakfast. It was difficult to ski continuously. First of all, it is really hard work. Even though the beach is flat, it feels like you are skiing up hill all the time. That makes for a good workout, but you lose the relaxation time that you get from just tucking down a gentle descent on a snowy ski trail. The other difficulty is that you have to time your advances to avoid dry sand or being pushed over by an advancing or receding wave. Once I got the timing down and had a feel for what the sand should look like for the fastest skiing, I was able to move along quickly and enjoy the experience.

Since my return from Hawaii, quite a few people have asked me about sand skiing around the Great Lakes. There are many places around Lake Superior and Lake Michigan that have long stretches of beach sand to try, but differences in the sand and wave action may mean Great Lakes beaches aren't suitable for skiing. One reason that some Hawaiian beaches are so good for skiing is their fine-grained sand. The sand around the Great Lakes is more coarse generally won't provide the same film of water that sits up on the Hawaiian sand.

I would recommend sand skiing to anyone who is planning a trip to Hawaii. The website, www.sandskiing.com recommends a couple of other beaches on other islands that are good for skiing. Sand skiing is a wonderful way to enjoy the ocean while getting a workout that is as tough as anything I have ever done. When the snow melts, just pack up your skis and head for the beach.