Resort Poll Shows Clear Favorites in 2002



By ROGER LOHR




We're all missionaries to some extent. If we like a product, say, or a resort, we want others to know about it, and to share our enjoyment.

This year, Cross Country Skier, Alpina Cross Country Ski Boots and Madshus Cross Country Skis joined to create a Readers Resort Poll that allowed cross country skiers to recognize their favorite places for Nordic skiing. While not a scientific poll, this "best cross country ski area" award program does allow skiers to talk about why their favorite resorts are favorites, and should be useful to skiers and area operators who care about quality service and facilities.

Skiers rated how their favorite cross country ski areas performed in eight categories, including trail quality and grooming, scenery, food quality, staff friendliness and service, the ski lodge facility and family issues. There is a great range of cross country ski areas in North America, but skiers were asked to make their judgements without giving weight to whether the area is an inn, a ranch, a day area, a destination resort, or a recreation park area. Ballots were tallied, and results averaged to give us ratings. The survey included 587 ballots covering 225 ski places located in 41 North American states and provinces.

BEST AREAS SELECTED BY CROSS COUNTRY SKIERS:
The winners of the 2002 Cross Country Skier Readers Resort Poll presented by Alpina Cross Country Ski Boots and Madshus Cross Country Skis are (drum roll,please):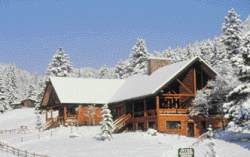 Overall Best Area:
Lone Mountain Ranch in Big Sky, MT.
Best in New England:
Trapp Family Lodge, Stowe, VT.
Best in the Mid-Atlantic:
Lapland Lake, Northville, NY
Best in the Midwest:
Maplelag Cross Country Ski Resort, Callaway, MN
Best in the West:
Royal Gorge Ski Resort, Soda Springs, Calif.
Skiers were asked to apply a one-to-ten scale (with ten being the highest rating) to their favorite area's individual characteristics. The judgments that skiers used for each area incorporated many of the issues summarized below. They are the services and amenities that make a difference in whether an area is seen as a quality area by the people that ski there.
Lone Mountain Ranch, which was voted the best overall Nordic ski area, has an 80 percent guest return rate. And there are three weeks in the winter when it is 100 percent!
BEST AREA TRAILS:
Trail quality relates to the skiers' comfort on the trails, even though those skiers might be at different skiing or experience levels. Trail signs should help skiers understand where they are on at trail network. And signs should help skiers find their way back to their their starting points. The trails should provide a skiing flow so there aren't too many long uphills or sharp turns at the bottom of steep downhills. Lapland Lake in Northville, N. Y., that makes trails seem less crowded by having one-way trails. They seldom seem crowded. Jim Richards of Maplelag in Calloway, Minn., said, Feedback from the majority of our skiers let us know that they preferred double-tracked trails over single tracks. And we had overwhelmingly negative opinions about allowing dogs on the trails, too.
Some of the best Nordic ski areas are just blessed with great terrain for cross country skiing. The location of Royal Gorge in Soda Springs, Calif., is perfect for cross country skiing. The area's land offers flat, rolling and more challenging terrain. And Jane Dulaney, marketing kingpin at the area, says the area's "Sierra maritime snow" is great for the base on trails. That means that skiers usually can count on excellent conditions.
Trail grooming can make or break ski conditions. Olavi Hirvonen of Lapland Lake says, We groom every morning unless we have to wait for the snow to dry out or cool off -- and I groom the way I like to ski the trails myself.
Hirvonen gets the Lapland Lake staff out on the trails after windy periods to rake and pick up debris such as fallen limbs and pinecones.
One thing that most of the best cross country ski areas share in common is that they acquire the latest trail grooming equipment. They do not skimp when it comes to using snowcats with their grooming attachments to break up ice or powder the snow into the finest trail surfaces.
Without getting into the details of grooming machinery and techniques, the personal pride of ski area operators is key factor in trail quality. Brian Wadsworth of Lone Mountain Ranch in Big Sky, Mont. was a world-class cross country ski racer. He groomed trails for eight years at the ranch. He was selected by the operators of the Soldiers Hollow Olympic venue to groom the 2002 Olympic cross country ski competition trails. Wen he says, My goal is to be able to hold a World Cup race here any day of the winter he reveals his pride and commitment to the quality of the trails he supervises.
BEST SERVICE AND FRIENDLIEST:
You know it when an area's staff is a great one -- they seem happy to see you. In most instances, areas that have veteran employees have them because it is a great place to work. Most of those great employees do not need more customer service training. They already have the personal touch. At Lone Mountain Ranch the staff has become "the hallmark in the industry, according to Wadsworth because employees are encouraged to create life-long relationships with the guests. Most of the people that work at the best cross country ski areas do so as a lifestyle choice.
The Richards family, who own and run the Maplelag Resort in Callaway, Minn., treat their guests with genuine warmth. Guests unequivocally state in testimonials that they feel genuinely welcome at the resort. The staff often greets the guests by name. The Richards check regularly with their guests to see if anything is needed. They'll drop other chores to take care of a guest's needs. Richards feels, One of us (the Richards family) is always around to help with our guests. It's fun to be talked to and pampered by the actual owners of the resort. Many testimonials from other areas show the same regard for service.
Maplelag, it should be noted, avoids posting rules or signs saying Don't do this or that.
BEST AREA LODGES:
Cross country ski lodges can be designed to provide space, convenience and efficiency, but there are other factors important to skiers. Ann Hirvonen of Lapland Lake states, Clean is huge to us. We are cozy and convenient, but facilities such as restrooms can get pretty yucky, so we keep them in good condition throughout the day. Lapland also considers the people who bring their own lunches rather than purchasing food at the area. There is a picnic area. And there is a public shower and changing area for skiers who want to clean up before their drive home.
At Lone Mountain Ranch, historic facilities are important to the feel of the area. There also are new and updated facilities such as a dining room and some cabins, but many guests go there to enjoy the rustic original facilities. It looks like what people expect Montana to look like, and we continue to renovate with cozy features such as antique furniture and old fashioned quilts to retain our historical aspects, says Wadsworth.
Royal Gorge's Wilderness Lodge has had the same managers for years, and according to Dulaney, they are fabulous with their employees and it trickles down to the guests.
The main lodge at Maplelag is the area's group meeting place, and it might qualify as a folk art museum. Jim Richards has collected unusual items from around the world. He says, We work very hard cultivating this look to be a feast for the eyes. There are nooks and crannies where people can sit and relax, read a book, play games with the family. The lodge also houses the main dining room, hot tub, sauna, massage rooms, rental shop and gift store, and it is where the Saturday night talent show and dance takes place.
FOOD AND BEVERAGES:
Whether skiers bring a picnic lunch, stop at a trailside snack shack or enjoy a first class dining experience, the best areas usually are known for their outstanding cuisine. Good food service is a result of the area's commitment, quality chefs with pedigree culinary backgrounds, wine selection, and other details. Dulaney notes that his kitchen staff produced a cookbook which is popular with guests and is going into its third printing.
The Maplelag kitchen is run by Debbie, a chef who has been on the job much of the past 25 years. There is a window opening to the kitchen where guests can speak with Debbie and see the staff cooking the meals. Maplelag staff uses only fresh ingredients. They call it homestyle, hearty, and wholesome and it is endorsed by the guests.
QUALITY FAMILY TIME:
The best cross country ski areas are touted for their commitment to families. They cater to family needs by dealing with the kids. Many times, an area's commitment develops because the area is run as a family business. Ann Hirvonen of Lapland Lake says, We are a family and we raised our daughter here and when you raise a family at a ski center, you focus on families. So our trails have plenty of flat terrain for kids and we offer pulks (sleds that skiers use to carry small children), children's sized snowshoes, skis, boots, and ice skates.
Child-oriented instructors are a key element for families. For the kids to have a positive attitude about Nordic skiing they must have positive first experiences. Usually, successful lessons do not involve children with their parents in the same classes. Kids get comfortable with child-friendly instructors as individuals and on subsequent visits the kids commonly ask to take additional lessons so they can spend more time with those friendly instructors.
Another important way to cater to families is to offer a variety of skiing and non-skiing activities. At Lapland Lake a game played in Finland called Napa Kiikku is organized on weekends and holidays. The game involves a pole on ice with a sled that goes around in a circle. Adult lessons are conducted while the kids play the game.
Kids love a campfire by the lake, sleigh rides, or just playing on a big pile of snow. Trapp Family Lodge in Stowe, Vt. conducts many kids' classes, from swimming to puppet classes or making stuffed animals. The classes provide parents with some child-free time for going on harder ski trails or getting a massage.
Jay Richards of Maplelag commented, Seeing ourlarge family with our own kids running around, being involved, makes families feel welcome here. We try to make parents feel at ease about having their kids run around.
Maplelag's cabins and cabooses are accommodations that can handle large families, and the Richards try to help families enjoy activities together. Serving meals family style is a key element to the atmosphere. But so are the other family activities such as the dances and talent shows. Baby sitting services are available on site, too. Jay feels that one of the biggest reasons families visit is that there are many families already at Maplelag. That makes other families feel welcome.
For more information about these and other great cross country destinations, see Cross Country Skier's Nordic Center Directory in this issue.