Word Of Mouth Promotes
SKI for LIGHT
By Cara Barnes
I'm going skiing in Alaska," my friend, Michael Lucas, announced as I sat down next to him on the transit bus. Michael, a Regional Planning Coordinator for the California Department of Transportation, then told me about a cross-country skiing program for visually- and mobility-impaired adults called Ski for Light (SFL).
"So who do I call? Get me a number!" I shouted after Michael as he and his guide dog, Candy, descended the steps of the bus. A few months later I found myself boarding a plane bound for Anchorage, Alaska, having no idea what adventures lay ahead.
Each year, Ski for Light, an all-volunteer non-profit organization, hosts a weeklong international event at a different U.S. location, as well as weekend regional programs throughout the country. Visually- and mobility-impaired participants are matched with volunteer non-disabled guides to share an unforgettable cross-country skiing experience. Many return year after year and, when asked how they first learned about this unique program, most say through word of mouth.
Almost everyone had a personal story to share, beginning the moment I entered the dining room on my first evening. Anita, a skier from southern California, heard about Ski For Light from a man whose daughter attended the same pre-school as her granddaughter. Anne, a guide from Minnesota, smiled when she said she married into the organization. Greg, a first-time skier from Washington, was sponsored by his SFL Regional.
Guide Brenda Seeger's story shows how some SFL enthusiasts will take advantage of any opportunity to involve others in the organization. "I asked a local photographer to take our family picture," recalls Brenda. The photographer, longtime SFL guide Vicki Van Gelderen, told Brenda about the program during the session.
"She expediently sent an application along with the proofs of our family pictures. Both turned out great. I still have the pictures and will guide as long as I am able." "When I first moved to Seattle, I didn't know anyone who cross-country skied" says Doug Sundberg. "A woman I was dating at the time told me her roommate was involved with a blind skiing group" remembers Doug. "'What a curious thing. I wonder how that works?" he said. So, she told me about SFL and I thought, well, this might be kind of fun." Doug hasn't missed a regional event in his area since and has attended several international events. Betsy McCann of New Hampshire heard about SFL from a visually-impaired friend. "She said 'I'm just thinking about doing this really neat, exciting thing and I think you should do it with me.'" recalls Betsy. "Being the person I am, I just said 'Okay, sign me up!'" laughs Betsy. "And now I'm hooked!"
The 2002 Ski for Light will be held January 27 - February 3 in Granby, Colorado. Skiers and Guides from across the U.S. and around the world will participate in six days of skiing along with a host of evening activities. As an all-volunteer organization, meeting the demand for Guides always proves challenging. This year is no exception. To find out more about being a Guide, contact Brenda Seeger at 507-274-5502 or brenda@sfl.org. Visually-impaired Skiers may contact Donna Permar at 919-302-2319 or donna@sfl.org, while mobility-impaired Skiers may contact Jeff Pagels at 920-494-5572 or jeff@sfl.org. SFL, a registered non-profit organization, also maintains an extensive Web site, with application forms, at www.sfl.org.
Proud participants in Ski for Light.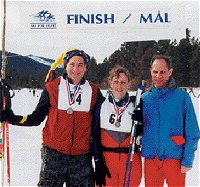 Experience Ski for Light Close to Home: Attend a Regional Program! If you're interested in seeing what Ski for Light is all about but you can't make it to the annual week-long event (or you just can't get enough of a good thing!), give your nearest Regional a try. Regionals are similar in structure to SFL but are shorter, generally held over a weekend. Regionals are being held on various dates January through March (many Regional programs are also active year-round) and include:
Black Hills Regional Ski for Light
January 20 - 24, 2002
Deer Mountain, Deadwood, SD
Contact: John Gould
Telephone: 605-341-3626
P.O. Box 3707
Rapid City, SD 57709


Colorado Ski for Light
February 22 - 24, 2002
Snow Mountain Ranch, Granby, CO
Contact: Scott Bertrand
Telephone: 303-986-6714
Email: bertrand@denveronline.net


Michigan Ski For Light
January 18 - 20, 2002
North Higgins State Park, Roscommon, MI
Cost: $100 per person
Web site: http://sites.netscape.net/ellickso
Contact: Jim Ellickson
Telephone: 989-224-8288
Email: ellickson@voyager.net


Montana Ski for Light
March 13 - 17, 2002
West Yellowstone, MT
Contact: Ed Durbin
Telephone: 406-538-7151
Email: tedurbin@mcn.net


New England Regional Ski for Light
March 1 – 3, 2002, Gorham, NH
P.O.Box 234
Foxboro, MA 02035-0234
Voice mail: 508-660-9270
Web site: http://www.nersfl.org
Email: info@nersfl.org
Contact: Claire Morrissette
Email: clairejm@netzero.net


Northeast Pennsylvania Regional Ski for Light
February 3 - 10, 2002
Land of the Vikings, Sherman, PA
Contact: Bjorg M. Dunlop
Telephone: 518-731-8741
Email: bjorgmd@aol.com


Ohio Winter Sports Retreat
Sponsored by ACB of Ohio
January 18 - 21, 2002
Punderson State Park, Newbury, OH
Web site: http://www.acbohio.org/
Contact: Leah Noble
Telephone: 606-442-5218
Email: leah.noble@fuse.net


Seattle (Puget Sound) Ski for Light
January 12, 26; February 9, 23; March 9, 23, 2002
Contact: Maida Pojtinger
Telephone: 253-631-7904
Email: rmpoj@aol.com


Sierra Regional Ski For Light
All trips hosted at Tahoe Donner Cross Country, Truckee, CA
March 9 - 11, 2002
Cost (double occupancy): $155 with skis; $180 if you need skis
Contact: Julie Lisenby
P. O. Box 276371
Sacramento, CA 95827-6371
Telephone: 916-362-5759
Email: julis823@pacbell.net


Wisconsin Regional Ski For Light
January 25 - 27, 2002
Wisconsin Lions Camp, Rosholt, WI
Contact: Beverly Helland
Telephone: 608-884-4955
Email: bhelland@madison.k12.wi.us


Ski for Light Canada
February 11 – 17, 2002
Red Deer, Alberta
Web site: http://mypage.direct.ca/a/aac/index.html
Contact: Annar Jacobsen
Telephone: 604-826-4559
Contact: Alice Cristofoli
Telephone: 250-368-6236
Email: aac@direct.ca


As with SFL, no prior experience with visually- or mobility-impaired people is necessary. If you're confident on skis, you can share your love of the outdoors by being a Guide.