SO YOU WANT TO LEARN
How To Ski?
By STEVE HINDMAN
One of the oldest and most tired adages in American cross-country skiing is "If you can walk, you can cross-country ski." Walking and skiing are similar, but "If you can walk, you can learn to cross-country ski" is much closer to the truth. The very similarity between the two movements makes it a challenge to discover the differences. A trained instructor will help you understand those differences and make it easier to have fun on skis.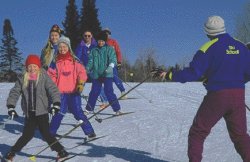 A good ski teacher knows not only what you need to do to have fun on skis, but can also help with the how. They can also help you learn to use your ski equipment in the way it was designed so that you can glide, grip and turn easier.
How to choose the right instructor/coach
The Professional Ski Instructors of America (PSIA) educates, trains and certifies ski instructors. Many skiers recognize the value of taking lessons from PSIA certified instructors, but the bottom line is that you will benefit from taking lessons from any professional instructor—regardless of who trained them, or how they are labeled or marketed.
If you are looking for a good coach, ask others about their experiences with different coaches and with different schools. Make sure you talk to someone who was seeking the same sort of experience, since getting help with the basics may take a coach with a different approach than someone who helped your friend shave five percent off their race time. Be aware, though, that the hard body racer type just might be able to give you the best beginner lesson, while the older, slower looking guy might just be the one that helps you uncover the secret to striding up and over those hills.
In the absence of local contacts, the easiest place to find a qualified instructor is at a PSIA member ski school. Member ski schools are actively involved with training their instructors, and most of their employees will have some sort of PSIA certification. Like any recommendation you receive from a person you don't personally know, use PSIA certification as simply a guide. When you take a lesson, you are hiring an employee, so spend some time conducting a job interview.
Look for a listener who is interested in your questions. A good coach wants to know why you have sought them out and what you want to accomplish. With this information, they will know if they can satisfy your desires as well as how to customize the lesson for you.
Private lessons are almost always worth the extra money, and are often the only way you can hire a specific instructor. Although the hourly rate is higher, the value of the time you spend together is greater. If you can arrange your own group with other skiers of similar skills and desires, a "group private" lesson can provide most of the advantages of private lessons at a reduced cost.
How to take a lesson
No coach ever made someone ski better and no instructor has ever taught someone how to skate or stride or turn. The best anyone can do is to help you learn by guiding you towards frequent successes with the minimum of failure. Work with your coach and take responsibility for your own learning adventure.
Ask your instructor what gear will be needed ahead of time. When the coach you have hired suggests that you would benefit from renting new or different gear, give her recommendation some serious consideration. If you do rent, try to reserve the day before, or go an hour earlier than you think you should so that you are ready and relaxed when the lesson starts.
Remember to communicate what you want in the lesson, and be specific. Be sure your instructor hears you and states your goals and desires back to you in some form. If your coach only tells you what, be sure to ask how. If you need to know why, ask more questions. If you need to see it, ask for a demo or inquire about using video. If you need to feel it, ask to move more.
Good instructors know that everyone learns in different ways, so they teach in a variety of ways. Some of their ways may work for you, while others may leave you totally in the dark. When something clicks, you'll know it, so be sure to remember it and use it often until you can claim it as your own. When it doesn't click, feel free to ask for more clarification or a different approach, or simply let it go and forget about it! Keep in mind that the goal of a good lesson is not to learn how to do a drill correctly, but to learn something useful about skiing. At the same time, a willingness to feel uncomfortable, awkward, and even confused when you try something new or different will often increase your ability to learn.
In very simple terms, people learn by watching, doing, and thinking. If you observe that you use one of these modes to the exclusion of another, you may find that you can become a better learner by breaking out of your habitual pattern. Try to think as you move, or to watch and to do, or to feel as you think. Ask your coach for help with these and other ideas on new ways to learn.
If you see, feel, or understand one or two new things during your lesson, both you and the coach are doing great. Don't worry about all the things that you missed, or that missed you. People often find that a confusing tip or a useless drill becomes valuable when remembered a day, a month, or even several seasons later. Who is PSIA?
The Professional Ski Instructors of America (PSIA) is a membership association committed to the professional development of ski instructors and is actively working to inspire a lifelong passion for the winter experience. Although some would prefer PSIA promote the individual instructor or to promote a specific teaching technique, the association prefers to focus on delivering the message that taking a lesson will increase your fun, enjoyment, and safety while on the slopes or on the trails.
The PSIA offers educational programs for coaches and instructors. Contemporary and flexible principles of teaching and learning theory prepare ski teachers to deal with everything from various-sized groups of students, to recognizing the nuances of different learning preferences. Above all, PSIA curriculum emphasizes the need to address the needs and motivations of the customer, not one way or the right way to ski.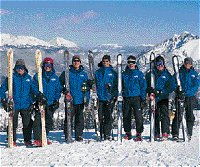 Although the PSIA offers many materials and programs, the chief advantage offered by the association is the opportunity for members to share ideas and success stories during clinics and meetings. This cross-pollination occurs at the national and regional levels. The PSIA Nordic Demo Team is one of the most visible means of sharing ideas and information about cross-country skiing across the nation. This group of seven individuals is selected from the top instructors in the country. Each fall, they come together in Colorado to make some early season turns together, to share ideas, to plan clinics and to produce educational materials. Each member then shares what they learned and experienced in the fall in Colorado with instructors and others as they ski and travel throughout the year.
Taking a ski lesson, like skiing, should be fun. The PSIA provides the tools and the opportunity for instructors to learn how to help skiers have an enjoyable experience. Individual results may vary, however, and what students do with those tools is up to them. No matter whom you end up with as an instructor or a coach, if you're not having fun, you may need to stop and ask them why.
To find out more about PSIA or the PSIA Nordic Demo Team, go to www.pisa.org and follow the appropriate links. To find a PSIA Member Ski School, or to learn more about how to become a PSIA member, click on the link to the division located in your geographical region. If you lack Internet access, call the PSIA national office at 303-987-9390.
Steve Hindman is a three-term member of the PSIA Nordic Demo Team and the western regional news and events correspondent for this magazine. Steve travels throughout the Pacific Northwest teaching track and telemark clinics, as well as training other instructors. When not on the road, he teaches alpine and telemark skiing at Stevens Pass, WA, as well as the occasional beginning snowboard lesson. Contact Steve at steve@crosscountryskier.com.