---
Teaching KIDS to Ski
---
By SALLY JONES


Kids of all ages can have a blast on cross country skis. The earlier they get started, the more likely they are to make skiing and fitness part of their lifestyle. In addition to the obvious benefits of pursuing any sport, cross country skiing is a healthy family outdoor activity. Studies confirm that being active results in an increase in productivity, self-esteem and self-confidence and a decrease in stress, risk of disease and obesity. There are lots of distractions and temptations that lure kids away from a healthy lifestyle. Regardless of age, any sport or activity has to be fun if your child is going to choose to continue participating. Kids love to play in the snow. Why not teach them to ski?
Cross country skiing can be enjoyed as a family. Tours and picnics are popular and can be fun for all ages. Even the youngest family members can come along in a pack or sled. Since young children will lose interest quickly if they are not challenged, vary the activities. Keep them interested by making snow angels or looking for animal tracks. Be sure not to tackle long tours before you know they are ready. Itís always good to have a few tricks up your sleeve such as jellybeans to coax those tired skiers up that last hill.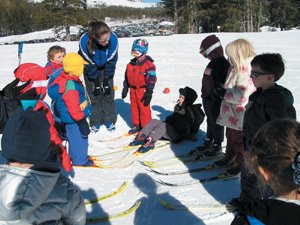 Parents of growing children understand that there comes a time when kids will want to play with friends. If kids see others enjoying themselves, they will be more likely to join in. If kids see skiing as fun, they will ask you to go out on the snow.
Most areas have organized youth ski programs children can join. Ask at your local ski area or ski club to see if they have a Bill Koch Youth Ski League or similar program. If they donít, consider starting your own. All you need is some snow, enthusiasm and a few interested families. The US Ski Team offers materials to help you set up a league including affordable insurance coverage, skill improvement awards and handbooks. Contact info@ussa.org if you are interested in starting a league. Another possibility is your childrenís school. Some school districts will work with you to create an after-school ski program
Thousands of children have learned to ski through these programs. Most youth leagues welcome children from the age of 3 or 4 and up. Since most are parent/volunteer driven you may be asked to help in some way. Even if you donít feel ready to coach there are lots of other support roles such programs need to fill. Some of the best youth coaches begin with little or no ski experience.
Regarding equipment. Make sure you buy boots, bindings and skis that fit. It can be tempting to buy larger sizes anticipating how quickly a child can grow. Boots that are too big offer no support and can cause blisters. Skis that are too long can be cumbersome and difficult to get to grip. Itís vital to give your child a positive experience every time they are on skis and poorly fitting equipment could tip the fun meter the wrong way. The best solution is to look for season-long lease programs through ski shops or ski clubs. If you have to buy check out ski swaps and bulletin boards. Other parents are facing the same challenge and there is usually a healthy resale market. One advantage of owning or leasing over renting by the day is that you have the skis to play with at home. Like everything sport or hobby, the more times you practice, the better you get.
At the Auburn Ski Club in California, younger kids are encouraged to focus skiing classic style. Skate skiing is introduced first to ten year olds. There are a couple of reasons for this. First there is the equipment issue. Once kids discover skating you will need to two sets of gear. If your child sticks with skiing there will be plenty of years you will be buying the next size in two types of skis. Second, classic skis permit children to learn to ski efficiently in the tracks as well as having the freedom to explore in the powder.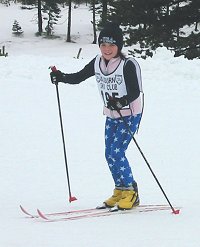 Many children enjoy competition, and again cross country skiing offers great opportunities. There is no minimum age for being able to have fun at a ski race (or maximum age for that matter!) The Auburn Ski Club hosts 50-yard "stadium scramble" races for three and four-year olds who just love the cheering, cow bell ringing crowd. As long as the courses are short and feedback is positive everyone will have fun.
Think carefully before you put your child in an older race category to experience better competition. In some case this can be beneficial, but racing long races too early can have detrimental effects as a child gets older.
Many ski clubs offer teams and training opportunities for the aspiring young racer. Middle School and High Schools can also provide the opportunity to cross country ski as a varsity sport. Participation and having fun should be the initial motivator. The social side is one of the main reasons kids participate in sport. Mastering sport skills does wonders for developing a positive self-image, confidence and self-esteem. Whether your child is at the front or back of the pack, if they have tried to be the best they can, they will learn to manage success and disappointment. Discovering the rewards of motivation, persistence, and a drive to achieve are lifelong lessons.
You can help your child enjoy sport by being a good sport parent:
Let your child know your support in his or her participation.
Understand what your child wants from the sport and provide a supportive atmosphere for achieving these goals.
Provide your child with the proper equipment and clothing appropriate to their level of participation. Encourage appropriate care and maintenance of equipment.
Encourage good sportsmanship and healthy competition.
Be sure to give positive reinforcement and build self-esteem.
Emphasize effort and skill development over "winning."
Educate yourself about the sport so you can give good advice.
Monitor your childís progress so you can encourage realistic goal setting.
Encourage, but donít pressure. KEEP IT FUN!