A decade ago, winters saw only a handful of triathlons in North America. Not affiliated with any national governing body, the events were community driven with no standard disciplines, distance or sequence. Instead, every winter motion was game: cross country skiing, skating, snowshoeing, running and mountain biking. Some included snow tubing, orienteering, paddling, downhill skiing and, yes, even swimming.
Since then, winter triathlons have steadily grown in quantity and popularity. Northern communities created sporting events reflective of their geography, community infrastructure and passion for winter. With out any grand plan, winter triathlons established themselves in the snowy regions of North America, each as unique as a snowflake.
A triathlon is a continuous series of three athletic motions. For a summer triathlon, it's swim-bike-run. But the distinction between winter triathlons and summer ones is far more meaningful than substitution with winter sports. Winter triathlons are more playful, more inclusive and more harmonious: What falls from the heavens and freezes naturally is your course. Your rhythm relies upon the offerings and obstacles of Mother Nature, rather than municipality asphalt and chlorinating programs.
No membership is required to participate. No sanctioning sports body oversees events with agendas and by-laws. Elite athletes and citizens are not separated in divisions. Seasonal community expressions, many races are part of winter festivals and recreational programs.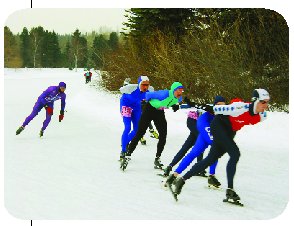 Winter triathlons attract the broadest spectrum of participants. In one winter triathlon, I competed against nationally ranked speed skaters, Birkebeiner winners, past marathon champions, recognized summer triathletes and local cardio-addict legends. In the same race, I competed against my co-worker's teenagers, my retired high school math teacher and my wife. They all grabbed at the chance to cross over into other sports, compete and have some fun with high caliber competition. Most winter triathlons also cater to teams with each member completing an individual leg. In fact, teams sometimes make up the largest group of participants as families, friends and co-workers bond in a competitive triad. For many, the team approach makes a triathlon possible.
"I was trying to convince a co-worker, who was an avid triathlete, to become involved in speed skating," said Willem Langenberg, the progenitor of the Edmonton Winter Triathlon. "He relented on the condition that we organized a winter triathlon." With such inspiration, winter triathlons saw an inauspicious beginning. Langenberg continued, "So he, I and someone from the local cross country skiing group organized the first Edmonton Winter Triathlon in 1990. It is still going strong after 14 years. A family winter festival has developed around it attracting upwards of 5,000 people."
The Ottawa Winterlude Triathlon had similar beginnings. Starting 20 years ago as a fundraiser and promotion for the Ottawa Pacers Speed Skating Club, it is now a feature event in Ottawa's Winterlude Festival. Similar sentiments echo in other long-standing winter multi-sports races in Steamboat Springs, Colorado, and Mount Taylor, New Mexico.
In the past five years, winter multi-sports are popping up from coast to coast. A winter duathlon here, a triathlon there and an adventure race somewhere else. Participation rates climb steadily for existing events. Some formats are quadrathlons and other pentathlons. In Canada, the long-standing winter triathlons in Ottawa, Winnipeg, Edmonton and Prince George have independently developed a very similar race format which includes skating, skiing and running. Each of these events is well into its second decade. But agents of change are afoot.
The International Triathlon Union (ITU) has identified North American winter as another niche to penetrate. Their desire is to transplant their "Euro" style winter triathlon into North America. The Euro format is a 7 – 9 km cross country run, 12 – 14 km mountain bike on snow and 10 – 12 km freestyle ski. Bill Murray, ITU representative for Winter Triathlons in North America, explained the origin of this Euro-style winter triathlon format as primarily driven by the passion and position of ITU Technical Director, Michael Gignoux. North American Les MacDonald, head of the ITU, also supports standardization.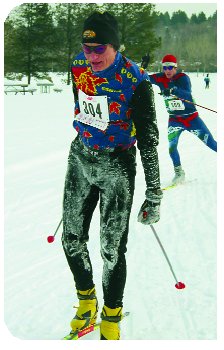 The ITU is keen on pushing this format, for in order to receive International Olympic Committee recognition, the ITU needs races on three continents. Last year, ITU World Cups were held in Europe and Canada. Next up is Japan. The final destination is the 2010 Winter Olympics in Vancouver with a prelude as a demonstration sport in Italy's 2006 Winter Olympics in Turin.
Indeed, Mount Quest Winter Triathlon and the Uller Triathlon were both approached in the 2001/2002 season to alter their format to the ITU standard. Mount Quest acquiesced recognizing and respecting the governing body's attempt to standardize the sport and maybe gain Olympic recognition. Uller Winter-Tri held firm to their format, respecting their community and tradition.
Sport globalization or community driven? Murray thinks there is room for both to growth together accordingly. Athletes seem to agree.
Nancy Burden, the 2001 women's winner of the traditional Edmonton Winter Triathlon, competed in ITU's Winter Triathlon debut in North America, a World Cup in Canmore, Alberta. After finishing 6th of 12 in the elite women's category, she stated that she really enjoyed the ITU format and would like to do more. "The course was extremely demanding...it was an interesting albeit grueling experience." Dennis Colburn, the Edmonton triathlon's 2001 men's winner, concurred with Burden's sentiments.
Although the winter triathlon did not originate with local ski clubs, it may eventually belong to the cross country skier. Nordic skiing is the one common denominator to all winter duathlons, triathlons, quadrathlons and pentathlons—some freestyle, some classic, some with a leg of each. Murray adds that "the growth of winter triathlons will be with the cross country skiers. Running and biking are already part of their typical training regime. Elite mountain bikers don't run." He further points out that the men's and women's 2002 Canadian Champions, Phil Villenneuve and Shayla Swanson, both came from strong skiing backgrounds.
Equipment developments are making the cross over from other sports easier. World class summer triathletes such as Mike Vine, Stephan Jacoboson and Jill Savage have already successfully competed in the Uller Winter Triathlon in Penticton, BC. Will the $4,000 to $7,500 prize money lure more triathletes to whiter pastures? Who knows? I do know that for winter triathlons the message is clear and for all: embrace winter, participate, compete, enjoy.
Calvin Maxfield is a freelance writer, past race director of the Edmonton Winter Triathlon, and a participant of winter multi-sport events since 1990.
Boot Meets Ice
In winter triathlons, changing from skate skis to ice skates is a tough equipment transition. But no longer. A skier with clip-on skate blades has a competitive equipment advantage. The recipe is simple but tasty: add an ice skating blade with a clip-in ski binding to a skate-ski boot. The result is a comfortable and stable ice skate with a coveted free-heel "clap" type capability known to skate skiers and favored by elite speed skaters.
If you have a skate-ski boot, then you have half of the equipment. Competent skate skiers will easily make the transition to these blades, especially within the comfort of their own ski boots. They really do give the edge to skiers in some triathlons. Check www.nordicskater.com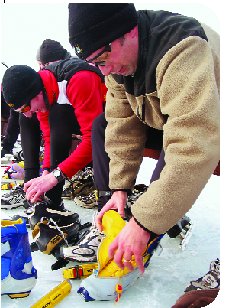 Triathlon Tips
Always talk to participants who know the course.
Speed Skating legs: DRAFT, if rules allow it. Get behind skaters of similar ability. Do your share of taking the lead. Be wary of congestion around the start and the first corner. Take a real good stretch after the skate. If you have skate-ski boots, look into purchasing/borrowing/renting clip-on blades. Don't forget to sharpen your blades before the race.
Skiing legs: Typically freestyle is faster. Check snow conditions and course preparations just to make sure. Also double check that freestyle is allowed.
Running legs: Stretch after the run. Shoe selection should be based on conditions or course conditions. Use trail runners for ITU formats and a racing flat for other courses.
Biking legs: Use a mountain bike rather than a hybrid. Check snow conditions because a cyclocross bike would provide a good advantage if there is little snow or well packed snow. Studded tires are not used that often because they are heavier and less useful for the technical demands of winter riding. Don't forget to take your helmet off after the bike leg unless you want a silly finish photo. Since you could be pushing your bike for some part of the course, use flat pedals.
Temperature: Dress lightly. Make sure you have additional clothing on hand and get into it immediately after the race. Although you might be warm, your running, biking, skiing, or snowshoeing footwear in the transition maybe cold. Place Hotshots in the shoes, or maybe leave your transition gear someplace inside.
Preparation: Get some practice running and biking on snow. Although technical, biking on snow is lots of fun.
Transitions: Stretch, keep your stuff warm and dry, drink fluids, and be courteous to others.