Fresh Snow
By RON BERGIN, PUBLISHER
A Matter Of Balance And Commitment
By now we hope you've had ample opportunity to get out and enjoy this great sport of ours. The ski season for most is well underway, perhaps more so in some parts of the country than others. Here in the Midwest we have had a staggered start to the season with a couple of teaser snowstorms in October, a huge dump just after Thanksgiving (which subsequently mostly disappeared in early December) and finally a modest amount of snow just in time for a white Christmas. We've heard good reports from snow country in the east and of course, the mountain states have had skiing in some areas since around Thanksgiving, with many at higher elevations already logging base depths of several feet.
My ski season got off to a great start the last week of November with a visit to Silver Star Mountain in British Columbia (I'll tell you more about it next issue). While at Silver Star I participated in one of their renowned training camps. It's always a humbling experience to "go back to school" and have your technique analyzed and critiqued and your deficiencies revealed on video tape. I took away a number of specific items to work on, however, and along the way drew a couple of parallels between ski technique and our mission here at Cross Country Skier. Two things in particular came to mind – balance and commitment. The balance part is obvious – but it is something almost all skiers should work on. In tandem with balance is the need for commitment, as in committing to your gliding ski in order squeeze as much distance as you can out of every motion. Both are part of efficient ski technique.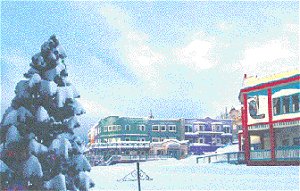 Silver Star Mountain, British Columbia
As publisher of Cross Country Skier I made a commitment to our readers to give you a magazine that we hoped you would enjoy and learn from, was visually inviting, and had something in every issue that appealed to you. We have tried to balance the content and offer as much varied subject matter as possible. My philosophy has been simply "if it has anything to do with the sport, even tangentially, it's fair game."
So far, we think we've done a pretty good job living up to our promises. We've listened to your comments and feedback and will continue to incorporate your suggestions into our ongoing "work in progress." We truly appreciate the positive and constructive feedback we've received from skiers, ski areas, and the industry. It certainly helps validate our reason for being and underscores our commitment to what we are doing. We're already looking forward to next season and are making plans to continue the evolution of the magazine. Please help us spread the word that Cross Country Skier is back and we think better than ever.
It seems odd be writing a "see you next year" message as the ski season is less than half over, but that's the nature of our publishing schedule. Be that as is may, we at Cross Country Skier wish you a great rest of the season and look forward to continuing our conversation next year.
Good skiing to you. — Ron