---
Bear Canyon/Goose Creek Tour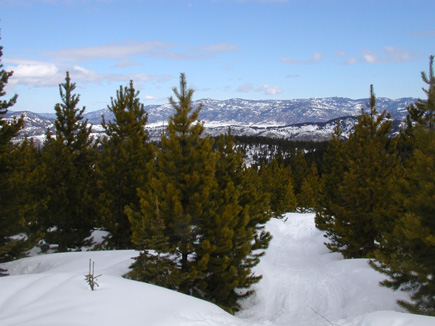 There's a wealth of light touring and backcountry skiing just out the door; most within the grasp of the average skier. The Bear Canyon Cabin, about eight miles outside of Bozeman, offers one such opportunity. From this jumping-off point one could eventually go into Yellowstone National Park without crossing a road, or even into the Wind River Mountains with only one road crossing.
This quiet idyllic setting provides access to the trails just up the road. But the best plan of attack is to arrange a shuttle to the start of the route and ski back to the cabin. After shuttling to Goose Creek, we began skiing up a road that is open to snowmobiles, though we didn't see any on our mid-week tour. The snowmachines did provide a solid base on which to ski. This route is best with a fresh snowfall over the packed base.
Steady climbing through open country with a distant view brings you to near the height of land. A spur diverts onto a less traveled trail that traverses giant Douglas Firs before opening into a series of meadows and finishing at the site of an ancient homestead complete with the remnants of an old cabin, shed and barn.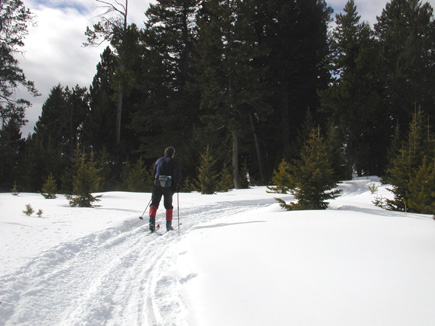 From here the trail narrows and drops, descending as it twists, rolls and meanders along a creek. Near the end you pass a large bank that slumped downhill during a rain storm, requiring a slight rerouting of the trail. Finally, the trail dumps out near an old ski hill where, depending on snow conditions, it's time to dismount and hoof it back down the road to Bear Canyon Cabin.
See many more photos of Bear Canyon in our photo gallery.
Bear Canyon Cabin
3462 Bear Canyon Rd.
Bozeman, MT 59715
866/252-7706
www.bearcanyoncabin.com