---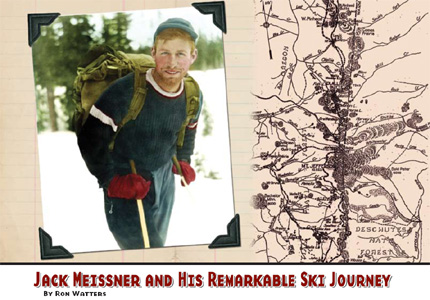 Page 2
This was no fanciful plan on Meissner's part. A practical and resourceful person, good with his hands, he had confidence that he could make a living in the mountains. His confidence was catching and together, son, mother and stepfather managed to buy a small repair shop (later to become a marina and resort) called Shelter Cove.
Shelter Cove is located on Lake Odell near the top of Willamette Pass, approximately 60 miles to the southeast of Eugene on the very crest of the Cascade Mountains. It is familiar to those who hike the Pacific Crest Trail, since the trail runs near the pass and Odell Lake.
During the summer, Meissner and his family ran the repair shop, but during the long winters he sought whatever work he could find: "Anything to make money," he said. The strapping 185-pound Meissner did work for the railroad, helped with snow surveys, repaired vehicles, and kept the snow off of nearby homes.
The winter of 1945-46, he started cross country skiing, but not as a recreational activity, at least not at first. Rather, he skied because it was transportation. Shelter Cove was snowbound in the winter and it was two miles to the plowed Willamette Highway. Meissner obtained a pair of surplus army skis and used them to travel back and forth from the highway, ferrying food and supplies. It wasn't too long before skiing became a natural way of getting around.
To help supplement the family's winter income, he started a trap line. An old trapper that everyone called A.C. helped him get started. A.C. counseled him that snowshoes were the only way to get around in the winter, but Meissner quickly dispensed with the snowshoes. He found that, with skis, he could go farther and travel with less effort than with webs on his feet.
He also quickly learned the ways of the winter and how to keep himself alive in tough situations. Occasionally while on his trap lines, snow and weather conditions would conspire against him, forcing him to spend the night out. To get through the night, he would dig a snow hole. "I'd make a seat for myself, and a small shelf for candles and a door of pine bows and covered it with an army poncho," he said. Though not the most comfortable, it sheltered him from the wind and cold.
Not far away on the pass was the Willamette Ski Area and Meissner quickly became a regular. The area was only open on weekends, which fit his schedule perfectly. He could run his trap line and do other odds and ends of work during the week, then look forward to skiing for fun on Saturday and Sunday. Since he was skiing nearly every day, he became an informal instructor, helping friends and acquaintances with their snowplow and other ski techniques. He found that he had a knack for teaching.
As alpine skiing became more and more popular, eventually he was able to make a living from his teaching. Gradually he expanded his range, living and teaching at such ski areas as Bachelor Mountain, Bogus Basin, Keystone and others. In April, when the skiing began to peter out, he returned to the Cascades, shoveled the snow off the cabins at Shelter Cove and prepared for another summer season.
Meissner was a skier in the full sense of the word. He was an alpine skier, a Nordic skier and a backcountry skier. He also did a fair amount of cross country racing. Early on, he competed in a number of cross country races in Oregon and California. He did "all right" in his racing career, he told me in our interview, but "I got floorboarded when I got hooked up with those Norwegians and Swedes!"