---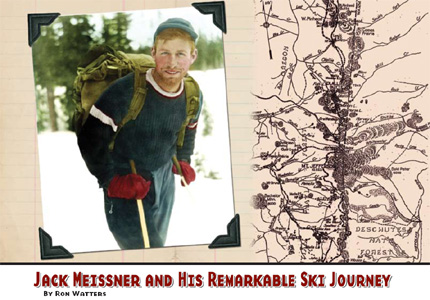 Page 3


There was no floorboarding for Jack on his 1948 Cascade Crest journey. Of all of his ski experiences, the Mt Hood to Crater Lake ski undertaking stands out as the most fascinating.
His reasons for tackling the long journey are equally fascinating. Was it the quest of adventure that attracted him? Not really, he freely admits. Was it satisfaction of doing something that no one else had ever done before? No, it wasn't that either. His motivation? Money.
Yep. I said that right. He had a friend about his same age, Stan Tonkin, who lived farther down Willamette Pass at a hot springs. Tonkin had done some impressive skiing, having climbed and skied Mt. Shasta a couple of times.
"Jack," he proposed one time while they were together, "Why don't you and I do something and make some money off it."
"That sounds pretty good," Jack replied. Meissner was always interested in ways of supplementing his income. In the late 40s, it wasn't easy scrapping enough money to get through the winter. What exactly did Tonkin have in mind?
Tonkin laid out his idea. He proposed that they ski the length of what was called in those days the Skyline Trail. First blazed in 1919 from Mt Hood to Crater Lake, the Skyline Trail had been gradually improved and was touted as an Oregon backcountry attraction. Now, half a century later, it's an even bigger attraction. Although it has been re-routed in places, the Skyline Trail has now been incorporated into the Pacific Crest Trail.
All in all, the trip would cover somewhere between 250 to 300 miles. One of the old maps of the Skyline Trail shows the mileage at 260. The mileage on the present Pacific Crest Trail maps stands at 303 miles. The exact mileage was a little hard to pin down for the two men since they would be forging a route in the winter when the trail wouldn't be visible. Nonetheless, it was clearly a long way. What Tonkin was proposing was a major expedition on skis.
Where was all of the money to come from? Tonkin figured that ski and clothing companies might sponsor them, or, at the very least, provide equipment for the journey. And since a north-to-south ski journey across Oregon was a "first," they would attract attention and make money from the resulting publicity.
In the 1940s expecting a winter trip to generate financial windfall was probably a bit on the naïve side but, nonetheless, it sounded like it had possibilities to Meissner -- and Jack embraced possibilities. He told Tonkin to count him in and began assembling his equipment.
What an assemblage it was. From the appearance of the equipment, Meissner might have been preparing to go back into the military. On the trail, he would be a walking surplus Army store: olive green mummy sleeping bag, olive-drab pup tent, green Army frame backpack and various other assorted surplus items.
In fact, Meissner's was the sort of outfit that most backcountry skiers used in those days. There was plenty of surplus military gear available then and the equipment could be had for a song. Surplus military gear continued to be popular for outdoor activities until the '60s, when it was supplanted by gear produced by upstarts that sprang into existence as interest in outdoor activities soared.
Jack's wardrobe wasn't all green and drab. There was one very conspicuous flash of color: an orange jacket provided by a clothing company by the name of White Stag. Tonkin was making good on his promise to find sponsorship.
But that was about all Tonkin was able to come up with. The jacket and a pair of pants, also provide by White Stag, were the only equipment donations obtained for the trip. Nonetheless, Meissner consoled himself in the fact that there was still the money they would make from the publicity.
Then came another setback, and this one nearly doomed the trip.