---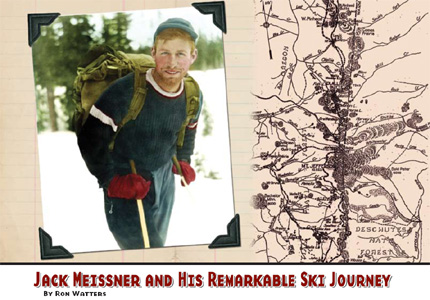 Page 4


"Jack," Tonkin said dropping a bomb, "I can't go. Slim just doesn't want me go." Slim was Tonkin's girlfriend and they were talking marriage. Slim wasn't keen on her fiancé heading off on trip from which he might not return.
That was it. No changing Tonkin's mind. Meissner thought things over. He had already invested a considerable amount of time. The project was well underway now and he didn't like leaving things half finished.
Explaining his decision 60 years later, he said in his taciturn way, "Okay. Tonkin couldn't go. So I went anyway."
His date of departure: February 14, Valentine's Day, 1948.
Catching wind of the trip, the Forest Service contacted Meissner. They were concerned, they told him. They didn't want Meissner to go alone. Eventually, Emory Woodall was called upon to join him. With a companion on board, and the Forest Service a little less edgy, the trip got underway.
Woodall didn't last long. "He was a good kid and everything," said Meissner, "but he didn't know how to take care of himself." Near Mt Jefferson, Meissner helped lead Woodall, limping with blistered feet, down to a plowed highway. Woodall hitched a ride and rode out of Meissner's life. "I never did see or hear from him again," Meissner said.
For Meissner, the journey continued. The country through which he was passing can only be described as extraordinarily scenic. The Oregon Cascades are part of one of the world's great volcanic mountain ranges. Majestic snow-capped, conical volcanoes rise up out of forested lowlands. His path stayed very close to the crest, routing around the west sides of such lovely peaks as Mt Jefferson, Three-Fingered Jack, Mt. Washington, and the Three Sisters (North, Middle and South).
Although, his general route was the Skyline Trail, he really couldn't follow it. Any sign of the trail was well under the deep Cascade snow pack. Once in while, he might see a blaze on a tree or a trail sign, but Meissner largely had to find his way by other means. "I had a map," he said. "You could see the mountains, and I'd pretty much keep myself in a line between and alongside them -- and go that way."
The prominent summits of the Cascades helped Meissner find his way, but he couldn't always depend on seeing them. The Cascade Range forms a great barrier to storm systems moving inland off the Pacific. Large amounts of precipitation fall on the west slope of the range, allowing forests to grow thick and valleys to stay moist and green. But it defrauds eastern Oregon of its share of rain, creating a high, sagebrush-covered desert.
That means the crest, where the Cascades rise to their highest, receives generous amounts of snow -- exceedingly generous amounts of snow. Jack remembers one year when 22 feet of snow fell on Willamette Pass. Crater Lake to the south, Meissner's destination, was inundated one winter season with an incredible 879 inches. That's over 70 feet of snow! As you could imagine, winter weather in the Cascades is marked by one storm after another.
In fact, when Meissner reached Mesa Creek alongside of the South Sister, he found himself in one particularly prolific storm. It started in the evening and it continued all the next day; snow and more snow pouring from the heavens. "I figured that it was two-and-half to three feet of snow out of that one storm," he recalled.
Not able to travel, he spent the day packing down snow and keeping his tent clear. He had been moving well up to this point and was frustrated by the delay. "I was getting itchy to get a-going again." Finally the snow stopped, and the next morning, he said to himself, "I'm getting out of here whether it snows again or not." It did, but that was the last of the big storms.
Jack's trip was, indeed, generating publicity, and now that Meissner was alone, the Forest Service was nervous again. On two occasions, they sent out a plane to check on him. They even dropped some extra supplies. Along with the supplies were two carrier pigeons that he could use to send out a note on his progress. The Forest Service waited and waited, but there was no sign of carrier pigeons.