---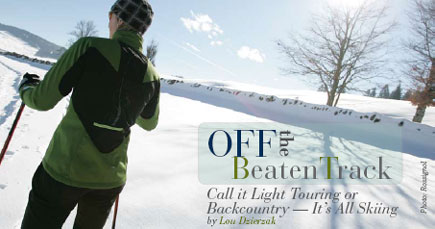 Say the words 'backcountry skiing" and most people think of 20-year old males flying down some remote mountain slope on highly technical and expensive equipment. Sure, that is a legitimate description for a segment of skiers, but there are thousands more who define backcountry skiing not as an extreme adrenal rush but a quiet way to explore the woods and see familiar summer surroundings made mystical by blankets of snow.
In Vermont, Lenore Budd is trail manager for the 300-mile Catamount Trail. Connecting at least a dozen Nordic ski centers like the Trapp Family Lodge, Mountain Top Inn and Blueberry Hill, Budd believes the Catamount offers people an easy transition from groomed trail to something a little more adventurous. "That's the way people get hooked on the backcountry. They probably start with a groomed network and then realize, 'Hey, I don't have to stay on this track. I can get off into the woods there.' That's pretty common."
The Catamount Trail Association boasts 1,800 members from Vermont, Canada and across the country. Budd explains, "We really provide a gateway into the woods in the winter. If someone is just a skate skier or racer this might not be for them but, in general, the people who do this want to explore, experience nature and be in the quiet woods and experience something new."
Backcountry ski enthusiasts exist across the snowbelt. During summer months, Grand Marais, Minn., is one of the main portals to the Boundary Waters Canoe Area. But once the snows fall, a steady stream of skiers make their way to Ted Young's Boundary Country Trekking for weekend ski adventures to yurts and lodges on or near the Banadad Trail, a 30-kilometer single track trail that winds through the edge of the BWCA. Young describes the appeal: "The Banadad is technically an easy trail. It's not real hilly or with many sharp turns. It's a very intimate trail, very narrow with the trees covered with snow. We've had a lot of beginning skiers who have completed 18 km to the first yurt on the trail."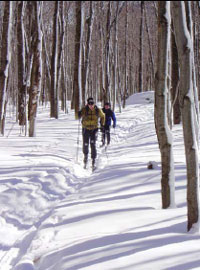 Out west, Katie Holtzman, at Freeheel & Wheel Nordic ski shop in West Yellowstone, Montana, sees both hardcore locals and curious visitors venturing into Yellowstone National Park on trails like Bighorn Pass, Fawn Pass and Specimen Creek. Hiking trails in the summer, the terrain looks completely different in the winter. "It's so vast and open. It seems unexplored so you get to have the feeling of what it might have been like the first time someone saw it," she offers.
Charlie Lozner, brand director for Karhu Sports ski division reports, "Some people who get into cross country skiing definitely have racing in mind. Others have exploration and getting away from it all in mind. They want to go hiking on skis. There's a sense of discovery that you don't get in other places. The sense of touring around and seeing what the hiking trails look like in the winter and what that stream looks like frozen and covered with a blanket of snow."
Nordic enthusiasts who have taken the time to learn, practice and hone their skills to an intermediate level or above, often feel that sense of uneasiness returning when considering an alternative form of skiing.
Holtzman offers a typical reaction. "People are a little afraid that it's going to be hard. They don't realize how easy it is now with the new technology. They just remember they had a horrible experience in their 20s with cross country skiing and then they get kind of nervous about it. When they return, people tell us they've had the best time. They don't realize how easy it is to put on a pair of touring skis and just go."
On the Catamount Trail, Budd hears similar concerns. "People either doubt their ability or their equipment. That's probably healthy since parts of the trail are remote and challenging. There's something out there for everyone. People should make sure they are prepared for what they are taking on but, after that, it's out there for them."
Perceptions, once addressed, can be overcome. Nils Larson, a telemark ski instructor, instructional film producer and consultant for Karhu, travels the country giving clinics and demonstrations on backcountry skiing. He agrees with Holtzman, "Sometimes people venture off trail with their skinny skis and it's a bit of a disaster. They get a feeling of, 'That's not where I want to go.' With the right gear it's a whole different story."
Larson sees a lot of fears disappear by the end of a Saturday morning clinic. He says, "When you get people out there you can put that [fear] to rest pretty quickly. Obviously if you are an intermediate skier and try a black diamond trail with lots of twisty downhills, it's going to be tough. That's the beauty of backcountry skiing. You can pick whatever angle you want to ski. You're not stuck to someone's trail design. It's very flexible to what you want to do."
In his experience, there's a pervasive attitude that to really go backcountry skiing you have to use heavy burly equipment. "People really underestimate the equipment and what it is capable of doing these days. I think once people start doing this, a light bulb goes off. 'Wow, I can actually do quite a bit with this equipment.' At the demos, people are always surprised at how it well it works and how much fun it is. For me, it's the most creative and interesting kind of skiing. You can be totally spontaneous and do whatever you want. You're not relegated to a trail, going up or going down. It's all just skiing," says Larson.
At events and store clinics, Larson says questions about gear dominate the conversations with people new to the idea of backcountry skiing. "A lot of questions deal with matching equipment. What kind of boots do I need? Which bindings work? Customers often focus on the ski. Quite often I see people getting a wider ski and then shortchanging themselves on the boot. But the important thing is matching the boot to the ski. If you want to ski really light, you can use a light boot with a light ski. But you can't use a light boot with a wide ski. The ski just overpowers the boot."
For more information visit
Catamount Trail Association
www.catamounttrail.org
Boundary Country Trekking
www.boundarycountry.com
Freeheel & Wheel
www.freeheelandwheel.com
Nils Larson's Free Heels Workshops
www.freeheels.com
Karhu
www.karhu.com
Karhu, and most other manufacturers, have created backcountry-specific product lines that are tailored to the different types of terrain and the skier's skill level. According to Lozner, interest is growing. "A lot of people are interested in this type of skiing. Our web site traffic at Karhu is as much on XCD [backcountry] as the tele product line. Nordic skiers still want to have a rugged touring set-up," he says.
Larson, a passionate ambassador for backcountry techniques, expects to see more people in the winter wildlands. "The more people try it and get over their biases of what works and what doesn't work, it's going to do really well. It's [backcountry skiing] underrated and undervalued. The more people get into it the more they realize they can do a lot more with this gear than what they expected."