---
The Winter's Night Sky
Page 3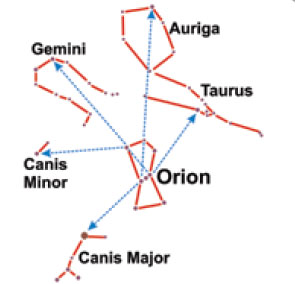 Orion is important to skiers for it heralds the beginning of winter. In the snow country of the United States and Canada, Orion is not visible in October. But in November, in the early evening hours, it rises above the eastern horizon. When we first catch of glimpse of Orion in evening, we know that winter is on its way.
By December, Orion is in mid-sky, marching nobly to the Southeast. By January, it is high in the southern sky. By March, in the waning days of winter, it is moving to the west horizon or, in Tennyson's words, "Great Orion sloping slowly to the west."
Various stories have come down to us about Orion, but he is usually described as a hunter or warrior, the son of the sea god, Poseidon. He had the ability to walk on water. In one version of his story, he was stung to death by a scorpion for his cockiness and boastfulness. Artemis, one of the daughters of Zeus, was his lover and hunting companion. After his death, she had him placed in the sky so that he sets in the west as Scorpius, Orion's slayer(and a constellation of the summer), appears in the east.
Orion is accompanied in the sky by his two loyal dogs: Canis Major (the Great Dog) and Canis Minor (the Lesser Dog). Canis Major is easy to find in January and February because it contains the brightest star of the night sky. To find it, face directly toward Orion's belt of three stars. Connect the three stars with aline and extend it toward the lower left (toward the horizon). The line points directly to Sirius.
It takes some imagination to get a dog out of the combination of stars in this area. Think of the star Sirius as an enormous diamond in the Great Dog's collar, and from there you can make out something of a short front leg, a hind leg and a tail.
You can also use Orion to find other adjacent constellations such as Taurus (the Bull) and Gemini (the Twins). For example, following the three stars of his belt to the right (upward in the sky) points to the brightest star in Taurus. You'll
see how this works and how to find other constellations by looking at the following chart.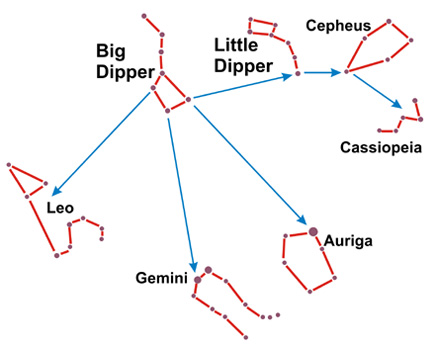 I was in a perfect location that night to observe Orion and his companion constellations. A good portion of the race course that I had been grooming went across a farmer's wheat field. It was in a rural area with only a few scattered farms and, from where Iwas situated on a rise in the middle of the field, my view was unhampered by light of any kind.