You've seen it on TV during the Olympics, but just to review, biathlon is a timed ski race composed of relatively short ski loops, generally two or three kilometers, with bouts of target shooting in-between. Shooting bouts are either prone (lying down) or standing. At each bout, the skier has five shots with which to hit five small targets 50 meters away. For every target missed, a 150-meter penalty loop must be skied.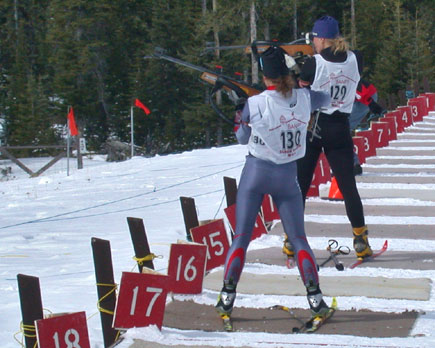 It's easy to see that five missed targets can be costly. A skier who shoots "clean" can be well ahead of a faster skier who didn't shoot so well and is spending time on the penalty loop. The challenge of learning to shoot accurately with an elevated heart rate, and thereby moving up on your competition, is what makes biathlon so much fun.
The different race formats also keep things interesting – the sprint, pursuit, mass start and others. Some, like the sprint, have only two shooting bouts. Some formats have four bouts -- two prone and two standing.
The rifle, by the way, is never loaded when on the skier's back out on the course. The loaded magazine is only inserted when the racer is on the shooting mat, with the rifle pointed safely down range.
Some might think biathlon is all about the guns. It isn't. Biathlon is a ski race with shooting stops to add an interesting, challenging element. And biathlon is growing. All over the U.S., clubs are springing up, building ranges, and hosting races.
If you're a skier and think you might like to try biathlon, most clubs will teach the basics of the sport. In most cases these clubs have .22 caliber rifles that new biathletes can use. That way you don't have to buy one just to see if you're going to like biathlon. Rifle safety, of course, is paramount and all of these organizations will require that you take a short U.S. Biathlon Association rifle safety certification class before handling a rifle or competing.