Northwest Pennsylvania's Great Outdoors
By Lynn Bosco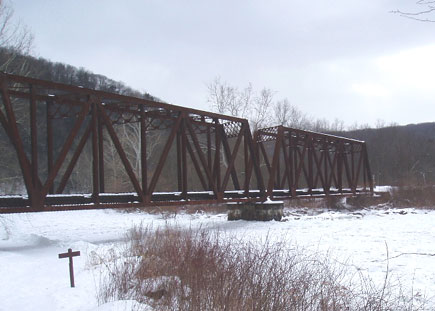 "Welcome to the Northwest Pennsylvania Great Outdoors," proclaimed the glossy orange tourist pamphlet. It certainly caught my attention. Maybe it was the bear and elk on the cover, or maybe I just can't resist places unknown.
Known as NWPGO, the area receives between 85 and 100 inches of annual snowfall (not a huge amount, but a decent amount for the Mid-Atlantic region). The Pennsylvania Department of Tourism includes this area as part of the Allegheny National Forest Region Pennsylvania Outdoors Discovery Map. The map lists 25 potential places to ski. Yep, definitely promising!
I visited NWPGO during the second week of February and the first week of March. I skied about six days, with some breaks to visit local tourist attractions. I had three goals for the trip: 1) determine whether this area should join my list of favored Mid-Atlantic ski destinations; 2) identify interesting ski areas with good quantity, quality and variety of skiing; and 3) enjoy some non-skiing activities.
Since this was a survey expedition, I visited many places (some just briefly). In total, I skied the Clearfield Grampian and Clarion/Little Toby rail-trails; Allegheny National Forest's Laurel Mill and Brush Hollow ski areas; and Oil Creek, Parker Dam, Cook Forest and S. B. Elliott State Parks. Below I've selected areas that I think will attract skiers with a variety of interests and levels of expertise.
The Allegheny National Forest
The 500,000-acre Allegheny National Forest includes eight cross country ski areas with 52 miles of skiing. I visited the two areas located near Ridgway: Laurel Mill and Brush Hollow.
Three miles west of Ridgway, the Laurel Mill Cross Country Ski Area includes 10.7 miles of looped trails. Trails are well marked, tracked and perfectly groomed with approximately 50 percent easy and 50 percent intermediate trails. I skied Elk Run, the Eli-Cook connector trail and Perseverance. The excellent, slightly rolling, packed powder trails required only a bit of climbing. The Hemlock Loop, an intermediate trail with some intermediate hills, provides scenic views of the Ridgway reservoir.
Ten miles north of Ridgway, Brush Hollow Cross Country Ski Area consists of 7.7 miles of ungroomed, easy-to-follow trails. The three loops are rated as 60 percent intermediate, 20 percent beginner and 20 percent difficult. I skied parts of the Brushy Gap and Eli Loop trails. I found some good tracks, so the skiing was fairly easy. Of course if you arrive after a storm, it may not be so easy. Additionally, the 5.6-mile Mill Creek Hiking Trail also begins here and, according to the Forest Service literature, can accommodate intermediate skiers.
Brush Hollow has quite varied scenery. As I climbed through the hardwood forest above Mill Creek, I was delighted by the sudden appearance of a towering canopy of spruce trees above the trail. The partially frozen creek below danced and sparkled like a fractured mirror. This is cross country skier nirvana!
The well-signed National Forest ski trails are marked with blue diamonds, difficulty ratings at trailheads and signs at trail intersections. Trailheads have a large map board but no paper maps. The ranger station in Marienville can provide maps.
The areas have chemical toilets and plowed parking lots, but no warming huts. Ski rentals are available at Love's Canoe Rentals in Ridgway. Mr. Love rents skis and sells outdoor supplies. He can provide directions and information about the area (printed directions in the National Forest brochure for Laurel Mill are inaccurate). Mr. Love and the Boot Jack X-Country Snow Gliders, a group of volunteers, groom the trails at Laurel Mill.