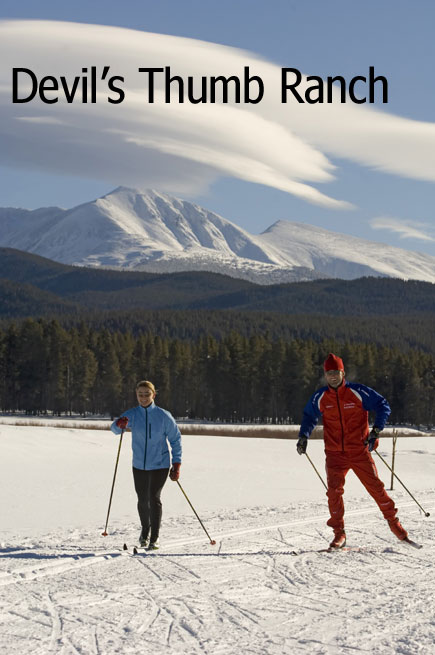 By Matt Muir
While its skiing history goes back 40 years, a visit to Devil's Thumb Ranch today bears little resemblance to even 10 years ago. The diligent owners, Suzanne and Bob Fanch, have made significant changes in the last seven years to turn the resort into a first-rate destination. The newly renovated resort lies less than two hours from Denver, just north of the downhill ski town of Winter Park, and on the broad valley skirts that pour down from the ridgeline of Colorado's Rocky Mountain continental divide. Not long ago, the entire ranch narrowly escaped the predictably depressing "golf course and condos" development fate.
The ranch's skiing history goes back to the late '60s when Dick Taylor had recently retired from his career on the U.S. Ski Team. He was teaching German at Colorado College in Colorado Springs when a colleague invited him to his family's ranch land in order to run and ski. In Taylor's words, "it was magical." Thanks to the Fanchs, Devil's Thumb is more magical than ever.
The ranch now includes a newly completed, National Parks-style main lodge constructed of locally quarried rocks and sustainable timbers. The carefully chosen decor achieves a rustic but refined feel in the elegant lodge and the 10 luxurious cabins.
The Civil War-era Broad Axe Barn, relocated to the site and painstakingly rebuilt by a master craftsman, houses the winter ski shop and summer fly shop. There is an intimate wine cellar, a full service spa with geo-thermally heated pools and a four-star restaurant.