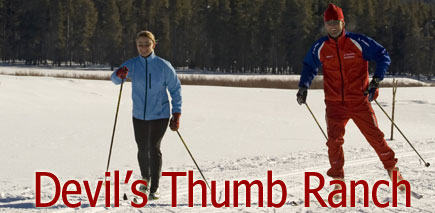 Page 2
But these amenities do not tell the full story. Look through the floor-to-ceiling windows in the chapel-like Timber House at sweeping views of the continental divide and the thumb-like rock formation for which the ranch is named. Stand on the extensive ski trails and see the never-ending work of forest management and it becomes clearer that this is not just a luxury resort. What is really going on at Devil's Thumb Ranch is the cultivation of an ethic.
There is a sense of place. Beginning with the stories of arrowheads found on the ranch grounds and the Ute legend of the naming of the Devil's Thumb, the staff and owners of seem aware that they did not find this special place first.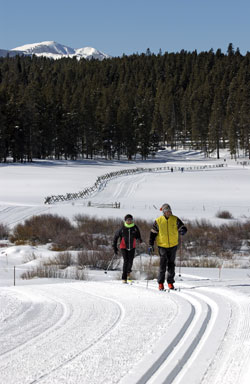 There is an impressive commitment to environmental sustainability. Installation of a costly and ranch-wide geothermal heating system controls heating costs. The water gets treated on site using a sand filtration system. The grand, central fireplace in the lodge uses an EPA-approved chimney system. Much of the building wood comes from timber felled on the ranch as part of a comprehensive Bark Beetle forest management plan (Colorado is in the midst of forest insect epidemic which is killing huge percentages of its mountain pines). The two ranch restaurants source organic foods, local when possible, and they plan to build a small, on-site greenhouse for year-round produce production.
The skiing at Devil's Thumb Ranch is simply among the best in the entire Rocky Mountain region. The trail system consists of over 100 kilometers of expertly groomed skiing for classic and skate techniques, snow-shoeing trails, huge backcountry skiing opportunities and great downhilling at nearby Winter Park and Mary Jane.
The vast mix of old and new trails provide an array of options. The Left Field and Ranch Walk trails begin near the lodge and lie in the flat valley floor, giving novices manageable terrain right out the door. Left Field and connecting trails also allow dogs on a leash or on a skijoring set-up. Nearby Coyote and Horizon trails have lights along their length for about 5 km of night skiing.
Towards the eastern edge of the system, trails like Friends and Master Blaster wind through the white trunks of hallmark Colorado Quaking Aspen tree groves, where the sunlight pierces through the open space of a deciduous forest in winter.
One favorite of locals is the Morningstar loop, located on the south end of the greater trail system. For the skier who feels froggy, take on Black 10 or Lactic Grande. The Black 10 loop is one of the older trails at Devil's Thumb but persists as a Colorado classic of 10 km of rolling, punchy hills. If froginess turns to fatigue, there are three shelters spaced out along the trail system for places to take a breather.
Skiing typically begins in November and continues without interruption through April on the valley's plentiful cold, dry snow. Blue Extra makes up a complete kick wax kit for 90 percent of the season and glide hovers at or below blue. Seated above 9,000 feet, two tricks mitigate the effects of altitude for the visitor: drinking plenty of fluids and keeping the pace steady and civil.
The trails at Devil's Thumb provide another example of the underlying ethic at the ranch. Several new trails have been skillfully constructed in order to add even more quality to the skiing experience. The approach to grooming is passionate. Over the course of several conversations with chief groomer Scott Pavlokovic, all of his responses end with a humble mention of how grooming, for him, is "really a matter of loving it." It shows in the accuracy with which the classic tracks are lifted and set down again in the corners and hills of the vast trail system.
There are some criticisms of the ranch and its new attitude. Some say the environmental actions of the ranch are not pragmatic — although they continue to use the "scratchy toilet paper" despite the comments of guests. Others have said that, with that much money, anything is possible. It is true; the Fanchs have invested large sums of capital into their vision and what they see as their legacy. Many of their investments have been in potentially risky and cutting-edge sustainable technologies without any traditionally calculated returns on investment.
As the cross country industry comes under generalized threat of, among other
things, development, it may be that the Fanchs' large scale vision of services
offers a model for economic sustainability, too. As a Devil's Thumb regular and
retired CEO once observed, "Devil's Thumb really has viability because it is
cross-serviced with so many other activities throughout the year."
Devil's Thumb Ranch is not cheap, but despite this, season pass sales to
locals have risen recently, thanks, in part, to amenities for local skiers like
the dedicated day lodge, which is the relocated and refurbished former main
lodge. Things may be fancy at Devil's Thumb, but they have not lost touch.
In the end, you would be hard pressed to find any skier or resident of the area
whose heart does not sink at hearing the story of how Devil's Thumb almost
became a condo-platted golf course. Of the 5,000 total acres associated with
Devil's Thumb, only 90 have been developed and, according to Bob Fanch, "we're about done." In fact, for all the work he has done, it may be best to give
Mr. Fanch the last word, here quoted from an April 2008 presentation, "This was not done as an economic investment. We just want to do something we
enjoy doing, leaving a legacy for our two kids and our community."
For more information: www.devilsthumbranch.com.
Matt Muir is a husband, father, and avid skier living in Boulder, Colorado.
He owns and operates Skifire, Inc. and is currently a full-time parent.