---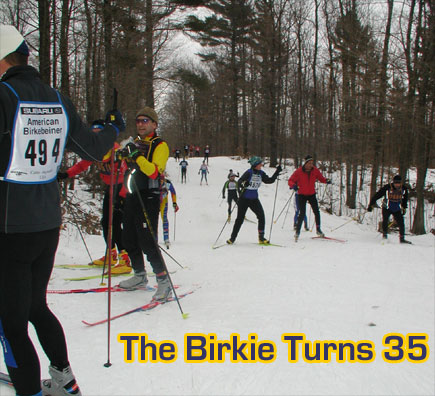 By Ron Bergin
As anniversaries go, the 35th of anything does not engender a lot of passion or excitement (except perhaps for a wedding anniversary). Who even knows what precious metal or stone is used to signify the 35th?
On February 23, 2008, the American Birkebiener will, in fact, celebrate its 35th annual running. However, there is indeed a lot of passion for this largest of cross country ski events in North America. It started in 1973 with only 53 skiers, including those who participated in its half-distance version. The Birkie, as it affectionately known, has come a long way, now annually attracting 6,500 or more skiers. Anniversaries tend to bring out the crowds, as witnessed by modern day record participation of 7,882 skiers who turned out for the 25th anniversary in 1997, an event that also saw both men's and women's course records shattered, with the first sub-two hour winning time.
Thirty-fifth anniversary not withstanding, registration numbers started slow for this year's event. It would appear that several consecutive years of iffy snow conditions and last year's conversion of the event to an "open course" tour have rendered many potential Birkie skiers a bit gun shy about committing too early. According to Shellie Milford, director of race operations, quite a few entries came in both by mail and online over the Christmas holiday period. Milford was confident numbers would ultimately catch up and be comparable to or surpass recent event levels.
Anniversaries are a time of reflection, as well as an opportunity to look at the here and now. It would be hard to engage in any discussion of the American Birkebeiner without stopping to acknowledge its creator and founder Tony Wise.
Wise was one of those larger-than-life characters whose contribution to the sport of Nordic skiing, as well as his hometown of Hayward, Wisconsin, are both lengthy and significant, even legendary – leaving a legacy of events, trails, organizations and institutions that would tire the most ambitious and enthusiastic of today's businessmen. In addition to the Birkie, notable among the Wise legacy are: Telemark Resort – the first downhill ski area/resort in the upper Midwest, the Telemark cross country ski trails in Cable, staging of the first unofficial World Cup Nordic ski race at Telemark, the founding of the Worldloppet League, Historyland in Hayward, the Lumberjack World Championships and numerous other events and initiatives that helped put the Cable-Hayward area on the map.
Wise lost Telemark Resort and the Birkie, which was at the time run as a for-profit event, in bankruptcy proceedings in 1984. In an interview during the observation of the 20th anniversary of the event in 1992, Wise still felt the pain of having his creation wrested from him. "It's like seeing a painting you created hanging on someone else's wall," he related. Wise, nonetheless, attended the closing ceremonies that year and, upon his introduction to the audience, received a rousing standing ovation. Tony, as he was simply referred to, passed on in 1995. A lover of Dixieland and traditional jazz, Wise's funeral was every bit as large in commemoration of his death as was his life, complete with a horse drawn hearse accompanied by a New Orleans style funeral band.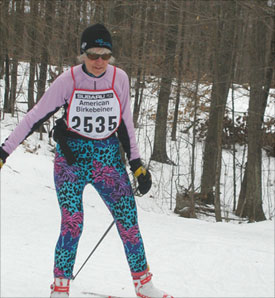 Beside the event itself, perhaps the most significant among his legacy is the American Birkebeiner Ski Trail. "The Birkie Trail is the heart and soul of the Birkie," says Marty Hall, former U.S. and Canadian national team coach, who, with Sven Wiik, designed and laid out the trail. Most would agree. The trail annually attracts skiers from across the nation to train and ski for fun.
The Birkie Trail wasn't always a Nordic superhighway. In fact, during the first few runnings of the event, it wasn't much of a trail at all. John Kotar, one of only three people to have skied all 34 Birkies, vividly remembers the first events.