---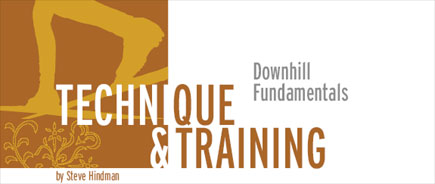 Page 2
When you can pick up either ski at will, start taking little steps as you slide by picking up one ski and then another in rapid succession. Pay attention to where and when you feel stuck and unable to pick up your feet – that's where your spine has returned to vertical (exactly upright) and your weight has shifted onto your heels. To add challenge, make slight turns as you descend by making small changes in directions each time you pick up and set down each ski. This will be easier when you aim the triangle defined by your belly button and chest (see photo 2) toward where you soon will be.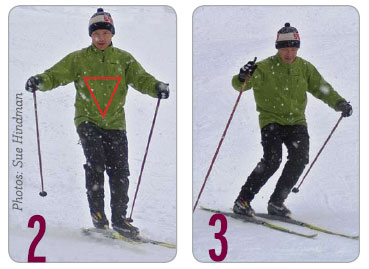 Photos 2 and 3: downhill alignment
Learning to pick up either ski at any time enables you to step or skate turn at will, but you also need to know how to "throw them sideways". This is called skidding.
Skidding involves sliding forward with your skis turned away from your overall direction of travel (photo 3). This is challenging if you have only gone where your skis point.
Get a feel for this at home by sliding across a well-waxed floor in your socks. As you slide, pivot your feet so that your toes are pointed at an angle to the direction you are sliding. If you move your eyes, head, chest and hands to align with your toes as you pivot your feet, you are likely to fall onto your side. If you keep your eyes, head, chest and hands aimed toward where you were going before you pivoted your feet, you are likely to stay on your feet. This is exactly how it works on snow.
The extreme of ski skidding is called the hockey stop. This maneuver stops you on snow just like hockey players do on ice.
To hockey stop, pivot your feet to turn your tips up the hill and your tails down the hill. Keep your eyes, head, chest, and hands locked on a reference point at the bottom of the hill as your turn your skis across the hill. Then roll your edges into the snow to slow down and stop by moving both knees across your skis and into the hill. Your first attempts may feel like learning to swim by jumping into the deep end, but this is the fastest way to discover the secrets of the skid if you're willing to fall down a few times.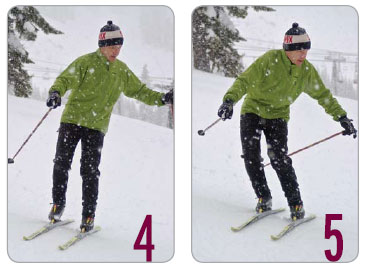 Photos 4 and 5: the hockey stop
Packed snow on a relatively steep trail or slope is the best place to practice. Keep your spine perpendicular to the slope as you pick up a little speed. Then rise out and away from the slope to help flatten your skis before you turn them across the hill (photo 4). As you settle back onto your skis and roll your knees into the slope, bend sideways at the waist to keep your spine perpendicular to the hill (photo 5). Have fun with this and see if you can pivot your skis sideways and skid to a stop without hooking off to the left or right.
If this approach is too radical, find a wide trail or slope with packed snow. Slide across in a traverse with a normal spine and pick a reference point on the side of the trail. While traversing, pivot your tips slightly uphill and your tails slightly downhill while your eyes, head, chest and hands remain aimed at your reference point.
If it seems impossible to twist your skis, your spine may be too vertical or your skis are edged too much. Move your head and torso downhill to regain your normal spine and then flatten your skis by rolling your knees over your toes. Then pivot your skis and roll them slightly onto the uphill edges to start the skid. Then roll your skis back to flat, straighten them out, and resume sliding across the slope in a traverse. Aim more toward the bottom of the hill as your comfort grows until you can start your skid with your skis pointed directly down the hill.
Skidding one way and then the other is what those fancy skate or classic skiers are doing when they whiz by you making quick parallel turns down the trail. The next time one goes by, notice that their eyes, head, chest and hands face down the hill as their skis swish back and forth. Then jump in behind them and swish your skis back and forth just like they do while focusing on their back as you descend together.
Our alpine skiing cousins learn early on that gravity is their friend. By facing the challenge of the downhill, you'll learn not to fear the fall but embrace the skid, and have that much more fun on the trails.