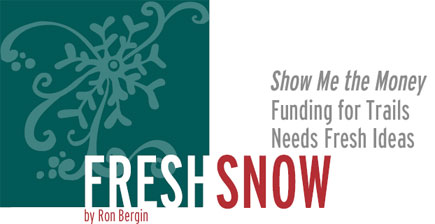 The funding of ski trails, and all non-motorized trails for that matter, is a subject of some concern to me. I write this column in hopes of stimulating some discussion, generating ideas and sharing success stories.
There are two primary financial facets of trail funding to address: development of trails – actually creating and constructing them – and maintaining and grooming them once they have been created. Both require money, but where does the money come from or, more importantly, where can it come from? What are new or different potential sources of funding?
Somewhere along the line the notion has evolved that cross country skiing on groomed trails is something that should be a free commodity.
In part the impetus for this discussion derives from what is, at least on my part, a perceived disadvantage at which ski and other non-motorized sports are forced to operate. It might be worth looking at our motorized brethren to see how their trails are funded.
Here in Wisconsin, most snowmobile trails are subsidized by a combination of registrations on the snow machines and a rebate on gas taxes. The latter is formulated via an estimate of the amount of gas used and tax paid, multiplied by the number of machines. These funds, literally hundreds of thousands of dollars, are then funneled back from the state to the counties and clubs based on the number of miles of trails to be maintained. Without these "vehicles" for funding, I'm sure snowmobiling and other motorized trail sports would find themselves in the same boat.
I am not aware of a corresponding system for non-motorized sports, since skiers are not registered. I'm not sure how registration might work, short of a state-wide license or ski pass similar to the Minnesota state trail pass. It has been suggested that fuel purchased for grooming purposes be afforded a similar rebate. But, in reality, how much funding would that generate? I would doubt enough to have a real impact.
To put this in context, one must first acknowledge that the most obvious source of funding for non-motorized trails is from those who use the trails. For commercial and even some non-profit Nordic centers it is a fairly simple business model. Customers show up, pay their trail fee and get a day of skiing on a hopefully well-designed, constructed and groomed trail. Most Nordic center operators are quick to acknowledge, however, that trail fees don't always cover all of their costs. It is necessary to augment their cash flow with ancillary programs and products, including lessons, equipment rental and sales, food and beverage and other concession sales.