---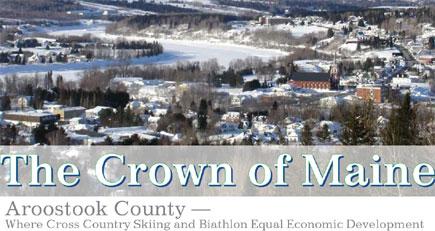 By Ron Bergin
I first learned of skiing in the Aroostook County area of northern Maine while watching the World Cup biathlon events held at Fort Kent in 2004 on the Outdoor Life Network. I reasoned that any place that had the wherewithal to pull off a World Cup biathlon event had to have its act together and was worth visiting someday. Someday came last year.
Aroostook County is the northernmost county in Maine. It's big – the size of the state of Rhode Island – and just about as northwoods as you're going to get. Occupying almost 20 percent of the surface area of the state, its size and northerly presence have earned it the nickname "The Crown of Maine." But more commonly it's just known as "the County." Like a one-named rock star, mention the County, and people will know you mean Aroostook.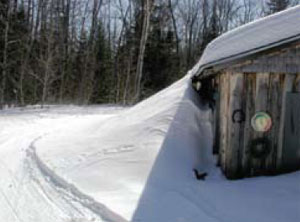 Isolated and heavily wooded, Aroostook County butts up against New Brunswick, Canada, with the St. John River forming the international boundary. From the trails at the 10th Mountain Ski Center in Fort Kent, you look over the rolling and hilly terrain across the Canadian border. I began my visit to the County here, where I started to learn about the Maine Winter Sports Center and its lofty mission to re-establish cross country skiing as a way of life in the state
of Maine.
An area with significant annual snowfall would naturally have a heritage of winter sports. In fact, the genesis of Maine's skiing history dates back to 1870 in Aroostook County. Twenty-one families from Stockholm, Sweden, were recruited to help settle northern Maine, where they found the landscape and climate comparable to their original home.
In addition to building roads, villages and new lives, these Swedish transplants also imported skiing, an integral part of their lifestyle. Skiing was not only important for transportation, hunting and work, but also recreation. Winter carnivals sprung up across the region that included everything from sprint races to jumping events to ultra-marathon races covering 180 miles over four days.
But, like much of rural America, northern Maine suffered from shifting economies and foreign competition. The local economy depended heavily on forest products, the paper industry, agriculture (primarily potato farming) and the U.S. government, in the form of Loring Air Force Base. The base closed in 1994, leading to a dramatic increase in unemployment and poverty – both among the highest in the state. Dwindling employment opportunities created a "brain drain," with a significant number of 18-35 year-olds leaving the County for greener pastures elsewhere.