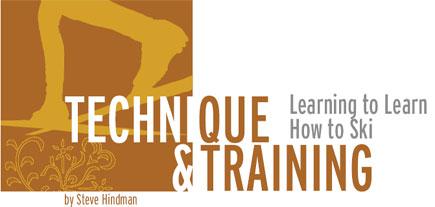 Kids figure out how to stay upright and go faster by falling down a thousand times and chasing others kids. A childlike sense of curiosity and lots of time to play on skis can do the same for adults.
If you don't want to fall down a thousand times or have the time to spend days playing on skis, find someone who knows what you need to do to reach your goals and who can help you figure how to do it. An experienced instructor or coach will save you the time and effort of trying to figure it out yourself or trying to ski like someone else.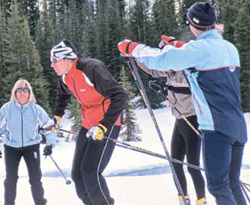 To find a good coach or instructor, start by asking others for their recommendations. In the absence of local contacts, the easiest place to find a qualified instructor is at a PSIA (Professional Ski Instructor of America) or CANSI (Canadian Association of Nordic Ski Instructors) member ski school.
Private lessons with a good instructor are worth the extra money and are often the only way to hire a specific person. Although the hourly rate is higher, the value of the time you'll spend together is greater. A 'group private' will provide many of the advantages of a private lesson, at a reduced cost, if you have a group of skiers with similar desires and abilities.
Be ready with a good job description and conduct a job interview when you find a candidate. Look for a good listener who is interested in you. They should want to know why you have sought them out and what you want to accomplish. Adults learn quicker when they're having fun. If you're not having fun, stop and ask why.
Where to Learn
Take a lesson at a groomed cross country ski area even if your goal is to ski in un-groomed areas. Groomed trails allow you to focus on developing skills and ski feel instead of packing a track or slogging through the deep stuff. If you have a choice, choose the area recommended by your instructor or the one with the best grooming and most varied terrain.
Time spent with a cross country instructor on the groomed beginner slopes of an alpine area will be worth years of trying to teach yourself advanced downhill skills on skinny skis. The groomed surface will allow you to develop rotary and edging skills and the lift will vastly increase the time you spend actually sliding downhill.
When to Learn
If you've never skied, take a lesson for your first time out. Otherwise, get your ski legs first. Once you're comfortable again, take a lesson as early in the season as possible, so you can use what you learn. Lessons help tremendously, but there is no substitute for time on skis.