---

By J.D. Downing
As is typical in the valley that is the middle year in the Winter Olympic cycle, the 2007-08 international and North American seasons offered a handful of highlight moments and plenty of emerging trends to ponder.
With no Nordic World Championships to focus on, the international scene was left with just the World Cup schedule to keep things exciting. Czech Lukas Bauer broke up the modern German monopoly of the men's overall World Cup crown, racing in a dream season. Finland's Virpi Kuitunen won her second women's overall World Cup in only slightly less dominating fashion than her 2006-07 campaign.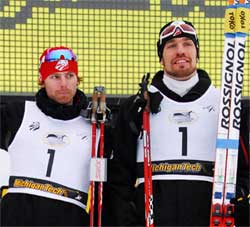 Andy Newell (left) and Torin Koos on the podium as the team sprint champs at the 2008 U.S. nationals in Houghton, MI. (Photo by Bill Fink, galleryondaline.com)
North American fans were excited to see several World Cup podium finishes by Canadian and U.S. skiers, which is arguably the first time ever that both nations are putting consistent top-three threats on the trails at the same point in time. Canada's Chandra Crawford (the defending Olympic women's sprint champion) found her mojo fully returned in 2007-08 with a couple of podium sprint finishes. U.S. speedster Kikkan Randall claimed the first-ever World Cup race win by a U.S. female at the Rybinsk, Russia, freestyle sprint. The U.S. men's speed duo — Andrew Newell and Torin Koos — continued to shine with several solid sessions as well (Newell a second place at the Lahti freestyle sprint).
Flashes of a return to form from Canadian Sara Renner and American Kris Freeman, in middle distance races during the 2007-08 season, were also encouraging signs for North American fans. Then there were the stellar North American podium efforts at the much delayed and ultimately moved World Junior and U23 Championships.
North America also had reason to be excited about a World Cup return to this side of the Atlantic with Canmore, Canada, hosting a four-slate schedule.
North American national championships went off without a hitch in 2007-08, with Houghton, Michigan, this time seeing a normal amount of snow in January for the U.S. "speed" nationals. The 2010 Olympic venue got its first big event test with the March Canadian nationals, followed by a much smaller U.S. distance nationals in Fairbanks to close the season.