Across the country ski trails have made major improvements during the off-season:

Snowflake Nordic Center; Duluth, MN: added a biathlon range and penalty loop off their 5K loop. The old stadium/starting area has been completely revamped with the addition of a soccer field. They have put in a number of non-skiing related updates, including a speed skating oval and BMX/mountain bike course, with plans for a skate park.
ABR; Ironwood, MI: The Jack Pine Trail has been extended with a new trail addition. The new segment uses part of the City of Ironwood's Norrie Park and adds another kilometer to the trail system.
Battle Creek; St. Paul, MN: A number of the curves and downhills on the Winthrop Ave. trail system have been fine tuned to scale back the level of difficulty. In addition, there is roughly 5K of new trails laid out on the west side of Battle Creek that will be groomed for special occasions.
Maplelag; Callaway, MN: Because of the unseasonably warm fall, Maplelag was able to move up the schedule on a planned 3.5K skating loop addition to their trail system. The loop was completed in late November, but will need extra snowfall to be used this winter.
Forbush Corner; Frederic, MI: After initially planning to close, Forbush has been able to revise the trail system to handle the loss of land access on some of the old trails and will indeed be open for business this winter. They've changed the Rollercoaster loop, added new Pancake and Little Coaster trails, and are working on a way to salvage the Pines loop.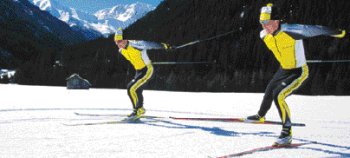 Tahoe Meadows Access
On December 1st, the Carson Ranger District announced that nearly 70% of Tahoe Meadows has been designated for non-motorized winter sports only. Because of increasing snowmobile use, cross country skiers, snowshoers and winter enthusiasts in Nevada have been loosing back country ski terrain. Motorized use in areas that had been traditionally used by cross-country skiers for decades, was driving skiers, snowshoers away. One area in particular was Tahoe Meadows, which straddles the Mount Rose Highway between Reno, Nevada and Lake Tahoe. Although 93% of the people using the area were human powered users, snowmobiles were also present.
Snowlink.com Contests
Two different contests have launched on Snowlink.com. Snow sports enthusiasts can win products including backpacks, skis, snowshoes and goggles. Snowlink is the consumer Web site of SnowSports Industries America (SIA), the national, not-for-profit trade association that represents ski, snowboard and other winter sports outdoor companies.
The first contest is accessible from a link on Snowlinki's home page. This contest will have new prizes featured every two weeks through the end of April. The prizes have been donated by more than 30 SIA members
Snowlink is also hosting a contest supporting Take Your Daughter to the Snow Week, a program that encourages the introduction of a female relative or friend to snow sports. Visitors to Snowlink can register for this contest through April 15, 2002, and be eligible to win prizes such as alpine or Nordic skis, snowboards, snowshoes, travel bags and parkas. A link to this contest is available through www.Snowlink.com.
Snowlink.com has more than 200 pages of snow sports information, including sections on getting started with skiing, snowboarding, cross country skiing and snowshoeing. It also has more than 1,000 links to the Web sites of equipment manufacturers, retailers, ski and snowboard clubs, resorts, weather services and events.
Cross Country Skiing With Your Dog
Skijoring is a Norwegian word for "ski driving." The sport originated in Scandanavia as a combination of cross country skiing and dog mushing. It's best described as skiing with a dog attached to the skier using a harness attached to a wide waist belt.
More and more nordic centers are opening a portion of their trail system for skiers with dogs. It can be difficult at first, but after some practice, dog and owner are in for a great time.
For more information contact:
New England Sled Dog Club R.R. #2 Box 262H Lyme, NH 03768 phone 603-353-4601 info@nesdc.org, www.nesdc.org
North American Skijor and Ski Pulk Association PO Box 240573 Anchorage AK 99524 phone 907-349-9663 brice@micronet.net www.ptialaska.net/~skijor/join.html
Alaska Skijoring and Pulk Association PO Box 82843 Fairbanks, AK 99708 phone 907-479-0848 herriges@gci.net www.sleddog.org/skijor
DownEast Sled Dog Club
141 New Road Waterboro, ME 04087 phone 207-247-3026 info@desdc.org, www.desdc.org
The following cross country ski areas are welcome dogs:

New England

Bethel Inn, ME
Carter's XC Ski Center, ME
Five Fields Farm, ME
Harris Farm XC Ski Center, ME
Sugarloaf Ski Touring Center, ME
Sunday River, ME
Bear Notch Ski Touring Center, NH
Bretton Woods, NH
Norsk, NH
Onway Lake XC, NH
Bolton Valley, VT
Blueberry Lake XC, VT
Craftsbury Outdoor Center, VT
Equinox, VT
Woodstock, VT
Great Brook Farm Ski Touring Center (in adjacent State Park), Notchview, MA
Mid-Atlantic

Artic Circle, NY
Bark Eater, NY
Chautauqua County Parks, NY
Garnet Hill Lodge, NY
Pineridge, NY
Timberline Ski Resort, WV
Savage River Lodge, MD
Midwest

Boyne Nordican XC Ctr., MI
Justin Trails Nordic Ctr., WI
Palmquist's The Farm, WI
Gunflint Lodge, MN
North Shore Ski, MN
Rainbow Resort, MN
Solbakken Nordic Resort , MN
Mountains

Aspen/snowmass Ski Area , CO
Breckenridge Nordic Center, CO
Crested Butte, CO
Frisco Nordic Center,CO
Grand Lake Touring, CO
Snow Mountain Nordic Ctr., CO
Ute Meadows Nordic, CO
Pahaska Tepee Resort,WY
Enchanted Forest , NM
Alice Creek Ranch, MT
Laughing Horse, MT
Mountain Meadows, MT
Galena Lodge, ID
North Valley Trails, ID
Sun Valley Nordic, ID
Farwest

Flagstaff Nordic Ctr., AZ
Mt. Hood Meadows, OR
Bear Valley , CA
Green Valley, CA
Kirkwood, CA
Mt. Shasta Ski Park, CA
Royal Gorge XC Ski Resort, CA
Methow Valley , WA
Matanaska-Susitna Borough Trail Systems, AK
Canada

Hardwood Hills, ON
Callaghan Country, BC
Silver Star Mountain, BC
Ski Martock, NS