The 2002 Winter Olympics in Salt Lake City mark the first time since 1960 that NBC Television has had the rights to the Winter Games. It's no secret to cross country ski enthusiasts that, with a couple of notable exceptions, past television coverage of Olympic Nordic skiing events has been dismal, further relegating the sport to a position of near invisibility. The two bright spots in recent games were, the Men's 4 X 10 Relay in both Lillehammer and Nagano. Viewers were astounded with nearly 40 minutes of prime time coverage in 1994 when Bjorn Daehlie lost to Silvio Fauner in a dramatic sprint to the finish. Otherwise, there hasn't much to write home about.
According to Molly Solomon, Coordinating Producer for NBC cable coverage of the Winter Olympics, they took a look at what had been done in the past and realized that they could do much more, particularly with the games right here in the United States and in light of the additional time available on their cable affiliates, MSNBC and CNBC. Solomon states "This is a great opportunity for NBC to show the sports of cross country and biathlon and help grow these sports in the U.S." She added "Cross country skiers are the ironmen and women of the Olympics and arguably the best conditioned athletes participating. We now have the platforms to showcase their events in a way never before possible."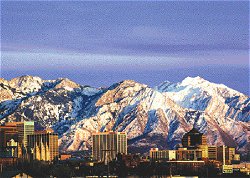 Solomon outlined an incredible line-up of network and cable coverage for the upcoming games. In an unprecedented effort, NBC will provide some form of coverage of almost every event including Nordic combined and biathlon. Most Olympic Nordic events have mid-morning to early afternoon local start times that coincide well with afternoon and prime time programming schedules on the east coast. Naturally, prime time evening features will be somewhat more condensed, as they will include a number of events in each broadcast. However, many of the afternoon cable broadcasts may include up to five to six hours of live, start-to-finish coverage.
Soldier Hollow is well suited as television venue with numerous television camera locations and a tightly wound, compact course. Of particular significance will be the first Olympic sprints which could make for an outstanding television event.
Naturally all of the television schedules are subject to change due to weather and other complications. However, viewers can consult NBCOlympics.com for additional coverage and updates in case of schedule changes. NBC's Solomon concludes "We look forward to providing the best coverage ever of Olympic Nordic events."
If they are able to live up to their own expectations, NBC's Winter Olympic coverage could do much for the visibility of cross country skiing. If you can't make to the games, it looks like for once you'll be able to see more than a passing mention of our sport sandwiched between hours of ice dancing and figure skating.

CROSS COUNTRY - NORDIC COMBINED - BIATHLON
DATE/EVENT TELEVISION COVERAGE
February 9
Women's 15 km CNBC, 6-12PM (could move to network)
Men's 30 km NBC, 3-6PM EST

February 10
Nordic Combined: 15 km Individual NBC, 8-11:30PM EST

February 11
Biathlon: Women's 15 km and Men's 20 km MSNBC, 1-6PM EST

February 12
Women's 10 km MSNBC, 1-6PM EST
Men's 15 km NBC, 4-5PM EST

February 13
Biathlon: Men's 10 km Sprint NBC, 4-5PM EST
Biathlon: Women's 7.5 km Sprint MSNBC, 1:30PM EST (live)

February 14
Men's 10 km CL/
Men's 10 km FS: Pursuit MSNBC, 1-6PM EST

February 15
Women's 5 km CL/
Women's 5 km FS: Pursuit MSNBC, 1-6PM EST
Nordic Combined: Team 4 x 5 km Relay NBC, 8-11:30PM EST

February 16
Biathlon: Men's 12.5km Pursuit and Women's 10 km Pursuit NBC, 1-6PM EST

February 17
Men's 4 x 10 km Relay NBC, 7-11PM EST

February 18
Biathlon: Women's 4 x 7.5 km Relay NBC, 8-11:30PM EST
>
February 19
Women's and Men's 1.5 km Sprint NBC, 4-5PM EST (may change to prime time)

February 20
Biathlon: Men's 4 x 7.5 km Relay NBC, 4-5PM EST

February 21
Women's 4 x 5 km Relay NBC, 4-5PM EST

February 22
Nordic Combined: Sprint 7.5 km NBC, 8-1130PM EST

February 23
Men's 50 km CL NBC, 8-11:30PM EST

February 24
Women's 30 km CL NBC, 8-11:30PM EST