Online Journal
Compiled and Edited by Allison Slavick
Two-time World Cup champion and Olympian Kikkan Randall made a statement Saturday, March 2, with teammate Sophie Caldwell as the two took first and third at the Lahti World Cup sprints, the first-ever double podium for U.S. women. It was a career-first podium for Caldwell, as well as the first time a US woman other than Randall has landed on an individual World Cup podium in the modern era. The crucial win put Randall back on top of the World Cup sprint standings as she continues the fight for her third-straight sprint title. The course featured an icy base with a top layer of soft, sugary snow that proved to be difficult for many athletes and caused crashes throughout the day's heats. Randall and Caldwell sneaked by a big crash early on in the women's final, which took out Olympic silver medalist Vesna Fabjan of Slovenia and Olympic gold medalist Maiken Caspersen Falla of Norway. Caldwell pushed all the way to the end of the final, where she lunged and a photo finish confirmed her third spot on the historic podium. Simi Hamilton took the top spot for the USA in the men's sprints, qualifying for the quarterfinals and finishing 20th with teammate Andy Newell in 28th. The Lahti Ski Games continued Sunday, with Randall placing 21st in the 10k freestyle and Noah Hoffman 24th in the men's 15k race.
Jessica Jerome jumped into 15th Saturday March 2, at the World Cup premi ... ... read entire story here...

JD Downing
Cross country skiers, like all humans, are social by nature. We all can (and do) partake in our favorite winter sport alone. But there is typically a bit more satisfaction and enjoyment in the mix when we can ski or get in shape for skiing with other people.

This social phenomena is also age-independent. Most adults understand that children and teens are far more likely to stay involved and interested in cross country skiing when they are part of groups. But adults are less likely to realize that they can dramatically improve their own motivation, satisfaction and enjoyment levels by introducing a group element to the ski year.

Whereas a great deal of annual energy, money, time and other resources are invested nationwide on increasingly well-designed youth and teen programs -- a scant fraction of that amount of investment is aimed at adult programs with the same level of care and attention that we put into the kids.

Some will argue that this imbalance is to the good because kids are the future of the sport. Certainly I don't disagree that youth and teens are worth every bit of investment. But I do contend that we don't have to shortchange the kids in order to provide healthy, well-designed, and long-term programming for adults. Further, in my 12+ years as national director of American Cross Country Skiers (the U.S. masters cross country ski association), I have discovered that the overall health of not only competitive c ... ... read entire story here...

The Arrowhead 135: Results are In
Solitude, survival, endurance
By Lou Dzierzak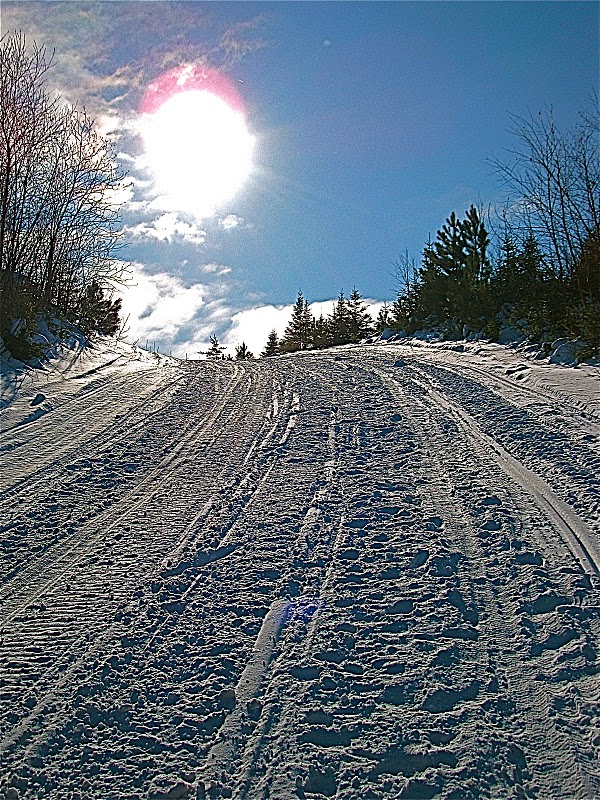 Early on Monday, January 27, 2014, 142 competitors crossed the starting line of the 10th annual Arrowhead Ultra 135 in International Falls, Minnesota on one of the coldest days during one of the coldest upper Midwest winters in memory. Already a daunting challenge, the competitors started their journey in -24º temperatures. If that isn't cold enough, forecasters called for wind chill temperatures near -50º.
The Arrowhead, one of the races featured in the book, "World's 50 Toughest Endurance Challenges," lives up to that description.
Race promoters limit the field to 150 competitors divided into three classes: on foot, on ski, or on a bike. In the first nine years of the annual event the overall finishing rate was just 50 percent. "Some have finished multiple races while others haven't been able to handle the conditions," says race director Ken Krueger. "The high DNF rate doesn't deter people from coming back. They want to cross that finish line."
The course follows a multipurpose trail primarily used for snowmobiling. Competitors are required to check in at three checkpoints, each with a timed cut-off point ... ... read entire story here...

A little over three weeks ago the Maine Winter Sports Center announced a reorganization that would require it to secure a new source of funding for its programs beyond April 30, 2014. Since that time the Center has been working to secure that new funding and committed to ensuring the programs continue.
"The Libra Foundation has been a remarkable partner for 15 years," said Andy Shepard, President and CEO of the MWSC. "The legacy of that support can be seen in the world-class venues that continue to bring the world to Maine and in the world-class programs that are impacting thousands of kids and their families across the state. The time has come for Libra to focus on other initiatives around the state and for the MWSC to define a new funding model for our programming. Mary's remarkable gift is a major step in that direction."
Mary Smith is a Presque Isle native, now living in California and has made other significant gifts within the Presque Isle area over the years, including the soon-to-be-completed construction of Northern Maine Community College's Rodney Smith Wellness Center. The Center is named in honor of Smith's late husband, a pioneer in the semiconductor industry.
"Mary has offered a $100,000 gift and an additional $400,000 matching grant," said Shepard. &ldquo ... ... read entire story here...

A few days before the opening of the Winter Olympics in Sochi, the German public broadcasting resource WDR published a report noting serious doubts about a credible anti-doping campaign in the Olympics' host country. During the WDR broadcast "Sport Inside" reporters told of encounters with a Russian scientist with previously unknown doping agents.
A new drug called, Full Size MGF, apparently improves muscle growth and recovery. The WDR report noted that the drug couldn't be detected in current analytical procedures. According to WDR, Grigory Rodchenkov, director of screening laboratories in Sochi has confirmed the existence of the drug and suggested the Sochi testing protocols would be unable to identify athletes using the banned substance.
The IOC planned to take 2,453 doping samples in Sochi, reportedly more than ever before at the Winter Olympics. IOC President Thomas Bach called the testing program the "toughest anti-doping campaign ever in the Olympics."
According to information broadcast later by WDR, numerous Russian athletes may have enhanced their performance at the latest Olympics and at past Games using another previously unknown method. "Sport Inside" reports that the method involves inhaling a pharmacologically effective, highly concentrated form of the noble gas xenon a ... ... read entire story here...