Thick Or Thin, Varied Widths Are In
(Without a Doubt Leather and Wood are Out)
By JAN REYNOLDS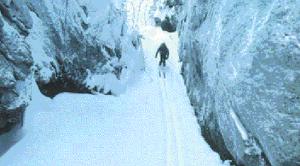 For many years I three pinned on mountain ranges in China, Europe, North Africa, and so on. Now they tell me that the term "three pin" really dates me. Everyone uses plastic, and the bindings for these boots don't require pins. Well I've recently embraced the new telemark gear, both skis and boots, synthetic and shortened, even though I cut my teeth on long skis with grundvalla bases and hickory edges, and leather boots the dogs liked to chew. I've found out this new stuff is good.
Over choice confronted me at the start of my mission to select my new backcountry gear. What types of terrain, and snow conditions would I be skiing? And what was my ability level given age and time for fitness factor? Rather than limit myself to one set of gear to do it all, I decided to go for the best set up for me for extremely heavy gear, extremely light gear, and then put together something that was middle of the road, all around gear.
I took three different off piste skiing trips to test the gear in the terrain and snow conditions each set up was designed for, to let it shine, and to understand its potential. I made for the ski lifts on Mount Mansfield in Stowe first. I took heavy, dramatically shaped skis, 107mm-75mm-94mm, tip to tail, and much shorter than I was used to. They only went up to the top of my head.
Then for the first time I put on plastic boots. Instead of going for the maximum stiffness and number of buckles, I took a look at myself, realizing I was never going to race gates, and that warmth and comfort were a bigger issue with me now at 44, as opposed to when I was 24. I could sacrifice some bit of high performance for ease of performance. There are some benefits to maturing, like losing the adage, "No pain no gain", to "I don't want to be the best, I want to be the oldest!).
I selected a boot with only 2 buckles, allowing for greater flex, and didn't feel the need to squeeze my feet, for the ultimate alpine control. The outcome was warm feet, and solid control with some give in the ankle. The first run had me wondering if this was the same sport I once knew. I crossed my ski tips, feeling for control. After a couple of turns down the hill, I got the sense of real compression onto the toe to flex the accordion like plastic over the toe area of the boot.
The skis were a real treat. Even though my boots weren't the knarliest, they could guide these shapely missiles where I intended. Wow, I was on gear that you could think turn, and it happened. I was used to using plenty of muscle and balance to earn my turns. These turns were sweet, and quick! I headed for the trees.
The radius of my turns had shortened significantly. The trees were less threatening with this type of control, which opened up new avenues of powder to me in tighter trees. This gear was worth its weight for the powder opportunities offered, as well as the effort efficiency that I gained. Transitions from turn to turn were faster and easier with this more upright stance the plastic boots precipitated which made these turns much less taxing on my abused knees. I liked this, more powder, in tighter spaces, with less strain.
But I'd only want to ride lifts with this gear, although the boots were comphy, and they could go the distance, it wasn't what they did best, and the skis were way too heavy to want to shuffle along with skins on. Pushing the weight of this set up on a tour wouldn't be prudent. However, this set up is the ticket for yo-yoing, ski lifts, especially if conditions are variable. This is where this gear belongs.
My next tour was a ski trip of gradual downhill, with occasional steeps, and climbing sections on a narrow hiking trail. I decided to take off on the lightest gear, skis with a waxless base, and no metal edge, weighing about a pound each. These skis only came up to my forehead, and the shape less radical than those I used while riding the ski lifts, 65 at the tip, 55 at the waist, and 60 at the tail. My boots were the beefiest of the NNN models, (New Nordic Norm, your retailer knows), but were still made out of tough fabric, not plastic, making them much lighter than the softest plastic backcountry boot. I never forget, "A pound on the foot is worth 5 on the back".
This gear is made for speed through the woods when touring is required, with quite good downhill control, given favorable conditions. I skied with glee, heading uphill, until about 30 minutes later when I headed down, on the Bolton to Stowe trail. This trail is music on skis, with narrow slots, curling through beautiful hardwoods, and evergreen stands. Run in the opposite direction, Stowe, to Bolton would be largely a lot of work, slogging gradually up, but my friends and I seared through the new, untracked powder, floating down with gravity.
My boots, when on the ski, meshed with the binding for surprising control. Although the boots were coated fabric, they were stiff in the sole, which was recessed, housing the binding plate, so that all pressure to the boot was neatly transferred to the ski. The skis were so light that they easily responded to the pressure. These conditions were ideal for this gear to perform well, and it did. If I felt any need for climbing assistance, I could don skins, and there was no need for any amount of metal edge with this forgiving snow. I'm sure it's been done, but there would be no need for the heavy gear I wore riding the lifts on this trail, especially with these wonderful conditions.
For my third tour off piste, I went with what I considered the gear half way between the other two sets I took on the first two tours, considering weight and performance. This tour was off the steep, backside of Mount Mansfield on the Teardrop, with no lift service, then contouring around, and climbing back to the front side of the mountain, and down the Bruce trail, the first trail ever cut on the mountain, that is like a river, just flowing, with dips, and turns that feel as natural as if the trail had grown there in the woods by itself. This Bruce trail, like the Teardrop, is not serviced by lifts, and has never been groomed, and hopefully never will be.
I must admit that I wore leather buckle boots, and used skins, on full metal edged skis with no dramatic sidecut, on this trip. The tour was grand, but I'll admit now that from now on I'd go lighter. Through this 3 tour experiment, I determined to eliminate the middle of the road equipment for myself. By considering, as I mentioned at the outset of this article, snow conditions, and my skiing ability, (with complete honesty!) I decided I'd do any of the three tours on the lightest equipment, given perfect snow conditions. But since I enjoy massive vertical, and being on top of the big mountain, regardless of conditions, I chose to hang onto the heaviest gear for these purposes only. Otherwise right is light.
Hey look, I don't feel the need to beat myself up any more so for the rest of my off piste tours I'll go during good conditions when fabric boots, and no metal edge is all I need. I'm a firm believer in cross training so I'll skate, or snowshoe until the powder dumps, or track ski a bit.
However, I have a long skiing traditions behind me, allowing me to feel comfortable on skis, so I talked with Charlie Yerrick, equipment wizard at the ski shop of Trapp Family Lodge in Stowe to sort out what someone without as much time on skis might do to solve the mystery of selecting new backcountry gear given all the choices available now. He determined the big choice for most people is whether to go with the softest of the plastic boots, or the beefiest of the fabic NNN boots in the backcountry. This is where each individual must level with themselves about their abilities. Stronger go lighter, less aggressive go with the heavier plastic for support.
Kurt Hefler of Rossignol shed some light on skis, siting a couple of his models of partial metal edged skis for doing it all, with the basic choice being to go with a wider shovel if you're to be doing more downhill, which aids turns, or go with the narrower shovel for more touring.
You needn't go to such lengths as I did to decide what to ski on, but can make your own choices, again, by reviewing what conditions of snow you ski most, and what your ability and conditioning, (or lack of!) allows you to do. This will tell you to go plastic or fabric with boots, or with metal edge, or none, on your skis, better than any shop salesman can. When in doubt, go heavier, and wider with skis, and with more support with the boots.
Then when you're out, forget the gear, make what you have work, whether you side step, or snowplow to get through, and enjoy where on heavenly earth you are!