Training & Technique
By ANTONINA ANIKINA

Let's Go Ski Walking!




"If you can walk, you can ski." For over 20 years it was the premise for attracting people to the sport of cross country skiing. We all know that there's much more to skiing. Ski walking, to be precise, can contribute to a greater performance in on-snow, cross country skiing. With the coaching insights of top level, coach, Russian-American Antonina Anikina, we can prepare for the upcoming ski season with one of the most efficient and effective off-season conditioning and ski preparation exercises. Ed.)

With fall approaching, now is the time to teach or remind our muscles what ski technique feels like. The best exercises for this are ski walking, ski imitation, elastic imitation, bounding imitation, and roller skiing. Everyone can benefit from ski walking, not just skiers, because it uses all of the body's muscles. It can be practiced when there is no snow or if you have no other dry land training equipment such as roller skis or a Nordic track. Perhaps you are not a skier at all and are just looking for a good workout. The accompanying series of images illustrate basic ski walking. Shown here are exaggerated front and back views. Exaggeration helps to clearly show (and feel) the body motions. The yellow lines on my shoulders and hips make it easier to see the twisting, lifting, and dropping of my body, shoulders and hips. The vertical green line shows the head and spine position.
Let's go ski walking!
Start by leaning forward from the ankles while using your regular walking pace. Your step should be longer.
Loosen and use your hips to extend your stride ("loose hips"). Think of doing the twist. See the yel-low line on my hips. Your step is getting longer again!
Now use your shoulders to further extend your stride ("heavy shoulders"). How? Look at the yellow line on the shoulders in the photos. Your steps should be longer. If not, they will be. Patience!
Drop your hip. See the level of the knees in images: 5, 6, and 7.
As you make your step, extend your arms ("long arms"). Images: 9 and 10. Continue to walk from the hips and you will feel your whole body stretching.
With your arms swinging back, let gravity help you make a swinging pendulum motion. Images: 8 and 9.
At the end of your pendulum motion, stop your arm in the back in a line parallel with your back.
After the stop of the motion, the arm begins swing-ing forward in a pendulum motion. Again, feel your body stretching.
Stop the forward swing of your arm at approxi-mately the level of your face. There should be no shifting of the upper body from side to side.
Feel "long arms" and "heavy shoulders" as in images 9 and 10.
Flick your foot forward. Images: 1, 2, 14, and 15.
Keep your head and shoulders down.
Feel the "long leg" using loose hips (full extension of the leg in the back). Images: 4 and 5.
Keep your heel down - and consciously feel it. See images 1, 10, 11, and 12. Important! Walk with the whole sole, not just with ball of the foot.
There are many body motions to focus on. Many coordinated body motions will transform your walking into ski walking and finally skiing. Focus on four or more key motions in a cycle as you ski walk. Do regular walking in between to feel the contrast and to rest. Then to lock it into muscle memory, repeat it again and again.
Like any form of exercise you should begin with a regular warm-up. An ideal ski walking program would be one or more hours, two to three times per week. This will help develop stamina.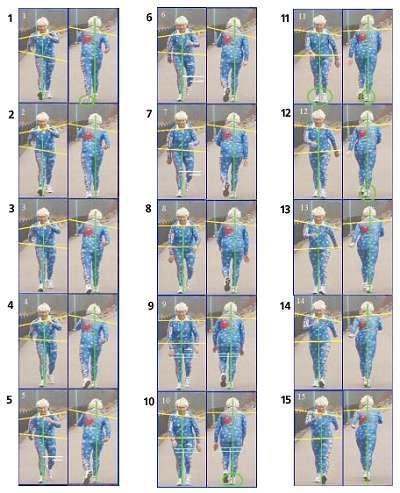 All of these motions will give you the feeling of twisting your body around your spine. Even if you have minor back, neck, shoulder, hip, or knee problems, day by day, you should feel better. You will feel more and more comfortable and will be able to walk longer and faster. Yes, it takes time, energy and discipline, but you will build your technique and general stamina as well as ski-specific stamina. When you begin skiing on snow, you will use these same steps and motions. You will be pleasantly surprised with your improvements! "Believe me, 100 percent!" Antonina