By Becky Lomax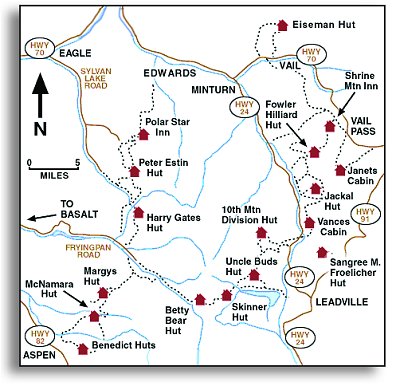 Just follow the blue diamonds. Easily said, but not as obvious as skiing up the Yellow Brick Road! With a map, compass and every skill we'd developed for reading vague trail markings, we ascended the steep ridge to 11,600 feet. Just around the corner, Skinner Hut, the highest backcountry hostel in the country, lay nearly buried in snow adjacent to Mt. Massive Wilderness Area in Colorado's Rocky Mountains.
Built in memory of William Wood Skinner, the hut is one of several commemorating members of the U.S. Army 10th Mountain Division, a cadre of mountain men on skis who played a pivotal role in the Italian World War II campaign. The legacy left from these daring skiers dressed in white resulted in not only a boom in the ski business, but a hut system on every backcountry skier's list. For these men were not just war heroes, but champions of the snow.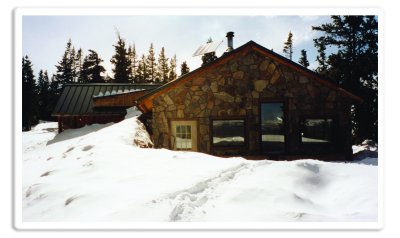 During the 1940 Russo-Finnish War, the Finns distinguished themselves as a skiing military, striking the invading army and schussing unseen off into the mountains. Camouflaged in white clothing on white skis, the Finns inspired American skiers. One in particular, Minnie Dole, head of the newly-formed National Ski Patrol, lobbied the U.S. Army incessantly for an American skiing brigade. Finally, the task of filling the ranks of the 87th Infantry Mountain Regiment fell in the National Ski Patrol's lap. The recruit list was chock-full of ski racers, jumpers, instructors, coaches and patrollers.
With Washington State's Fort Lewis as home base for the regiment, training began in the winter of 1941 – 42 on the slopes of Mt. Rainier. Mountain adventures crammed each day full for the regiment: rock climbing, mule packing, skiing and even one winter ascent of the glaciated peak. After Pearl Harbor, the Army looked to expand the mountain regiment, building a training camp north of Leadville, Colorado. At 9,500 feet in elevation, Camp Hale became home for the burgeoning mountain ski troops. Opting in 1943 to expand the regiment to a full division of 15,000 men, the Army created the 10th Mountain Division—the biggest backcountry ski school ever—teaching men to ski the 14,000-foot Rocky Mountains.
Ski instruction, taught to officers by civilians, included herringbone climbing, kick turns, pole-jumping over logs and snowplows. Ted Lockwood, a ski patroller who joined the division's ranks, recalled, "I discovered that skiing with 55 pounds on your back was about as graceful as carrying a bundle of poles down hill to set a slalom course. It certainly helped to have mastered the snowplow…since the officers liked us to move slowly and compactly down a slope, instead of like a bunch of wild competitors."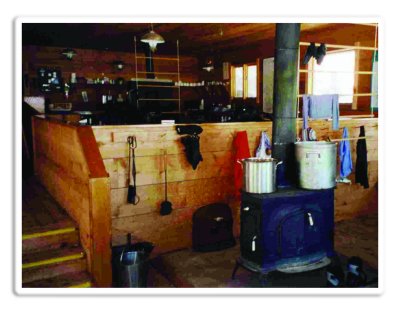 With little experience in skiing, the Army adopted standards as they proceeded. For handling heavy loads on skis, the Army determined that the Arlberg-stem technique was the best, bending the inside knee while leaning into the turn.
Training included general mountaineering skills such as outdoor cooking and camping in snow caves. And as mountaineering does, camaraderie fostered among the soldiers, often ending in song: "We are ski men, We are free men, And Mountains are our home. White-clad G.I. Joe, We're the Phantoms of the Snow."
Using reversible jackets—green for timbered areas and white for snow—troops blended in with their surroundings. Official military equipment mimicked snow: white skis, poles, gloves, gaiters, parkas and pants. Long wooden metal-edged skis sported hardware and leather bindings, complete with an adjustable sturdy cable around the heel, a precursor to today's telemark bindings.
To test mountaineering skills, 33 soldiers embarked on the Trooper Traverse—a four-day winter crossing of the Continental Divide between Leadville and Aspen in February of 1944. Even without carrying weapons, their canvas packs weighed 50 – 60 pounds each. Pioneering high routes above 12,000 feet, the group traversed what became known as "The Trooper Couloir." As veteran Richard Rocker reported, "From the top of the ridge we looked down a very narrow, very steep rock-studded gully that disappeared from view in 200 yards due to snow and growing darkness, but it looked possible, and better to risk it than stay where we were. Everybody, even our best skiers, cautiously side-stepped down the first narrow pitch, then made cautious traverses and kick turns. The snow was too crusty to allow any decent turns—no one really enjoyed it as 'skiing,' but everyone made it safely out of the gully."
At winter's onset in late 1944, the 10th Mountain Division shipped out for Italy, destined for the rugged Appenines controlled by the Germans. Concentrating their stronghold on Mt. Belvedere and Riva Ridge, the Germans did not anticipate a strike via a 1,200-foot-high cliff wall. On February 18, 1945, at dark with no air or artillery support, 800 soldiers ladened with rifles and ammunition climbed up the icy face, surprising the Germans at daybreak. Thus began a series of victories in which the 10th Mountain Division pushed the enemy back north to Brenner Pass, over 140 miles in 19 days with a loss of 997 men.
As World War II ended and soldiers returned stateside, highly-trained skiers were unleashed on America's slopes. Vail, Sugarbush, Aspen, Arapahoe Basin, Whiteface and Crystal Mountain along with a host of small mom-and-pop ski areas sprouted from 10th Mountain Division veterans. Along with skilled skiers, suddenly excess inexpensive military skis flooded the market. Post-war ski business boomed with veterans flocking to ski areas to use their talents as instructors and patrollers.
Advancing backcountry safety, some veterans developed snow science. Monty Atwater pioneered avalanche prevention techniques at Utah's Alta. Stationed with the forest service at Berthoud Pass, Colorado, Dick Stillman became a leading avalanche authority, contributing to the "Avalanche Handbook," a primary resource for ski tourers, revised several time since its first 1953 publication.
In New Hampshire's mountains, 10th Mountain veteran Brad Boynton envisioned connecting miles of local ski trails under one umbrella. In 1972, with help from locals, 125 kilometers of trails on Forest Service and private land became Jackson Ski Touring Foundation, one of the nation's largest Nordic areas. Today, the foundation maintains over 154 kilometers of trails, surpassing on a busy weekend Boynton's original prediction of 5,000 skier visits per season.
In the Colorado mountains where the division trained, veteran Fritz Benedict, along with several other Aspen skiers, conceived a plan for a ski hut and trail system. In 1980, they formed the 10th Mountain Hut Association, a non-profit corporation to oversee hut building, maintenance and reservations.
Today, the organization manages 22 huts in partnership with the U.S. Forest Service. With no groomed approaches, most huts require advanced backcountry skiing skills for access. Sleeping approximately 16 people, each hut is equipped with amenities to make overnights a luxury. Wood burning stoves, propane burners and photovoltaic lighting add comfort while equipped kitchens and thick mattresses limit the amount of gear skiers must haul. A few huts even have saunas.
Several huts specifically commemorate the mountain troops. In 1989, four veterans donated funds to erect the 10th Mountain hut. Located below the 13,500-foot Homestake Peak—where troops bivouacked in snow caves and performed mock battles amidst blizzards—it recalls a division legend. During one of their training sessions, a soldier patrolled alone atop the peak when he heard the radioed voice of a pilot flying to Denver overhead, "Am at 12,000 feet. Coming in for a landing. Circling. Circling." According to the tale, the trooper responded, "Am at 11,000 feet. Walking. Walking."
While the father of the trail system—Fritz Benedict—was honored with a hut built in his name on the edge of the Hunter Fryingpan Wilderness Area, three huts were built in memory of mountain troops killed in action in Italy. A favorite for its views into Mt. Massive Wilderness, Uncle Bud's Hut commemorates Burdell Winter, one of the elite mountaineers from the Trooper Traverse. In his eulogy of Winter, writer Louis Dawson noted nicknames Bud acquired for his skiing. His pole plant garnered him the title "pole eater." On the Trooper Traverse, Winter also attained the nickname "rugged Winters" because he set a trail breaking pace that few could keep up with. A stone single-story hut with panoramic sunrise views, Skinner Hut honors William Wood Skinner of the 85th Regiment. Recently, the hut association purchased the privately-owned Belvedere Hut changing the name to Sangree M. Froelicher Hut, in memory of the 86th Mountain Infantry member.
For a one-day leap into mountain troop history, Colorado's Trail of the Tenth at Tennessee Pass south of Camp Hale provides an off-track adventure where the division trained. Pack your navigation skills to find tree blazes and begin near Ski Cooper. The 6.5 mile trail offers a strenuous climb up Taylor Hill followed by a twisting downhill.
As I toured along the Continental Divide above the Skinner Hut, my skis cut uneven tracks through the wind packed snow. But I could almost hear troopers on their traverse singing in the wind: "Two boards upon cold powder snow, yo ho, that's all that a man needs to know."
Contacts:
– www.10thmtndivassoc.org.
– 10th Mountain Hut Association
www.huts.org or 970/925-5775
Aspen, Colorado
Rates: $26 – $39 per person, per night
Members ($25 per year) receive bookings first through
lottery. Guide service contacts, shuttle information, guide
books and maps are all available through the association.