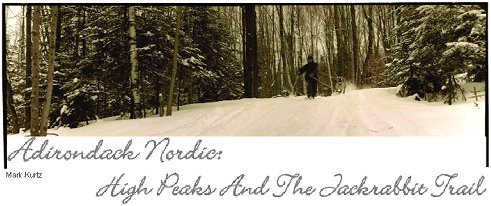 In my mind, New York's Adirondack region is the great American wilderness. Though I love my Shenandoah Valley and Blue Ridge Mountains, the dark forests and silent lakes of upstate New York are still for me the original wild places—almost certainly the result of childhood summer vacations in the area around Lake George. Over the past few years, I've been fortunate enough to be able to get close to the great evergreen forests again through the kindness of close friends in the town of Saranac Lake.
Saranac Lake is neighbor to Lake Placid, some ten miles to the east. The two lie deep in the heart of the Adirondacks' High Peaks region, upon which, on Mount Marcy, the highest of the high peaks, a breathless runner carried the news to Vice President Theodore Roosevelt that President McKinley had been shot. The setting is spectacular; it never fails to move me. Everything, everywhere says "wilderness" and "winter." For the Nordic skier, I can think of no better place for an extended stay. For a family new to the sport, I can't think of a nicer place to ease into it.
The Great Winter Carnival
For over a hundred years, Saranac Lake has hosted an annual Great Winter Carnival. As the town was originally a sanctuary for tuberculosis sufferers, the original purpose of this frozen festival was to promote a healthy and active life, to get people outdoors during the winter. Today, though the sanitarium is a thing of the past, the carnival lives on. It's small-town America at its best, with an enormous ice palace, all sorts of competitions—including a cross country ski race—and a great parade replete with Canadian bagpipers who seem to be unaffected by noontime temperatures in the teens, if it gets even that warm.
As well being the only place to see the Great Winter Carnival on February's first weekend, Saranac Lake is also a fine place to hop on and off the Jackrabbit Trail, no pun intended.
"All Chased By One Norwegian"
The story of the Jackrabbit Trail begins in the second decade of the 20th Century. In Lake Placid lived a Norwegian named Hermann "Jackrabbit" Johanssen. He was a skier—almost certainly one of the few cross country skiers in the U.S. at the time—and on his own he blazed a network of trails from town out into the forests and mountains. He'd ski from Placid out to a trailhead just to ski up into the mountains, and then return the way he came. Apparently Jackrabbit Johanssen was a card-carrying tough guy, as he lived to be 111 years old, and is rightly remembered as a Nordic pioneer.
Some six decades and two Olympic games after Jackrabbit laid down his last parallel tracks out from the village of Lake Placid, a group of local skiers finally posed the crucial question: What if someone could blaze a permanent cross country ski trail through this great wilderness? Not a hut-to-hut, backcountry trail, but a path in the old Scandinavian style linking the towns of Keene, Lake Placid, Saranac Lake and Paul Smiths. A path people could use to ski a little or ski a lot, to visit folks along the way, or spend a day at one of the Nordic centers in the area. The kind of trail you don't need a car to get to. Local skiers would love it, the population at large would gain a valuable resource and the burgeoning Nordic industry would get a shot in the arm.
And so in 1986 was born the Adirondack Ski Touring Council, which immediately began work on what became the Jackrabbit Trail. The first and only Executive Director of the ASTC is Tony Goodwin. A Connecticut native who migrated to Keene, he managed the Mt. Van Hoevenberg Center in the early 80s, and was an active skier himself. "It was an idea that had been kicking around for years," Goodwin recalled. "These routes had been skied 20 or 30 years before and could be reclaimed. We thought it would also be a good attraction, more so than a single center."
Reclaim the routes they did. With a lot of volunteer labor and hard work, along with indirect assistance from old logging roads and trails crossing public land, Goodwin and his band laid down the trail. The first leg was Keene to Placid, remembered Dr. Woods McCahill, who participated in the work. Knowing the trail as well as anyone, he's an original ASTC member "and proud of it." He's skied from Saranac to Keene in one day, and makes it a point to get out on the trail "about six and a half days a week."
One Trail, Many Possibilities
The Jackrabbit Trail's 50 kilometers stretch from Paul Smiths on the western end to the village of Keene on the eastern end, with only one broken leg. Some legs are easy; some legs are a challenge. In addition to the towns of Saranac Lake and Lake Placid, the trail also connects several fine cross country centers, offering something for everyone.
First along the trail is the Visitors Interpretive Center, or the "VIC" at Paul Smiths. There are no rentals, no lessons and no fees—just an abundance of beautiful quiet trails that wind through prototypical Adirondack scenery. Since it is an interpretive center, the trail is dotted with signs pointing out various features of interest. Skiing at the VIC through birch trees and balsam firs is the perfect early morning trip—invigorating and calming all at once.
Soon after the trail leaves the VIC, it reaches the work-in-progress section. The best bet for now is to pack up and pick up the trail again in Saranac. From there you have a clear, though not necessarily easy, path ahead.
In the village of Lake Placid are two Nordic centers on the Jackrabbit Trail.  Whiteface Club offers the full range of Nordic services on 30 kilometers of trails—20 of them groomed—on the shores of the lake itself, a very elegant setting indeed. And on the other side of the village, Lake Placid Resort X-C Ski Center offers amenities and a network of groomed trails.
Just a few miles down the trail from Lake Placid Resort is Cascade Cross Country Center. Cascade also offers the full line of services—rentals, instruction, lodging and good food (I speak from experience there). Its 20 kilometers of groomed trails connect with both the Jackrabbit Trail and the next center on the way to Keene: the Olympic venue at Mt. Van Hoevenberg.
Mt. Van Hoevenberg is worth a day just for itself. Skiing there, or rather at the Verizon Sports Complex as it is properly called, is a magnificent experience. The place has impeccable grooming and superior facilities. There I made my first attempt at learning how to skate—not a complete success. My instructor was an older gent, a superb skier and a real outdoorsman. He was also a patient man, which he needed to be as I am a hard learner. The lesson didn't take immediately, but it did sink in over time. I often think of dropping by to show him that his time wasn't wasted after all. After leaving the trail system at Mt. Van Hoevenberg, the final leg reaches Keene and the end of the trail.
And It's Tax Decuctible, Too
When I asked Tony Goodwin about the future of the Jackrabbit Trail, the forecast he gave was exceptionally bright. The ASTC recently gained full tax-deductible status, so any donor's philanthropy will be duly rewarded on April 15th. The Jackrabbit Trail sees about 5,000 uses each winter, and a zealous member base, including the redoubtable Dr. McCahill, keeps things moving along.
Goodwin said the next conquest is finishing that last leg on the Paul Smiths end. Following that, the club needs to obtain deeded rights of way for the few places where the trail crosses private land, in order to secure it for a long time to come.
So if you call him one day with a question—or with that one golden grant—and he doesn't answer the phone, please do leave a message—it's a good bet that he's out taking care of his trail.
When I venture to the Adirondacks to follow in Jackrabbit Johanssen's ski tracks, I opt for Saranac as my home base, rather than famous Placid. The quiet town seems more in keeping with the old days of Jackrabbit's time. And with evergreens out the back door, a wilderness ski is not far away.
Contacts:
Great Winter Carnival at Saranac Lake
www.saranaclake.com
Jackrabbit Trail
www.lakeplacid.com/flash/whattodo/z-xcountry.htm
Adirondack Ski Touring Council
x-cski@lakeplacid.com, or 518/523-1365
Visitors Interpretive Center
www.adirondackvic.org or www.northnet.org/adirondackvic
Whiteface Club Nordic Center
www.whitefaceclub.com
Lake Placid Resort Cross Country Ski Center
www.lakeplacidresort.com
Cascade Cross Country Center
www.cascadeski.com
Verizon Sports Complex
www.orda.org/verizoncomplex.htm
Editor's note: The author, John Piedmont, make that Major John Piedmont, U.S. Marine Corps, was called to active duty in Iraq just before this issue went to press. We at Cross Country Skier wish him a safe tour of duty and look forward to his return and next contribution to our journal. Best wishes, John.