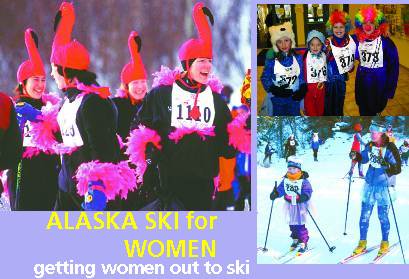 By Sally Burkholder
On Super Bowl Sunday 2003, while much of the western world turned its eyes on San Diego to watch the Buccaneers and Raiders, 1,574 women skied together in Alaska. In its seventh year, the Alaska Ski for Women kicked off its event in Anchorage on January 29. A fund raiser for Abused Women's Aid in Crisis (AWAIC), a local organization dedicated to preventing domestic violence, Alaska Ski for Women is the largest women's cross country ski event in North America.
The brainchild of Ann Mize and Sally Burkholder, Alaska Ski for Women combines a romping good time with a women's social cause. The blend brings out women in droves to raise money for the local women's 24-hour crisis hotline and 52-bed shelter.
Due to an accident in scheduling the first year, the women's cross country race landed on Super Bowl Sunday. In spite of the televised game, the event attracted nearly 700 participants and as a result, the organizers have found it necessary to make very few changes over its seven-year history. Super Bowl Sunday remains the traditional race day.
To encourage women to get out and enjoy winter, Mize and Burkholder sought to address the excuses women have for not skiing.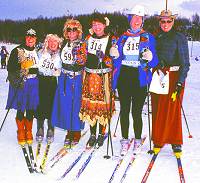 They tried to eliminate these hurdles. The result is an event where participants are timed with a partner: They compete in mother-daughter teams, relative, or friend teams with awards given for the top three teams in each category. Participants choose classic or freestyle. Even beginners are welcome, as the course is an easy four kilometers in length.
The partnered entry has high appeal with women. "My partner makes sure I have my boots before we take off for the race!" explained one participant on the benefits of a partner entry. "A few years ago, I forgot my ski boots and had to call a friend to pick them up from my house and bring them to me. I was able to race, although not with my wave."
The combined times of the partners provides more incentive for some. "This is the first year my daughter and I are doing it as partners," commented one mother, "and I'm sure, because of that, our combined times will be my fastest result yet!"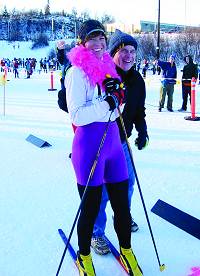 Some partners never miss a year. Some women encourage a new friend to join them each year. Some mothers ski with a daughter in tow in a pulk or on their backs. A few moms ski with two bibs–one for the mother-to-be and one for the daughter-to-be several months down the road. For women who need a partner, the organizers will match you up.
The town of Anchorage is likewise ideal. With over 270,000 people and 150 kilometers of Nordic trails, the city offers the perfect opportunity to get regular exercise during the winter by cross country skiing. Most residents are never more than a 15 minute drive from a ski trail, with 25 kilometers lit for the long nights.
Above all, the entry fee is not steep. It's simply a donation of any amount to AWAIC. Freebies are tossed in for participants—everything from free waxing to refreshments and randomly drawn prizes. A silent auction also raises funds for AWAIC.
"This is the only ski race I've ever been to where the costume is more important than the race results," one competitor explained. Costumes are an important tradition. Angels, swans, cows, rabbits and funny hats ski past trail decorations, as an announcer and stadium music jazz up the finish arena.
With an event of this size, Mize and Burkholder cannot put it on alone. To handle the pre-race preparations, an organizing committee made up of 25 women meets biweekly from October through January. During the event, nearly 150 people volunteer to help with ski waxing, course set up, start area management, timing, parking, refreshments, ski patrol, and ambiance. Many volunteers are men who support their wives, daughters and friends in the effort to ski and raise money for a local cause.
No matter what weather ensues, women still show up. In the seven years since its inception, the Alaska Ski for Women has seen good snow and bad, sunny skies and wind chill factors to minus 20 Fahrenheit.
Burkholder noticed that when January begins, noticeably more women practice skiing on the trails at Anchorage's Kincaid Park where the event is held. This result indicates Mize and Burkholder have reached one of their goals with the event—getting women out to ski.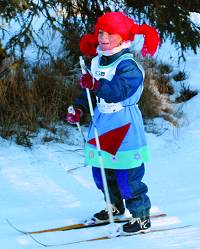 While most participants are from the Anchorage area, mothers, friends and relatives come from around Alaska. Some fly from Juneau or drive seven hours from Fairbanks or Homer, just to be part of this special women's event. A few participants even show up from the "lower 48."
As many eyes turn towards the 38th Super Bowl in January, women will throng to Anchorage with skis in tow for a rollicking good time. For what can beat 1,500 women together on skis!
For more information visit www.alaskaskiforwomen.org.