By Matt Muir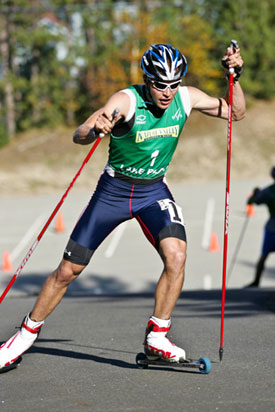 If you are tired of explaining that you are a "cross country" skier every time skiing comes up in conversation, imagine how Billy Demong feels.
The 28-year-old, originally from Vermontville, New York, ranks among the best Nordic combined athletes to ever compete for the United States. Yet his sport, which combines ski jumping and cross country racing, barely makes it on the radar screen of American athletics.
"We are a small sport with lower numbers of participants," admits Demong, "but we have built a legacy of success in the past decades with dozens of World Cup podiums and seven World Championship medals at the junior and senior levels."
Demong is a big part of that success. His path to Nordic combined started with an early introduction to cross country ski racing. It was Demong's father, a field-based environmental biologist, who got him outside and active from an early age. At age 5, skiing in a race at Lake Placid's Mount Van Hoevenburg, got him hooked on cross country.
Benefiting from the Nordic infrastructure of upstate New York, he excelled at skiing throughout his adolescence. The Lake Placid Ski Club, the New York Ski Educational Foundation, Coach Larry Stone and the Bill Koch Ski League all propelled Demong into position to make the U.S. Ski Team after graduating from high school in 1998. He still considers himself a "product of a team environment" and draws constant motivation from his teammates, their successes and their camaraderie.
Demong's conversion to Nordic combined came thanks to Coach Stone who simply walked into a cross country practice one day and showed a highlight video of jumping and Nordic combined events to a group of junior skiers, including Demong. By the following season, more than 10 of the skiers in that room started jumping under Stone's tutelage.
For Demong, "It was an instant love to combine two disciplines with such different elements." But sustaining a high-level commitment is a entirely different matter. In the context of the American culture that brands skiing and jumping as "individual" sports, Demong states clearly what supported him.
"It was the groups I was a part of that really kept me in the sport," he said. "First with my hometown friends, and later with the junior development team. In both cases we pushed each other to great results, but always enjoyed everything we did together on and off the skis."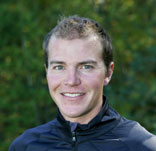 A pivotal point in Demong's career came after the 2002 season when he fractured his skull in a diving accident.
"That [event] gave me the perspective to keep training and get better," he explains. "[I was able to] focus my cross country training on distance and threshold work and take some huge steps forward."
Those improvements have been furthered by his collaboration in recent years with coach Dave Jarrett.
"Jarrett has been an excellent sounding board and source of information and motivation for the past few years," Demong says. "He has a wealth of knowledge for training and the sport of Nordic combined and is always working hard to provide [the team] with the schedules and opportunities that promote success."
For Demong, the positive results are stacking up. He is a three-time Olympian and has competed at four World Championships, achieving a silver medal in 2007. He has three World Cup victories to his name and in 2007 he pretty much owned the U.S. National Championships for combined and jumping.
Lately, Demong feels that he is approaching the peak of his career and the Vancouver Olympics define his individual and shared goals.
"I am really looking forward to Vancouver," he says. "The venues in Whistler are amazing and it will be great to have an Olympics so close to home. I think our team is approaching a peak, too, with Todd Lodwick on the comeback trail. I think our chances as individuals and as a team are looking strong."
For those outside the world of Nordic combined, cross country skiing and ski jumping may not seem like a natural pairing. And, in fact, Demong says that the two disciplines "do not complement each other. The training required for one essentially hinders the training required for the other."
So Demong's philosophy consists of training himself as a cross country racer who also jumps. That means 650 yearly training hours for skiing, 500 jumps a year, and one day to three days a week of specific plyometric exercises and weights near his Park City base or at his secondary training facilities in Steamboat Springs and Lake Placid.
Demong's skiing stands out as his strength between the two disciplines. His focus on, and success with, being quick on the usually short (10km) ski courses makes him a threat to win anytime he comes out of the jumping round in good position.
Jumping well, however, is no small feat. Flying off the end of a roughly 100 meter jump, hitting air speeds of 60 mph and soaring distances of 450 feet against world class competition can be difficult to reproduce every time.
"Ski jumping is a finicky sport and often a bad jump day is a mystery," he explains. "Sometimes you are just not able to execute the technique quite the same; other times conditions play a role. Usually a poor result is due to allowing outside factors to penetrate your focus, like wind or outcome."
As if jumping does not require enough mettle, Demong says the biggest challenge in combined is the schedule of competitions.
"We have to hold a high world ranking in order to maintain our World Cup start right, which means we have to attend many of the 25-plus events. We also must place well, which means being in good shape for the entire four-month season."
This puts Demong and his team on the road in Europe for five to six months a year, year after year. At each stop, which rarely lasts more than five days, the spectator support for the popular European winter sport helps keep things lively. But finding a washing machine and some familiar food can be a chore.
"People who tell me that they love the coffee in Europe have obviously not had too many cups over there! I travel with fresh grounds and a press. I also bring my own PowerBars and drink mix. The one thing that I do like over there is the fresh bread at breakfast in Scandinavia."
Despite the tremendous success with his training program, Demong is not afraid to mix it up. Two years ago, he added road bike racing to his summer training and, in 2008, trained specifically for cycling, doing races like the Tour of Utah where he rode for the RADD (Racers Against Drugs and Doping) squad.
Demong reflects that "the number one thing that has kept my progression moving forward is the desire to enjoy what I am doing. That means making training healthy fun."
Combined never takes a back seat, though, and in early August he competed in the FIS Grand Prix in Switzerland, finishing sixth overall in the two-day synthetic jump and rollerski event that attracts top combined athletes from around the world. When not competing, Demong can be found outdoors enjoying hiking, biking, fishing and hunting. He also gives back to his sport by promoting a Nordic Combined Development Squad to support the national team.
When asked what he would like the broader skiing public in the U.S. to know about Nordic combined, Demong mentions what Europeans have long appreciated: it is an exciting sport to watch.
"The pursuit format of our sport makes each race exciting as the race unfolds."
With recent format changes in the sport, the spacing between the jumping and the skiing is tighter, adding further to spectator appeal. And, despite how fast traditional Nordic skiers may glide over snow, it cannot compare to the speed and spectacle of ski jumping. As Demong points out, "It is the closest thing to flying on skis."
Matt Muir is a husband, father, and avid skier living in Boulder, Colorado. He owns and operates Skifire, Inc. and is currently a full-time parent.