By Lou Dzierzak
When both arms and legs work in sync, the wax is right and the sun is shining, the effort of climbing out of bed and walking out the front door is rewarded. When a morning on the snow is that good, you can't possibly keep it to yourself. Ski tales must be told. Just-discovered trails need to be shared. New wax combinations must be debated. What better place for finding birds of a feather than the local ski club!
Some clubs are loosely defined, made up of constantly changing collection of skiers who meet sporadically on Sunday mornings at a local coffee house to swap ski tales. Others are year round, tightly organized, dues-paying, incorporated clubs with elected officers,thousands of members, web sites and written histories.
With 1,600 members, the North Star Ski Touring Club in Minnesota even has a mission statement. The club endeavors "to support and conduct activities…
which promote cross country skiing and other non-motorized activities…through education, trail development and group activities."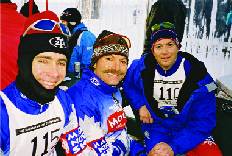 In Colorado, the Boulder Nordic Club also has formal objectives for its existence. Primarily, the club encourages and promotes Nordic skiing. Through raising funds for its cross country activities, the club organizes all kinds of Nordic ski contests, exhibitions and competitions as well as operating and maintaining facilities, cross country ski trails and grooming equipment. Other clubs are less organized, such as New Hampshire's newly-formed Bedford Cross Country Ski Club. "In 1996 the coach of the three Manchester high school cross country ski teams got together with Bedford townspeople and started the Bedford Cross Country Ski Club (BXCSC)." Our members are local citizens, mostly adults with limited time, looking for some convenient exercise and recreation," said Richie Holstein, President of BXCSC.
Most clubs have a mix of experienced racers, recreational skiers and beginners as members. Nancy Hoene, Publicity Chair of the Madison Nordic Ski Club (MADNORSKIS) in Wisconsin, explained, "Our club is special because the membership is so eclectic. No matter what category people fit in, they are welcome in our club, and we let them know that. We have an 82-year-old retired doctor who skis all the hills and trails that the 30-year-olds ski." Although the club historically has been for serious ski racers, she noted that the new membership is "growing to include more kids, families and recreational skiers."
While Nordic racing has been the traditional club core, most clubs offer something to meet the needs of their constituency. The Boulder Nordic Club hosts competitions for approximately 50 racing members, but as executive director Karen Brown reported, "A typical member is an intermediate recreational skier." Since 60% of the North Star Ski Touring Club membership is single, the Club offers special Singles Only activities.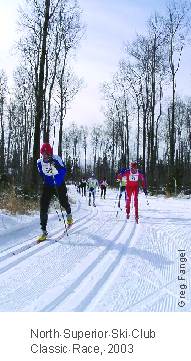 In promoting Nordic skiing, many clubs have a hefty work load with designing, maintaining and grooming trails as well as organizing races and events. "In the six years we've been around, we've created a network of four miles of trails through one of Bedford's town parks," said Richie Holstein, President of the Bedford Cross Country Ski Club. He described the club's touring area: "The trails include a lot of beginner grade sections, some intermediate level sections and a few more difficult trails. We groom them for skate skiing, and a few trails are also tracked for diagonal stride."
Scott Beattie, a member of the North Superior Ski and Run Club of Grand Marais, Minnesota, spoke proudly of club contributions. "Three years ago the club bought a Pisten Bully groomer and built a skier's warming chalet at Pincushion Mountain Trails, considered one of the most dependably-groomed and well-designed trail systems in northeast Minnesota. Devoted ski club members made it happen."
In order to maintain trails and organize events, many clubs devote as much time to fundraising as they do skiing. "The club raises funds for projects that will facilitate skiing locally," said Nancy Hoene, Madison Nordic Ski Club. She described two of the club's accomplishments. "Over the years the club has raised funds for various projects, such as grooming equipment for Elver Park and Blue Mounds State Park. We also put in lights for night skiing at Elver."
Some clubs sponsor local junior Nordic teams. Even though North Superior Ski and Run Club boasts less than fifty members, they took on sponsorship of the Grand Marias, Minnesota, high school cross country ski team after funding cuts forced the school to drop the program.
It's not just all work and no play. Social activities fill the calendars of most clubs. Karen Brown, Boulder Nordic Club's Executive Director, explained, "We offer numerous organized social events throughout the year, including travel to and lodging at away races, pot lucks, a wine tasting, a women's event and an annual banquet." The club also hosts activities from a Thanksgiving Weekend Clinic complete with gourmet dinner to an annual New Year's Day Race. Scott Beattie reported that the North Superior Ski and Run Club completes their activity calendar with full moon ski ventures followed by BBQs and bon fires as well as the annual Sawtooth Invitational Ski Race, a citizen's skate or classic race of 8, 16, or 24 kilometers.
Since camaraderie is key to any club, many clubs focus on cultivating opportunities for building friendships over skiing. Nancy Hoene of the Madison Nordic Ski Club reinforced this sentiment with her club's agenda. "We have a lot of fun at monthly meetings and our pot luck dinners. We hold our meetings at the Lussier Family Heritage Center which has ski trails for those who want to ski together prior to the meeting."
When winter turns to spring and the last snowfall melts away, the common bond between club Nordic skiers remains strong. While some clubs turn their efforts toward planning new trail construction or fundraising activities, other clubs hibernate for the summer. Regardless, ski clubs foster the shared love of spending the winter outside on cross country skis—a venue for birds of a feather to flock together.