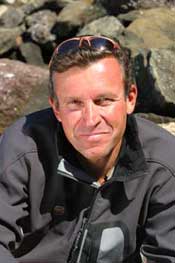 On April 25, 2008, adventurers Ed Viesturs and John Stetson will begin a 150-mile expedition throughout Canada's Baffin Island to document evidence of climate change first hand. Using sledges to transport their equipment, the pair will ski 150 miles across an arctic environment. Over the scheduled 20-day trip, Viesturs and Stetson will meet with native Inuit communities in Pond Inlet to discuss how climate change has affected their hunting traditions and culture.
Viesturs and Stetson have extensive mountaineering and arctic experience.
In May 2005, after 18 years of expedition planning and climbing, Viesturs became the fifth person to ascend the world's 14 tallest mountains (all over 8,000ft) without supplemental oxygen. The accomplishments have given Viesturs a platform to discuss issues like climate change to a broader public audience. He says, People do recognize my name and what I've done. It's not something that I sought but something that I have now. It's nice to think people take note now when I send dispatches or interviews and talk about what I'm doing and experiencing."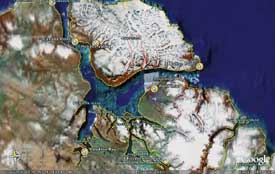 Throughout the expedition, daily progress reports will be posted on the expedition's website. Viesturs notes that technology can raise awareness by making the information more accessible. "If I can be talking to someone who lives in northern Baffin Island and that same day post a report it's a little more noteworthy than the comments showing up in a newspaper article 3 months later. It's a little more immediate and intimate. The web has a huge presence. The information spreads faster."
Stetson is a two-time champion of the John Beargrease sled dog race. With more than 20 years of experience Stetson has traveled almost 80,000 miles by dog sled. Stetson was the base camp manager for Will Steger's Trans-Antarctic Expedition in 1989. Viesturs reports, "He has a wealth of experience and I'm going to learn as much as I can from him."
The Arctic Trek for Earth Health will also serve as a training ground for a much larger expedition. Viesturs explains, "One of my bigger dreams is to ski to the South Pole. That's 60-70 days and 600-700 miles. That's something you don't take lightly. We wanted to do this as a training trip to test the equipment, systems and the partnership."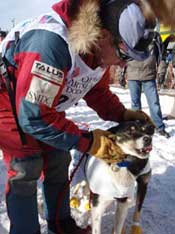 Viesturs has telemark, backcountry and cross country ski experience but will the Arctic Trek will add new skills. He reports, "What I haven't done is ski while pulling 150 lbs of equipment behind me for 150 miles. It's interesting and fun that I get to learn something new." The pair will use Karhu backcountry skis and custom made telemark boots from Norway.
Talus Outdoor Technologies, a sponsor of the expedition, will equip the pair with the ColdAvenger, a high-performance cold weather facemask. To follow the expedition's progress visit www.edviesturs.com.