By Michael Roche
In 1794 Oliver Luce pushed his oxcart into a wilderness, in what is now known as the town of Stowe and became its first settler. He brought his family a few weeks later and they built a log home with a dirt floor. It was a difficult existence.
Life's a little easier now in this town tucked in the Vermont mountains. You can leave your oxcart at home and you are sure to find accommodation that can fit your needs.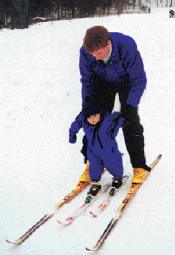 Stowe is one of the best places in the nation to cross country ski. The tracks are deep and firm, the skating lanes smooth and wide, and the backcountry, well good like trying to cover all the trails in a single vacation. It is a town rich in cross country ski tradition, highlighted by the four ski centers.
The most well known area is Trapp Family Lodge Cross Country Ski Center. It boasts 55 kilometers of trails groomed for skating and striding. The trails have always been wide and well groomed but the crew has been busy getting everything wider. "You've got to ski this place to believe it, there are so many trail improvements," said Director Charlie Yerrick. They have also bought a new Pisten Bully that grooms an eleven foot swath. With this state of the art equipment Trapp's will provide good skiing conditions no matter what the fickle New England weather throws at them.
If you've never skied Trapp's one outing you're going to want to try is the Cabin Trail – Haul Road Loop. This is hardly a great secret as it is one of the most skied trails in the east. The terrain starts flat, then climbs steeply for several kilometers until you are greeted by an isolated cabin high in the hills. Inside you can warm yourself by the fire while eating homemade soup and sandwiches. If the weather allows, you can sit on the deck and enjoy spectacular views of the surrounding mountains. Finish off with a cup of hot mulled cider before going back. You're going to need it as the trip down is really fast at times and it's easy to get cold. The downhill is so much fun, many locals ski up to the cabin just so they can race back.
On the opposite end of the spectrum is the Edson Hill Manor. This cozy inn is not well known outside their guests, but it should be. Owners Bill and Juliet O'Neil have established a ski center catering to the beginner and intermediate skier. "It's more for people who want to escape the crowds and ski in a relaxed atmosphere," said Bill O'Neil. They groom 35 kilometers of trails that wind through forests and open meadows. It's the place to go if you are looking for a classical ski oriented center. They have skating trails but Edson Hill's niche is in appealing to people who don't want skaters rocketing by them as they stride down the trail. Their skiers like to get out with family and friends and enjoy the Vermont woods at a pace more common when the inn was founded over 20 years ago.
A fun trail to try is Maple Run. This trail is a 10 kilometers loop with few intersections. Once you start it you are committed to finishing it unless you turn back the way you came. It's nice to get on a trail where you just keep skiing with few other options.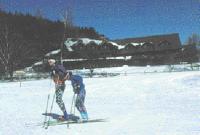 The inn is gorgeous and defines what a person might look for in a classy bed and breakfast. The rooms have four post beds and many have fireplaces. The fireplace in the lounge is surrounded by soft couches, and the food is heralded in gourmet magazines. It is a place where people come to relax. One of the beautiful things about cross country skiing is you don't have to do it all day to feel you got your money's worth. Edson Hill Manor is a great place to sleep in, enjoy a large country breakfast, ski for a few hours, then relax by the fire enjoying conversation with other guests.
Just up the mountain road from Edson Hill Manor is Topnotch Resort and Spa. This high end resort caters to cross country skiers who like flat trails and love to be pampered in an internationally acclaimed spa at the end of the day. Many downhill skiers stay here, so a group that wants to spit between downhill and cross country will find this place convenient.
Topnotch is an unbelievable place to stay. The views of the mountains from the lobby are breathtaking. And you're going to want to hang out in the lobby. There is a large circular fireplace in the middle of the room surrounded by chairs that don't want you to stand back up. You can relax and enjoy tea or coffee at the end of the day as you look out an enormous picture window and watch the sun set over the mountains. The spa is even better. The furniture in the locker room is nicer than many peoples homes. There's fireplaces in the locker rooms, there's a waterfall in the whirlpool, and there is trained staff in anything from massage therapy to aroma therapy.
It's hard to get out and ski when you have so many fun things to enjoy at the spa, but ski you must. The touring center is owned as a private business by Don Allen. He's been running the show there for eight years and takes a personal interest in giving a quality ski experience. Allen's also an avid all around skier so his shop is a reflection of his various winter passions. You can purchase or rent touring, back country, telemark, downhill, or snowshoe equipment in his shop. Many people rent their equipment and take it elsewhere. That's okay with Allen, he can give you directions to fantastic back country day trips or get you started on their completely flat skating loops. Perfect for those just learning.
One of the unique things about Topnotch's
touring center is its connection to the town owned recreation path.
One of the unique things about Topnotch's touring center is its connection to the town owned recreation path. This flat trail allows a person to ski into the village for lunch or as Don Allen said, "You can spend a day shopping on cross country skis," then ski back to the resort.
The fourth ski area in town is the Stowe Mountain Resort Cross Country Touring Center which is owned by the downhill area. This center has arguably the most loyal following among the local cross country ski enthusiasts and for good reason. They have a nice mix of beginner, intermediate, and expert terrain, but it is the incredible efforts the staff makes day in and day out to good skiing that creates the loyalty. With nothing but snowmobiles and a variety of equipment to drag behind the machines, this center has great skiing. As just about any ski enthusiast will agree, it isn't always how many kilometers of trails a center has or what machines they drive it's what commitment the staff makes to get out there and make a good product. The SMR Touring Center has gained a reputation of working hard in all conditions to make great skiing.
The enthusiasm was driven by its manager John Higgins, who died of cancer last winter at the too young age of 52. Higgins's legacy however will be kept alive by long time Stowe resident Scott Dorwart. He plans to continue Higgins's efforts in back country ski development while upgrading the touring center's building as well. "We really have a nice niche here," said Dorwart. "The snow sits in this valley nicely and allows good skiing even when the cover is thin."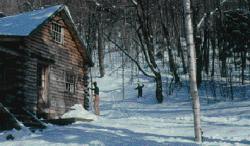 When you ski there be sure to try Bear Run. It's a long trail that staircases uphill. At times you will start saying to yourself, "When will this end," but it is a fun trail because the uphills are never too outrageous and the ski back down is worth the effort.
SMR's trails are also easily linked to Trapps and Topnotch. A great loop to try if you are in excellent shape is something unofficially known as the Grand Loop. You start at the Mansfield Touring Center, ski up to the cabin, down to the Trapps Touring Center, over to Topnotch trails by way of the Haul Road and Farm Road trails, then back to the Mansfield Center on Valley View and Stowe Derby Trails. This loop is approximately 25 kilometers in length and has elevational changes of over 500 feet. It's groomed throughout for skating and striding though a call ahead to each center wouldn't hurt if you plan to skate.
Two great events to keep an eye out for each year are the Stowe Winter Carnival on January 18 – 27 and the Stowe Derby on February 24. The Winter Carnival includes ice carving demonstrations, snowshoe and ski races, a snow golf tournament where costumes are mandatory, a village night block party, and various other fun events. The highlight of the week is the Wintermeister Race which combines speed skating, cross country skiing, and downhill skiing. The field is small but the competition fierce, as the winner claims the right to be called Stowe's best all-around winter athlete; no small feat in this sports-minded town.
The Stowe Derby is possibly the most fun race you could enter. The event starts at the top of the Mount Mansfield downhill ski trails, runs for four miles on alpine trails where you can hit speeds of 40 miles an hour, then rolls for six miles into the village of Stowe. Each year upwards of 900 racers participate in this event starting in waves of five skiers. There is even a killer post race party at the Rusty Nail Saloon.
Stowe is also one of the great places in the East for accessible back country. Of course, here-in lies the great dilemma of the ski writer. How do I tell about the unbelievable glades, the deep powder, and the majestic views without giving away my favorite places. Well suffice it to say that what you should do is go to any ski shop in town and pick up a copy of the Map Adventures trail map to back country skiing in Stowe. This detailed map with topo lines will get you started and help you find all the great places that I cannot morally bring myself to reveal.
After a day on the trails be sure to check out the great night life. The Rusty Nail is well known as the place to dance well into the night with live bands every weekend and many holiday weekdays. Before the late night stuff there are more great restaurants and apres ski hangouts then you could visit in a single trip. Check out Charlie B's for a relaxed pub atmosphere with a fireplace, or the Sunset Grille and Taproom for the active sports bar scene (they must have ten or more tubes in the place.) The downhill crowd likes to pack shoulder to shoulder at the Matterhorn, while the cross country skiers tend to scatter about in places like Gracie's Restaurant, Pickwick's Pub, or The Shed.
I first moved to the Stowe area fifteen years ago. I checked out ski towns all over the country but one of the things I was looking for in a town was a vibrant community outside of tourism. There was a couple of reasons for this. One, if you are going to work in an tourist town and tourism ever dries up you want to be able to make a living. For me this was tree work and logging, two businesses that are active in the area outside of tourism. The other reason was that many tourist towns have this "Fantasy World" feeling about them, which after a while gets old. I wanted more reality. As much as a tourist town can achieve the feeling of being a real town, Stowe does a good job. Like any tourist town, well, like maybe any town in America, Stowe is a tough place to make a living. The wages are low especially when the cost of rent or real estate is factored in. And good luck finding a job with excellent benefits. Most positions are seasonal, but actually that's why so many people settle in the Stowe area in the first place. Who wants a job that ties you down when the skiing is good. If you're going to make lousy money, you'd better have a job that lets you have fun. It's what's keeps the locals around and what makes living in or visiting Stowe a special place.