As is typical in the valley that is the middle year in the Winter Olympic cycle, the 2007-08 international and North American seasons offered a handful of highlight moments and plenty of emerging trends to ponder.
With no Nordic World Championships to focus on, the international scene was left with just the World Cup schedule to keep things exciting. Czech Lukas Bauer broke up the modern German monopoly of the men's overall World Cup crown, racing in a dream season. Finland's Virpi Kuitunen won her second women's overall World Cup in only slightly less dominating fashion than her 2006-07 campaign.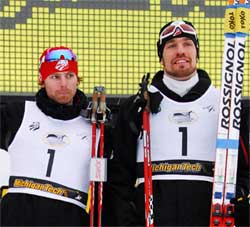 Andy Newell (left) and Torin Koos on the podium as the team sprint champs at the 2008 U.S. nationals in Houghton, MI.
(Photo by Bill Fink, galleryondaline.com)
North American fans were excited to see several World Cup podium finishes by Canadian and U.S. skiers, which is arguably the first time ever that both nations are putting consistent top-three threats on the trails at the same point in time. Canada's Chandra Crawford (the defending Olympic women's sprint champion) found her mojo fully returned in 2007-08 with a couple of podium sprint finishes. U.S. speedster Kikkan Randall claimed the first-ever World Cup race win by a U.S. female at the Rybinsk, Russia, freestyle sprint. The U.S. men's speed duo — Andrew Newell and Torin Koos — continued to shine with several solid sessions as well (Newell a second place at the Lahti freestyle sprint).
Flashes of a return to form from Canadian Sara Renner and American Kris Freeman, in middle distance races during the 2007-08 season, were also encouraging signs for North American fans. Then there were the stellar North American podium efforts at the much delayed and ultimately moved World Junior and U23 Championships.
North America also had reason to be excited about a World Cup return to this side of the Atlantic with Canmore, Canada, hosting a four-slate schedule.
North American national championships went off without a hitch in 2007-08, with Houghton, Michigan, this time seeing a normal amount of snow in January for the U.S. "speed" nationals. The 2010 Olympic venue got its first big event test with the March Canadian nationals, followed by a much smaller U.S. distance nationals in Fairbanks to close the season.
Trends, Fads, Worries and Hopes
Beneath the headlines, results and press releases are many somewhat hidden stories and lingering questions that make the 2009-10 season and beyond very interesting indeed for cross country ski fans. Here are few of the bigger issues that you may not see discussed very often, yet promise to have a profound impact on our sport in the next year or two.
World Cup "Home" Snow? Yes and No.

With the 2008-09 calendar featuring another long weekend of World Cups (January 16-18 at 2010 Olympic site in Callaghan Valley), international racing will return — at least to Canada. Given that the Olympics guarantee North American international races in 2010-11, we are now in the middle of at least a three-year span of World Cup and Olympic races left of the Atlantic. Unquestionably this is a very exciting time for North American athletes and race fans, since any race outside of Europe opens the door for breakthrough Canadian and U.S. results.
However, the cup half-empty perspective is that the U.S. continues playing the role of lingering houseguest for all of these international parties. Since no U.S. races are on the draft international calendars for 2009-10, we know right now that, from the close of the 2002 Olympics through — at the very minimum — December 2010, there will not have been a single World Cup event held on U.S. snow. Worse, with the exception of the 2002 Olympics itself, only three World Cup races will have been held in the U.S. from December 1989 until December 2010 (at least!).
It's true that the Canadian 2010 venue is only a couple of hours north of the border. But many U.S. ski fans feel that all is not right in our sport when the richest nation on Earth with the stated goal of being the best in the world in ski sport cannot find a way to host a World Cup more often than one weekend every decade or so.
What Deep Really Means
The North American performers mentioned earlier are unquestionably performing at the top and it's also undeniably exciting to be able to see both Canada and the U.S. doing well at the same time.
Investment in speed the past couple Olympic cycles, particularly by the U.S, has paid off with three stellar athletes able to rip a big result at any sprint. Canada's Crawford rode the momentum of a powerhouse Canadian women's group from 1998-2006, led by Beckie Scott and Sara Renner, to her stunning 2006 gold medal. Now it appears as though Crawford is ready to carve a lasting legacy of her own as she preps for a home Games in 2010.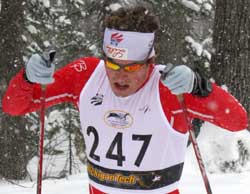 Kris Freeman at the U.S. nationals in Houghton, MI.
If, as noted earlier, Renner and Kris Freeman can return to form, or one of the younger talents from either nation develops faster than the norm, there are NorAm chances even in non-sprint races. All this is fantastic, of course. But Canada and the U.S. still have a long way to go toward changing the fundamental depth problem at the elite level.
You want to know what depth really looks like? In 2007-08, the Norwegian team produced a mind-numbing 51 World Cup podium placings. All this without a single star performer on either the men's or women's rosters snagging a lion's share of the big results. That's 10 times the number of World Cup podiums as all of North America. Did I mention Norway is also a nation of around just 4.6 million people?
Parity — Best Indication Doping Is Reduced? 
Although no one is claiming total victory over doping within international cross country skiing (even the alphabet soup of administrative entities are refreshingly keeping the hyperbole down on this topic), but a very positive trend points to greatly reduced doping.
A record 19 nations had athletes on a cross country ski podium in 2007-08. The previous season was also a record, with 17 different nations represented on the podium.
One reason for this tremendous surge in elite parity is the growing strength of former eastern block and Soviet-dominated nations that are coming into their own, economically and organizationally. The drive towards specialization — with sprints, pursuits, mass starts and the Tour de Ski format — also have helped, as all of these formats make it harder for dominant skiers or national teams to simply rule every day. A longer season also plays a role, since most nations and athletes simply can't gear up weekend after weekend for five to six months a year (with the exception of Norway, which seems to bring it anywhere, anytime).
But the single biggest reason for international parity may ultimately be far less doping going on within international cross country skiing. We've seen in the past how convicted doping athletes and nations seemed to rule with regularity, not only at the biggest events but overall during the World Cup season. Clean athletes rarely display the predictability in astonishing results as doped athletes. Uber-talented clean athletes in a semi-fair playing field can rise to the occasion (see Beckie Scott's gold in the 2002 Olympic pursuit). But with little to no doping, one would expect to see more breakthrough results at random occasions from athletes that might be a shade off the superstar level.
With 19 nations scoring podiums, we are indeed seeing very little predictability on a week-to-week basis, particularly when weather, snow, format and travel have a growing impact on results. In a cleaner world, we expect more unexpected results — exactly what we are getting.
2010 Olympics, Where Equipment Will Rule
Let it be heard far and wide that the 2010 Olympics will be the first Games in which the cross country ski events could easily be dominated more by the athletes and teams that solve the equipment riddles, as opposed to those focused mainly on technique and fitness.
The 2008 Canadian nationals showed exactly how tough the weather and snow conditions the Callaghan venue will be for ski technicians. Out of several national team staffs on hand, and some of the best technicians on the planet, virtually no top results in any classic races involved traditional waxed skis. Waxless skis of some type ruled without question. Even more interesting was how hard it was for many skiers to find fast skate skis. Even the slightest variation in grind or flex could make a champion ski a dog (or vice versa) at Callaghan.
The 3,000-foot venue is just over a few ridges from the Pacific and, given the notoriously warm and wet Pacific Northwest climate, promises to be a Games filled with weather days. If you like crazy results, 2010 could be your all-time favorite Olympics!
And Finally — A Word From Earth
Although North America generally enjoyed an amazing snow season from start to finish in 2007-08, Europe was not nearly as lucky. Those that surf the 'net for cross country results are already aware of the amazing lengths venues worldwide went to in order to host major ski events. Trucking in snow, harvesting snow from ball fields, laying down a cobblestone of huge ice chunks, flying in loads of snow via helicopters, investing in multi-million dollar snowmaking systems — the list of creative, expensive and, unfortunately, desperate solutions is growing.
So is the fundamental problem for ski sport.
Some might say that we need to get busy addressing that which is causing the changes in weather and snow worldwide — or we all will need to become bigger fans of roller ski races.