"ONE LAST ANNOUNCEMENT," THE TOUR LEADER SAID
DURING THE EVENING BRIEFING SHE WOULD REPEAT IN THREE LANGUAGES. "
Story and Photo By Rich Landers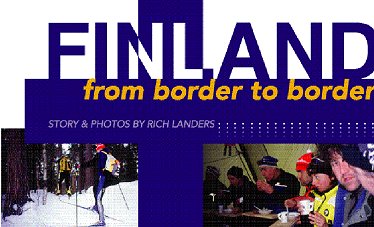 "ONE LAST ANNOUNCEMENT," THE TOUR LEADER SAID DURING THE EVENING BRIEFING SHE WOULD REPEAT IN THREE LANGUAGES. " We've had to change tomorrow's route. Instead of 74 kilometers, you get to ski 84 kilometers. But there will be no extra charge."
That's Finnish humor at its knee-slapping best on a ski tour across a country that endures winter for up to eight months a year. Even in March, ice still clogs Helsinki's Baltic port and the most fashionable girls are still wearing caps over their ears.
But for a limited number of skiers, Finland is the ultimate late-winter destination. They reserve slots by December so they can come in March for the payoff on the kilometers they've logged all season – a week-long odyssey in which marathon distances become a lifestyle.
The Rajalta Rajalle Hiihto, or "From Border to Border," is a seven-day, 450-kilometer (270-mile) skinny ski across Finland from Russia to Sweden. Participants skirt the Arctic Circle through the rural landscape amidst an international buzz of what has been touted to be the world's longest organized ski tour. (That distinction changed a couple years ago when the Finns outdid themselves by founding a six-week tour that traverses the length of the country.)
Last year, for Border to Border's 20th anniversary, three waves of about 100 skiers from 11 nations started on different days. From the Russian border near Kuusamo, they followed what was generally a single track groomed by a snowmobile. The route headed roughly west, through forests of birch and pine and from villages to small towns, across swamps, lakes and frozen bays to Tornio.
Skiers cover 46 to 84 kilometers a day, although it's possible to bail out at some point each day. Luggage is shuttled by bus, but the physical demands are still significant. Up to 50 miles of ski trail doesn't just disappear behind you each day without a little effort and a massive amount of food consumption.
Each wave is capped at about 100 skiers because of the limited services along the route. Food and lodging are provided from Border to Border for the tour fee of less than $700. Accommodations range from a four-star resort to hostels and the floor of a backcountry schoolhouse served by two four-holed outhouses.
This is a vacation that requires months of advance training, although your body will quickly adapt to the ritual of eating two dinners offered every evening.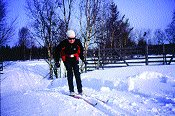 I was among eight Americans in our wave. Other participants ranged from Germans, including a 22-year-old woman training for their national biathlon team, to the tour's first Spaniards, a Frenchman, some Dutch and Swedes, plus a contingent of Finns so lean and sinewy a wolf would have to gnaw on their carcasses for a week to get any meat off the bones. A Seattle veteran of the Border to Border warned me, "Just prepare your ego to be passed on the trail by some 70-year-old Finnish lady."
Even in March, ice still clogs Helsinki's Baltic port and the most fashionable girls are still wearing caps over their ears.
My diary barely skims the rich rewards of this intimate Finnish experience of international nonchalance toward blisters, aching muscles and squeamishness to pickled herring.
ARRIVAL AT OIVANKI
Everyone trickles in from various flights, trains and buses to this ski camp with hostel accommodations in the woods near the Arctic Circle outside Kuusamo. A German shows me his huge wax kit and points to the lock, noting that the box holds thousands of Euros worth of stuff that had already been well-used in the past two weeks during the who's-who of Scandinavian endurance races. I hold my Ziploc bag of waxes behind my back.
I meet more skiers in the wax room and sauna, where one gets the first serious peek into the Finnish experience. The sauna is as important to the culture as olive oil is to Greeks. Saunas are spotlessly clean here, where they are the foundation for proper hygiene, longevity and spiritual well being.
At the orientation, all of us first-timers get a Rajalta Rajalle Hiihto medal and cap. Even with earplugs, I can hear snoring in at least three languages before all the lights are out in our cabin.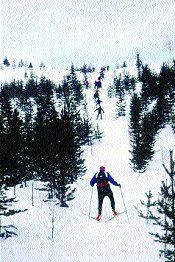 DAY 1 – 63 km TO KUUSAMO
Buses take us to a Finnish border guard station. A snowmobile has set an enjoyable single track through the woods and along a frozen stream. Then, still within sight of the Russian border guard towers, we come to a clearcut and "The Hill."
A line of skiers stretches forever as they herringbone toward the heavens. There's little relief at the top. We are greeted by wind that whips the German flags one skier has taped to his poles. The temp is minus 5 degrees Celsius and the wind is in our face the rest of the day as we ski often where ptarmigans, moose and reindeer make the only other tracks. Volunteers huddle around campfires at aid stations every 10 to 20 kilometers offering hot lignonberry juice, raisins, and… what's that? Dill pickles. I meet the four Montanans the German men are calling "The American girls." The fastest of them is the mother of two kids, including a boy who is the youngest person to ever ski the Border to Border. He was 10 at the time. I'm proud to be an American.
The first day ends with discouraging short, sharp hills between flat stretches with relentless headwinds. My body is depleted, but misery fades as we check into a fancy hotel, with saunas of course, and a huge pool with waterfalls. I eat big at each of the two dinners tonight. I mix Gatorade, rehydrate thoroughly, inventory my Motrin supply and sleep hard.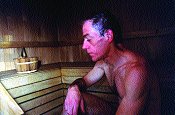 DAY 2 – 72 km TO TAIVALKOSKI
No need to labor over kick-wax selection this morning. I double-pole for hours on Death's Railway, an abandoned route built during World War II by Germans who forced prisoners into hard labor. Reindeer soup and salmon chowder are served over an open fire in a yurt at lunch, where it's already apparent that day after day of this pace will be difficult but satisfying work for the prepared and a torturous nightmare for the few who are not. Two skiers already have dropped out because of overuse injuries to wrists. On the other hand, one skier from The Netherlands trained on paved bike paths using roller skis and had only one week of on-snow skiing before the tour. "We got here feeling quite exotic," he said. "Like the Jamaican bobsled team."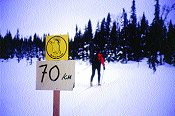 DAY 3 – 55 km TO SY"OTE
I'm hitting my stride today. I've learned how to manage my body for the long haul. I stop, drink and eat a couple bites of energy bar every hour regardless of where the next aid station might be. I've learned to appreciate the snack-stop pickles, especially combined with a hard-boiled egg I snatch at breakfast and save until my body is craving protein after lunch. I drink at least four cups of warm juice at each stop. I could keep pace all day with the Finns if it weren't for my small American bladder.
Our route links temporarily into sprawling ski area trails groomed by a snowcat. Finnish ski trail systems seem to go forever. At trail junctions, it's not uncommon to see signs pointing to destinations 60 km away. Mountains are scarce but hills are not. We head up the longest sustained grade of the tour and glide down and down to snack at an historic farmhouse. We finish at a downhill ski area and a T-bar lift to a fine hotel at the top of a run. After the sauna, I learn that beer is served here. I opt for total decadence, paying 7 Euros to have a Finnish ski technician wax my skis and 10 Euros for a massage. I call my wife in the U.S. and tell her none of this, except that I labored seven hours today, uphill all the way.
DAY 4 – 84 km TO RANUA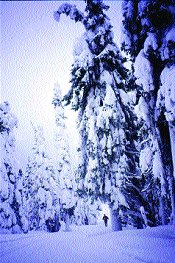 After skiing steadily through the woods on glorious single track for 90 minutes this morning, I get a reality check at a sign that says there's still 70 km to the finish. Then a blizzard settles in just before lunch, where live reindeer are tethered outside a yurt and cooked reindeer stew is simmering inside on the fire.
About two-thirds of the skiers call it quits here at 41 km. The German couple I've been pacing leave me in a drift as I stop to photograph the bleakness. I know they are only a few hundred yards ahead, but the wind has obliterated all tracks. Only the red ribbons on trees, posts or willow branches stuck in the snow mark the route through forests and whiteouts on vast open marshes.
Two figures appear ahead in the nothingness as though they are a mirage. I hear soft Finnish giggles. Two little girls carrying book packs, bundled in long jackets, hats and scarves, are skiing from a school bus stop through the blizzard to their rural home.
I continue through gnarly conditions, donning a balaclava to save my face from the wind, scraping away snow plastered to my glasses, feeling a little sorry for myself until I pass a Swede trying to scoot along on one ski. The other has a broken binding. I'm not much better off. Can't double pole, can't skate, can't really do anything but slog. Those who made the entire distance get many thumbs up in the sauna at day's end. Accomplishment speaks an international language.
DAY 5 – 44 km TO HOSIO
An easy day, perfect for recuperation. I double-pole on relatively flat terrain and across many lakes, for which Finland is famous. No wonder more than 30,000 Finns are named Jarvinen, which means "Lake Person." Like every other day, I encounter stretches of absolute skiing bliss. But every day requires some degree of putting the brain in neutral and letting the body autopilot down the trail. We'll sleep tonight on the floor in rural schoolhouses, where teachers take advantage of the tour for international studies. Being the first American there, I greet the girl holding the American flag. She blushes and strolls bravely toward me, with blond hair hanging straight like spaghetti from her stocking cap. She tests her fledgling English and gives me the flag, which she had made with Crayolas complete with all 50 stars. I tell her she should get an "A" for effort, although I'm not sure how that grade would translate into a language with seven vowels.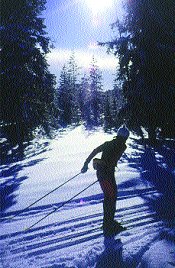 DAY 6 – 56 km TO HONKAMAA
Children coming to school wave as we depart and enter the silent woods. Reindeer watch from a corral. The skiers eventually spread out for many kilometers. A ptarmigan launches out of some birches like a snowball with wings. Accommodations are delightfully primitive tonight. The sauna is wood-heated. We bathe by pouring buckets of water over our heads. We sleep packed into rooms of a schoolhouse and a small outfitter's camp. No earplugs, no sleep. The combination of my religious attention to hydration and my small American bladder pays off with a 3 a.m. trek to the outhouse. The sky is clear, the temperature is minus 10 degrees Celsius and the Aurora Borealis is alive in the sky.
DAY 7 – 76 km TO TORINO
We are on the trail by 7 a.m. and ski into the sunrise. There's extra incentive on this last day. The tour ends at a famous Finnish brewery. Before getting to the long flat stretches on frozen bays, the skiing starts with an undulating single track that takes me back to the days before grooming machines began smoothing away all the thrills, humps and nuances that can make a ski trail a tactical adventure in maintaining momentum. Perhaps the best skiing complement I've ever received comes from a Finn who says, "You have nice tempo on this trail. We follow you." But the rhythm I'll remember most vividly comes from the sauna this evening. The Finns and the Swedes reflect on the tour in a lyrical cadence as though their conversation were a song rolling over the same wave-like bumps we have just skied.
FOR MORE INFOMATION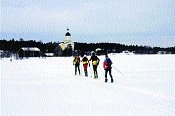 Border to Border website: www.ranua.fi/tapahtumat/rr/rr_eng.html
Finland Tourist Board website: www.gofinland.org
Finland Ministry of Foreign Affairs: http://virtual.finland.fi
Nordic Saga Tours based in Edmonds, Wash., is a travel agency familiar with the Border to Border Tour and booking transportation and accommodations to other winter vacation opportunities in Finland and Scandinavia.Info: (800) 848-6449.