by Kate Devlin
For 43-year-old Kathy Strahan, learning how to cross country ski meant more than just overcoming the normal frustration beginners experience. In her quest to ski, the California native tackled chronic knee problems, complete blindness and her own fears. Blind since age two and physically active all her life, Strahan knew she had the determination necessary to participate in the weeklong international Ski For Light program. Held in a different location every year, the annual Ski For Light program pairs visually- and mobility-impaired skiers with experienced guides for optimum learning. The goal at the end of the week? Skier and guide complete a 5 km course together.
Despite the challenges in front of her, Strahan confronted her fears to attend the 2002 Ski For Light camp held in Granby, Colorado. Skiing and Ski For Light have been a part of her life ever since.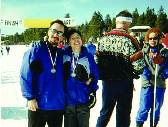 What convinced you to participate in Ski For Light?
I heard about Ski For Light from other blind people who either knew of someone who did it or participated themselves. The program attracted me. Since we don't have much snow in California, I really didn't know that much about skiing, except it would be a brand new experience from top to bottom.
Did you have any hesitations?
For eight or nine years, I hadn't done anything very physically challenging partially due to a chronic knee problem. I was concerned that skiing would be too strenuous. I would have started in the program five years ago had it not been for my knees. Finally, I decided to ignore my knees, go for it anyway and see what skiing was all about. The experience was very difficult, but definitely worth it.
Most of us learned to ski by observation; it must have been very difficult for you to learn.
Every skier has a guide, who is everything to her. My guide, Richard Epstein, physically showed me with my body and taught me through verbal explanations. He showed me how to use my poles for instance, and how to do certain techniques such as the snowplow. Whatever it took to get the image through to me is what he tried.
Richard was very strict with me. He wouldn't let me complain or whine. Skiing put a big strain on my body, but he got me to do way more than I thought I could do. In some ways skiing is natural, but then you have to find your balance and overcome your fear.
Did you ever want to quit?
No, I never wanted to quit. But the first day I was the most tired. When I returned to the lodge for lunch, I was so tired I couldn't even speak, and I love to talk! Somehow I renewed my desire to come back the next day to try again.
I was determined I was going to learn how to ski. I would actually practice my diagonal stride when I was walking.
What was the most difficult thing for you to accomplish mentally and physically?
Overcoming my own low expectations was the hardest thing. I had to stretch my physical capacity to say, "I can go down this hill," and then do it. Just forcing yourself to do things that seem impossible or scary is difficult. But after you do it—nothing is more rewarding.
Were there any surprises?
What surprised me, what I didn't expect at all, was the powerful experience that I had with my guide. Over the week's time, you develop a team between the two of you, a respect, a trust. It's really potent. Richard will always be really special to me. He taught me how to ski: I was a beginner, I was totally blind, and I had no clue what to do. But I was physically fit and enthusiastic. I had a very strong determination to learn. And while I was learning so much, I didn't know he was learning as well. We both had an incredible experience.
What would you say to other people who are considering Ski For Light?
If you want to have an intense experience, and you're used to physical activity and enjoy fitness, Ski For Light is for you.
Besides skiing, what new learning did you take home with you?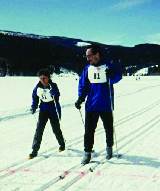 I have a greater respect for teams. It's not just by accident that two people join together. You're a better person when you combine your skills with another person because you can't live in this world by yourself. It's impossible to live happily without friends, and I went away with lasting friendships. I will stay in contact with the people I met at Ski For Light.
Are you going back this year?
Definitely. Thanks to the help of a trainer, my knee condition is greatly improved. There's nothing holding me back!
The 2004 international Ski For Light week will take place from February 8 – 15 in Green Bay, Wisconsin. Interested skiers or guides can visit the Ski For Light website www.sfl.org for application and deadline information.