St. Paul native John Schmitt isn't known worldwide for his work as a mortician. However, skiers from all over the world warmly recognize and greet him as the contagiously enthusiastic "Voice of the Birkie." Through the past two decades, Schmitt has announced 20 American Birkebeiners beginning each with his famous "Yee haw!" But, last year Schmitt said his final words from behind the microphone and retired from the Birkie.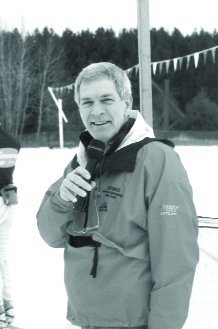 Where does your renowned enthusiasm come from?
I really don't know. I'm gregarious by nature, I guess. I don't want to sound haughty about it, but I am very extroverted.
I think it's a combination of a lot of things—I have a lot of zest for life, I have a need for people to like me and I think I have an understanding of people's needs.
How did you harness that enthusiasm during the Birkie?
Throughout the entire weekend, I just used every bit of energy I had to remain enthusiastic and up. When it was finished, then I died. For those three days I just burned it up; I focused on staying wildly enthusiastic.
You were originally a die-hard downhill skier. How did you get involved in cross country?
My wife first became involved, but I still stuck with downhill. In 1977, she skied the Birkie first, and I started off the race as a sky diver in the opening ceremonies. At the first one, I thought, whoa, there's something here. So, I started skiing.
My first major ski race was the Birkie, and I almost died. Then I got serious. During the following year's race, I almost cut my time in half. I guess I did kind of leave downhill behind, but now that I have more time, I do both. There's a nice balance there. Being the type of person I am, I like the thrill—that's probably why I like downhill. But I also like pushing the limit in endurance.
How did you go from racer to announcer?
That was through sky diving during opening ceremonies. We were scheduled to parachute into the opening ceremonies, and when we did, the announcer didn't really know what was going on, so we said we'd announce ourselves. It was my turn, and I guess some people liked how I did it. So, I was asked to start helping out with some of the other announcing—the kids race, the sprints, the start of the race, the finish of the race and eventually the whole dang thing.
What was your first race announcing like?
It was a total sink or swim thing, and the challenge was the fear factor. It's really kind of like parachuting. It's like letting go of the airplane. You just have let go. It's sink or swim.
What were the biggest challenges once you got going?
The challenge became maintaining the necessary concentration and focus. You're there for one reason and only one reason. You don't dare lose concentration.
One other little thing…one of the most difficult aspects of announcing is simply pronouncing names. There are so many foreign skiers, and names are difficult to pronounce sometimes, spelled differently than they sound. It's always frustrating to me, because I really, really strive to pronounce everybody's name correctly.
Did you ever want to quit?
No. I really enjoyed it—enjoyed the announcing part. It was just such a diversion from all other aspects of my life. I'm a mortician who promotes burial vaults. So, announcing ski races is just a dramatic diversion. And that's the variety in my life. I love variety.
What separates you from other announcers?
Ha! They're all better than me. I don't make any claims whatsoever. I don't feel that I'm any different than anybody else. Maybe it's my silly accent I still hang on to. But I am not better than anyone else. Believe me.
What opportunities did you have that you wouldn't have had without your involvement in the Birkie?
I did the Worldloppet—12 of those races. And I got to know people from other countries that I wouldn't have known. Going to these foreign countries was a unique experience because I was part of their organizations. I would speak at their opening ceremonies, and I was more than just a spectator or a racer. That was a very thrilling opportunity. It was just super.
What prompted you to retire?
It was time to move on and turn it over. I don't know if I could handle it much longer. I just knew that I didn't want to wear myself out to where I'd lose my enthusiasm, because then I would have done no service to the race.
What will you miss the most?
I'll miss the magnitude of the Birkie, but I'm still announcing some races—some high school relays, the City of Lakes Loppet. I'm really going to have some fun doing those. I always remark, when I see all these high school students at the relays, how those people who go on national television and criticize the youth of today just need to come to one of these races. I'm really excited for those races. When you think about it, a ski race is a ski race, but it's the magnitude of the Birkie that I'll miss—it's the big one.