By Kate Devlin
This ski season, Roy Carlsted of St. Paul, Minnesota, plans to compete in four cross country ski marathons, including the Mora Vasaloppet and the American Birkebeiner, major accomplishments for any skier. However, having just celebrated his 80th birthday, Carlsted will likely be one of the few racers in his age group. Despite the dwindling competition, the former construction electrician, who has skied, biked and run for the last 30 years, has no plans of slowing down.
What convinces you to get up in the morning and to work out almost every day?
Well, I don't know…when you're 80 years old, you got to get up in the morning. I just get up and exercise almost every day.  If you're going to race, and if you're going to do good, then you have to get out and train every day.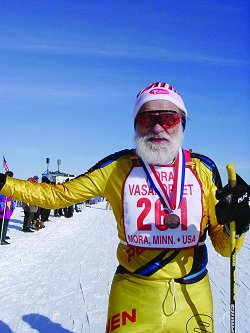 Have any challenges ever slowed you down?
I've really had no health problems. I mean, the knees bother me once in a while, but I take an herbal supplement for that.  When I was 71, I was still doing 50-mile trail runs, and I don't really do those anymore. When you get to be my age, some things do change though: You don't lose your endurance, but you do lose your speed.  That's why I like the long races.
You're one of only a handful skiers left in your age group. Do you think you'll retire from the sport anytime soon?
I'm going to race until I'm 90 if I can. There used to be six or seven in my age group, but now I'm the only one left in many races. Ed Harjala, an octogenarian of Copper City, Michigan, and I race sometimes, but he's usually tougher than I am. He's up in snow country, and I think he's more serious than I am. I just get out there and have fun.
When did you first put on skis?
Back home on the farm, up in Dassel, Minnesota. What we did in them days, we didn't know about kick wax, and we only had homemade skis. So, we'd ski across the field to the hill, then we'd take our skis off and walk up the hill to ski down. We made a couple big jumps and went off them, but I don't think I ever made it over both jumps during one run.
When were you introduced to cross country skiing?
I downhilled until 1969 in Colorado, but then I came home. I got started with cross country skiing because I went to a ski show and met this woman we called Grandma North Star. She passed away, but she's the one who got me to into it. She was at this show just advertising the sport. So, I bought a pair of skis and then joined the Minneapolis Ski Club. That's where I really got into racing.
Did you learn the techniques easily?
I picked it up fairly quickly. In the ski club, I was following guys who were all in the Olympics back in the 50s. Once I learned how to ski, I started overtaking them.
Does your family worry about you skiing such long races?
They get used to it. They've been around me for so long that they don't worry about me too much. They don't want me to do another 50-mile trail run, but I'm going to surprise them.
Looking back, what's your favorite race and favorite aspect of the sport?
I do a race up in Thunder Bay—I love that race. It is so much fun, challenging and so well groomed. You go up a bluff, the Sleeping Giant—I ski up there to wake him up. But, overall, I really like the rhythm of skiing. It's just so nice to be out in the woods, to see the deer and to be working out.