By Katy Devlin



To Christal McDougall, heaven means skiing the perfectly groomed trails of Waterville Valley, gliding through birch and beech trees just after sunset, as the pink light on New Hampshire's White Mountains casts a glow on the valley. She feels at home amid those snow-capped mountains, where moose sightings are common and where one can't help but take a little time for herself.
Ten years ago McDougall, of Boulder, CO, decided to share her idea of heaven with other women when she began the Ski For Yourself cross country weekend camp in Colorado. Three years later, she added camps in Washington, Vermont and New Hampshire.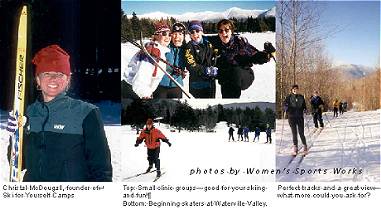 She hoped the program would give women an experience that provided more than the standard ski lesson. The weekend soon transformed into more than just an athletic weekend. It became an escape from everyday life — a time for women to stretch themselves physically and emotionally, learn new skills, meet new people, and most importantly, to focus solely on their own needs, goals and desires.


We place the emphasis on the women who come to the camps — hence the name 'Ski For Yourself,' " McDougall said.
The program is really about whatever you want to accomplish during the four days, McDougall continued.
Part of getting better at anything is learning to recognize your own needs and to put yourself in a place where those needs can be fulfilled. That's what we do."
The four-day camps are designed for women of all ages and abilities. The all-inclusive package combines meals, lodging, instruction, ski care clinic, Fischer equipment demos, yoga classes and massages. In prime locations, Ski For Yourself weekends are scheduled at Latigo Ranch in Kremmling, CO; Trapp Family Lodge in Stowe, VT; and Waterville Valley Resort in Waterville Valley, NH.



The camp employs well-trained female coaches, including former world-class racers, top-level instructors and equipment testers to assist women at any level, as well as providing yoga instruction and a massage for relaxation. Last February, Waterville Valley Resort hosted 16 women for the Ski For Yourself camp. With an average of about 20 women each year, the coach-to-camper ratio is always kept at one to four or five.
McDougall, who also founded Women's Sports Works, said she recognized the specific needs of women in educational and
athletic endeavors. Therefore, she expanded the focus of the camps to challenge women physically as well as spiritually and emotionally, developing their athleticism while encouraging them to succeed in all parts of their lives.
For some women, just taking four days off to focus on exercise and rest is what the ski camp is all about," McDougall described the camp's philosophy. For others, the focus is on really pushing themselves to become stronger aerobically and technically in terms of skiing."
Anne Renner, a 48-year-old former lawyer and mother of two, returned for her fourth Ski For Yourself weekend last year. Ski For Yourself is a perfect escape for me," Renner said. " Between the kids and everything else, I feel as though I have no time for myself. At camp, I can be outside all day long, skiing in the silence of the woods, be fed delicious food, do yoga, have a massage and commune with other interesting women. What more could anyone ask?"
Renner said the focus on women's needs in addition to the community and friendship found at camp among the women campers and coaches offers a different, but refreshing, experience.
I think Christal's vision for outdoor camps just for women meets a real need. It certainly does for me," she declared.
With the camaraderie of women and emphasis on female spirituality, the camps prove to be a unique experience. Having grown up without sisters followed by finding her personal and professional life very male oriented, Renner discovered the camps filled a niche in her life.
Women truly have a different energy and a different approach to physical and mental challenges," Renner explained.
It is nice to get to sink into that different energy for a weekend."
Female coaches add to the camp's distinctiveness. Renner termed the coaches a relief," because they challenged, rather than pushed, teaching to whatever level was needed.
They are funny, sympathetic, perceptive, challenging or laid back, totally accessible and completely non-threatening," Renner reflected.
Most of us live pretty stressful lives, and for me, the last thing I want on a weekend off is more stress. I love to learn new skills, but I'm not fond of feeling klutzy or out of shape."
Many participants find a little bit of heaven during the camps by improving their skiing skills. Suddenly I felt my body understand what the coach meant and felt the glide, the rhythm, the kick suddenly working easily, smoothly," Renner reminiscenced about a leap forward in her technique.
Combine education with the ambience of the setting, and memories are created. Renner remembered late afternoon trips in the high meadows, watching the evening glow settling on the peaks; standing silently with a friend deep in the woods, snow drifting down and beading on our hot faces, and then racing for home so we're not late for 4 p.m. yoga.



But maybe some of that heaven also came from the kitchen. The food is a sensual and spiritual experience, Renner said. It's very healthy—lots of veggies—but packed with flavor." She confessed, And her desserts, oh her desserts. I don't even like most desserts, but I usually have two at each meal.
McDougall's vision of skiing for women, with women, and by women may be on the cutting edge of cross country ski camps. And certainly her emphasis on the spiritual and emotional well-being of her clients sets her camps apart. If skiing is a metaphor for living, then 'Ski For Yourself' can be translated as 'Live for Yourself,' which is what we encourage women to do while they're at ski camp," McDougall continued. It's all about recognizing where they are and supporting them to proceed and improve from that point. And many of the women actually take this support back to their lives after camp is over." Perhaps, as McDougall's clients discover, in taking some time for themselves, the little slice of heaven gained at the camp goes with them. For more information on Christal McDougall's Ski for Yourself camps call (303)499-0436 or visit www.ski4yourself.com.