By Ron Bergin
Welcome to another year of Cross Country Skier. Our first year was wild and wonderful. First, it was an outstanding learning experience as we refined our editorial philosophy as the season progressed. We are extremely grateful for your positive comments as well as the constructive criticism. The encouragement we've received from readers, advertisers, and members of the cross country ski industry has been reassuring and validating.
This year we renew our commitment to bring you information, education, and entertaining stories from across the cross country skiing spectrum. From the mainstream to the fringe; if it has anything to do with the sport we feel it's fair game.
Reflecting back on last year, I can't help but think about the single most significant event of the season, the Winter Olympic Games in Salt Lake City. Although many skiers may not pay much attention to the competitive aspects of the sport, the Olympics offered people an opportunity to observe cross country skiing at its highest level in an outstanding venue and best of all, it was right here in the United States!
My memories of the Winter Olympics are not so wrapped in the races and results, as in the ambiance and observations I made along the way. I'm not going to comment much on the competition. I'll leave that to others better versed in the who, what, and why of it all (see Jay Tegeder's Competitive Edge column). I would, however, like to share some of my observations from my five day visit to Salt Lake City and the Olympic venue.
In light of the events of September 11, security provisions were omnipresent, but not overbearing, considering the circumstances. Predictions of waiting in line for hours proved to be mostly hype, provided one got an early start and didn't pack anything that would rouse suspicion. Once I got the routine down it was not big deal – open my bag, prove that my camera was functional, and in I went in about 25 minutes.
Olympic ticket sales included package deals that often grouped together eclectic combinations of events. As a result there were many people experiencing Nordic skiing for the first time. Walking through the crowds on my way into the venue I overheard numerous amusing comments from some of the unindoctrinated newbies. "I didn't know they had two kinds of cross country skiing" was one such statement with reference to classic and freestyle technique; or "How do they ski up those hills?" was another choice quip.
As in any sport at this level you might expect to find some high strung, super-ego types, and, of course, they were there. But it was refreshing to hear reports how down to earth and genuine some of these worldclass Nordic skiers were. A great example is Johann Muehlegg, a German expatriate skiing for Spain. Prior to my arrival Muehlegg had already become a dominant force at the games, scoring two gold medals and totally blowing away the competition. During practice one day one of the course control marshals had to stop Muehlegg from skiing up a hill against the designated flow of the course. The German-Spaniard graciously acquiesced to the volunteer's request. A short time later he returned to this same spot in his warm-up.
In broken English the medalist asked the volunteers "Is it O.K. if I take off my skis and walk up the hill?" These same volunteers had hoped to get his autograph, but Muehlegg said he couldn't at the time. Later during that same practice session Muehlegg, on his own, found the volunteers and gave them the autograph they sought.
Sadly, one of the my greatest disappointments of the Winter Games also involved Muehlegg.
Just after the games concluded, he tested positive for using a substance related to other banned performance enhancing drugs. He was stripped of his third gold medal, but was allowed to keep his earlier two medals. In a heartbeat he went from hero to goat and all of his previous accomplishments – from a World Cup championship on down to his 1998 American Birkebeiner victory were now tainted and their validity cast in doubt. How he could do such a stupid thing is beyond me, especially in light of the more recent scandals surrounding doping at high profile competitions such as last year's Nordic World Cup in Finland and the 2001 Tour de France.
There were other Nordic heroes in attendance at the games too, though they weren't on the race course. The winningest Olympic cross country ski racer of all time, Bjorn Dahlie, just a spectator for the first time in many years. He had been a possibility for this Olympics, but off season injuries limited his training and lead to his decision to retire from competition at this level. It was great to see this Nordic icon in the stands with his young son just being a dad.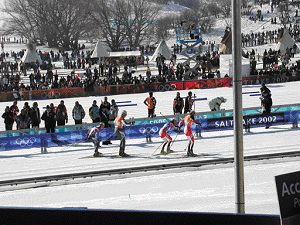 I had the great fortune to be out on the course during the Men's 4 X 10 relay and, like most Americans, was overjoyed to witness the record setting performance by our boys. I was particularly pleased to be there when John Bauer skied a strong opening leg, actually leading the pack or in second place for a few moments. Bauer's leadoff leg helped put the U.S. team in a good position for their best-ever Olympic relay finish. John's family has a cabin less than a dozen miles from my home in northern Wisconsin and I've skied with his parents, Bill and Nancy, on the Birkie Trail. What proud parents they must be! It was a great moment when the stadium announcer handed Nancy a microphone during the competition and she said hello to the crowd and wished everyone well.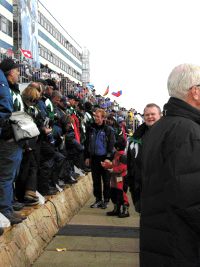 I could ramble on with more of my Olympic memories, but I've already run longer than I planned. In the end, my greatest observation was that the Olympics, at least from my perspective, were much more than just the competition. The people, the stories, the surprises and even the disappointments all contributed to make this experience one of the highlights of my life in cross country skiing.
Good skiing to you. – Ron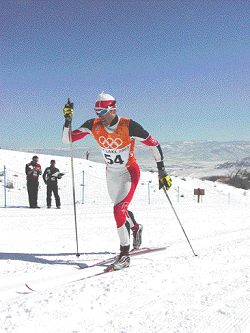 John Bauer