Hook up the pooch, and let him lead the way. Harness that canine muscle for skijoring—cross country skiing using dog power.
Grab your skis and hold on, because you're about to get pulled into a new way to cruise on snow and a phenomenal way to exercise both Fido and you.
Skijoring, a term of Norwegian origin, means "ski-driving," and that's exactly what Debbie McMaster seeks to perfect. Featured in two videos, McMaster reveals the beauty of skiing with dogs in a short skijoring demonstration video and also Cross Country Ski Areas Association's "Joy of Skiing II" video, both produced by Bill Aaron Productions. In her quest to hone her skills, she has become an ambassador for skijoring—holding clinics, teaching lessons and selling top-quality skijor equipment.
McMaster's passion for Nordic skiing is in her blood. Being a distant relative of Snowshoe Thompson, the famous Norwegian skier, who delivered mail in the mid-1800s through hail, sleet and storm, she shares a love of the Sierra Nevada Mountains through which Thompson trekked on his routes.
From her grandfather, she inherited an innate interest in skijoring. In 1907, her grandfather was pulled behind horses on old wooden skis back on the family farm in Ridgeway, Iowa. As recorded in "Bily Brothers, Wood Carvers and Clock Makers," her grandfather's skijoring exploits were local legend: "The Brekke boys had been sliding down hills with their skis and now they're pulling each other on horseback. Those Morgans of the Brekke's can run like race horses. Then the skier swings out in a wide arc on the long lariat rope. It's like playing "crack the whip" and the skier gets way out in front of the horse part of the time."
Skijoring with your dogs is much more manageable than with a horse, for reining in a 50-pound canine requires considerably less effort than trying to stop a Clydesdale. With a skijor outfit, a dog with basic obedience skills at 35 lbs. or more in weight, a decently packed ski trail and an intermediate or above skiing level, you will be off and running, literally flying down the trail. It should be noted that you, the skier, will want to have some good stopping and turning skills for skijoring.
Simple and inexpensive, a complete quality outfit for your dog runs around $150. The dog wears a soft, padded sled dog harness that evenly distributes the pulling pressure across the chest and runs the length of the body. Attaching to the harness near the dog's tail, a 7- to 12-foot towline connects you with the pooch via a wide, padded skijor belt—similar to a backpack belt or a rock climber's harness. Clipping to the skier's belt with a quick-release coupler for a quick disconnection, most towlines feature a bungee-like shock cord at the skier's end to allow for smooth movement between the dog and skier. Serving also for off-season training, the dog's harness outfit works for many other joring sports, such as hike joring, jog joring or dog scootering.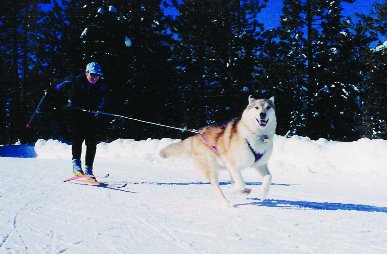 Once you are ready to introduce your dog to skijoring, acquaint your canine companion with the equipment during dryland practice before you hit the snow pack. When you head out on your first snowy adventure, have another person ski in front of you—preferably one who your dog will want to chase to educate your dog into pulling. When my wife Debbie and I skijor, I am "the carrot" for Debbie's two dogs, Tundra and Siskiyou. After a few kilometers, when the dogs' initial burst of energy dissipates a little, and I can catch up, I skate ski in front of the threesome as a training tool to entice and encourage the dogs' development, building up strength and endurance.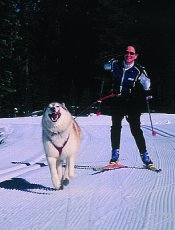 But, just being pulled is not the real nirvana of this sport. Fluid teamwork develops a beautiful, synchronized motion between your skiing and the dog's running. Although riding behind Fido is super for short trainings, to exercise yourself, ski behind your dog as you jor.
Skijoring works best on groomed or packed ski trails. Although stride and glide skiing will get you where you want to go, skate skiing is the most efficient technique to use joring, because it allows for better control and smoother transitions on groomed surfaces. Striding works well with slower dogs, for casual outings and on off-trail tours when snow conditions are consistent or firm. If you're headed off into deep, unpacked snow for a backcountry excursion, unharness your pet, for deeper snow requires too much extra effort for pulling. Be careful of metal edged skis which can slice a pooch's legs.
A Mecca for skijoring, our home in Truckee, California, offers several "doggies welcome" cross country ski areas along with hundreds of miles of groomed and packed snowmobile trails. Many groomed ski areas are now allowing pets on "dog only" trails, and forest service districts occasionally groom areas for snowmobilers and skiers as do regional and state parks. Before heading out, inquire about where to go with your dog and follow any local rules.
Gaining dog-friendly trails requires conscientious pet owners. When at an organized ski area, ski safely and don't race; going recreational is the most courteous way of sharing trails. Because skijoring's harness systems maintain control of your animal, protecting other skiers and other dogs as well as yours is easy. In parking lots, always keep your dog on a leash. Most of all, clean up after your dog; carry and use doggie poop bags or plastic bags.
If lessons are offered in your area, sign up! A surefire way to get the basics down, clinics help you learn about your own skill level and that of your dogs, with the added benefit of networking with other like-minded enthusiasts. Consult your local cross country ski areas about skijor instruction possibilities, or join Debbie McMaster this season for her skijoring workshops held near Lake Tahoe at Kirkwood Cross Country Ski Area in Kirkwood, California (January 11, 2004), and at Spooner Lake Cross Country Area in Nevada (February 7, 2004).
When we skijor with our dogs, the distance varies depending on snow conditions and time availability. Typically, 5 – 8 km works well at an organized Nordic area and 10 – 15 km on forest service roads. As the season progresses and the dogs (and we) are in better shape, distances increase. We monitor our dog's energy levels, making sure they're well hydrated and offering doggie treats for added gumption.
So get connected! Harness your canine's energy for a round of skijoring. It will get you and your doggie off the couch during the winter season.
For more information
For skijoring workshop details, contact Debbie McMaster at: sierraskijoring@sbcglobal.net.
Two websites offer complete skijoring information and related links: www.skijornow.com and www.sleddogcentral.com.
For off-season dryland equipment, check out www.dogscooter.com.
Skijor articles and equipment are featured in Mushing Magazine, www.mushing.com, while skijor pull clinics at various locations are listed at www.mushingbootcamp.com.
Check out Cross Country Ski Areas Association at www.xcski.org, which now features a skiing with your dog directory.