I will admit to having used profanity in front of my grandmother! When the arm of my new ski jacket snagged on my ski's klister zone, I let out a string of unprintable words. Still haunted by this childhood memory, I blame my mistake on the klister.
Many skiers are intimidated by klister or simply don't want to deal with it. This is too bad, though, because much of the time klister conditions translate into superb skiing.
In general, klister is required for classic skiing on waxable skis when the snow is icy, slushy or really wet. With these conditions, snow will not stick into the hard wax, which results in no kick. Because klister is so much softer and stickier, offering so much more of a cushion, it becomes effective in wet, ice and slush.
In slushy or really wet conditions, "no wax" skis work quite well too, but they do not work as well in icy conditions. On ice, the only possibility for classic skiing involves klister!
Klister is generally available in a few forms. First, universal klisters are excellent all around cold or warm formulations that work in a wide variety of conditions. For the more serious skier, klister can also be found in temperature specific formulations. But, by far the most commonly used klisters on the racing scene are universal klisters, so it's a safe bet to stick with the basics.
Klister should be applied in the same area of the skis as kick or hard wax, except perhaps over a bit shorter length. To apply klister, heat up the tube with a propane torch, heat gun or even a heater or car heat vent. Once the klister is warm, it can be squeezed out without too much effort or without blowing out the back end, like the old toothpaste tubes. The klister should be applied in little chevrons—a V-shaped pattern—that ensures that it will be evenly distributed throughout the kick zone of the base. (See figure 1) After applying it to the base, spread it using a klister spreader or scraper, thumb or palm of the hand. (See figure 2 & 3) Then, allow it to cool until hard before skiing.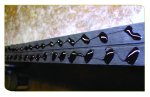 fig 1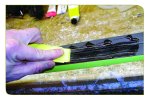 fig 2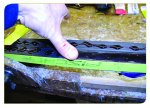 fig 3
A two-step process, removal of klister is much easier than it looks. First, using a multipurpose scraper or klister spreader, scrape off as much as possible. Then take Wax Remover or GelClean to loosen the klister from the base, really working it into the klister. Once this is done, simply clean up the mess with waxing paper or paper towel. A second application of remover might be necessary to complete the job.
Rather than miss good classic skiing, use klister. Even if you embarrass yourself in your grandmother's presence, you'll still get in a good day of skiing.