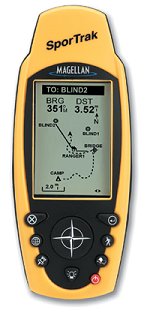 Magellan SporTrak
The days of feeling lost on the trail may be over with Magellan's SporTrak, a handheld Global Positioning System device. SporTrak's receivers lock to satellites, and provide maps, routes, a compass and position. SporTrak also includes information about worldwide cities and other points of interest. The 6.1-ounce SporTrak is equipped with an easy to read display and has a suggested retail price of $169.99.
(909)394-5000; www.magellangps.com.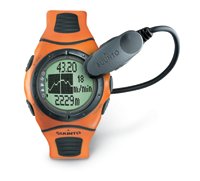 Suunto X6
Suunto introduces a wrist instrument for outdoor enthusiasts. The Suunto X6 offers a compass, stopwatch, altimeter and barometer, as well as the time, date and the option of three daily alarms. The X6 is water resistant and equipped with a storm alarm that warns of an impending weather change and sudden pressure drops. The data stored in the X6 can be downloaded onto a PC. The suggested retail price for the X6 is $349.00.
(800)543-9124; www.suuntousa.com.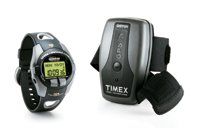 Timex Ironman Speed and Distance System
American watchmaker Timex created a watch that uses Global Positioning System technology to measure speed and distance. The Ironman Speed and Distance System incorporates a GPS receiver, which is either worn on the upper arm or clipped into a waste holder, and a watch that are wirelessly connected by a radio signal. It also includes automatic time setting, a continuous odometer and target speed and distance alarms.
(800)448-4639; www.timex.com.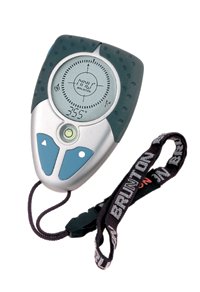 Brunton Nomad
The Brunton Nomad is a new category of compass, allowing users to wander deep into the wilderness and stay on track more easily and safely. The Nomad has a compass menu that is displayed in digits, cardinal points or on the compass rose; a
forward menu that stores bearing and course
deviation, and a backbearing menu that memorizes the course and provides return bearing. The water-resistant Nomad has a suggested retail price of $69.95. (307)733-1514; www.brunton.com.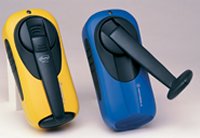 Motorola FreeCharge
Motorola FreeCharge is an emergency cell phone power source that can be used anytime and anywhere. This self-sufficient power source can be charged up by either winding the crank on the side or by a DC power adapter. Sixty seconds of winding will allow three to five minutes of talking or hours of standby time. FreeCharge connects to the majority of Motorola and Nokia cell phones through an adapter cable, which is sold separately. Adapters to fit most major cell phones are expected within the year. The suggested retail of the FreeCharge is $65. (800)331-6456 www.motorola.com.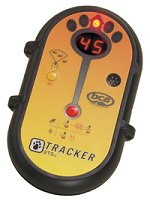 Tracker DTS
Tracker DTS, by Backcountry Access, is a new kind of avalanche beacon, using digital distance and direction displays to simplify and shorten searches. Tracker is equipped with dual receiving antennas that eliminate "grid" and "tangent" searching and automatic sensitivity adjustment that eliminates the need for manual volume controls. Tracker can be used by novices and experts. It weighs 10.5 ounces and runs on three AAA batteries. The suggested retail price is $299.95.
(303)417-1345; www.bcaccess.com.