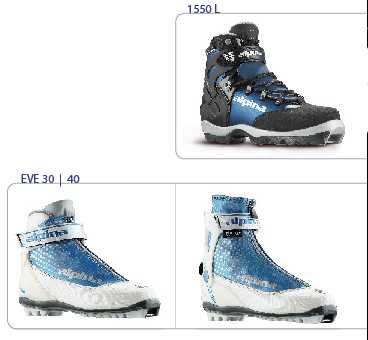 alpina sports
Alpina has been a leader in women's specific boots and continues that trend with a few new models for 2007-08.
Alpina's new 1550 L is a sturdy backcountry boot anatomically designed for women with a narrower women's last. Its beefy, durable construction is designed to provide great fit and comfort for all-day touring. A plastic cuff and flexible, yet stiff BC sole give the boot great stability and control on steep descents The Eve 40 is a new boot in the Alpina line with a new woman's specific last, auto-fit padding around the ankle and heel and a new velutina lining designed to provide better comfort and foot hold. The Eve 30 has a lower hinged cuff and softer sole than the Eve 40 making it an ideal combination skate and classic boot or an upgrading touring boot.
Alpina Sports is pumped about an independent study by the Swedish Vasaloppet magazine that ranked its One Way poles best against other top brands and found that One Way poles had the best results in weight, stiffness and swing. In the under 1,000 SEK (Swedish kroner) ($60) class, the One Way Diamond 920 was the winner in swing weight, weight, strength, price and grip. The One Way 10 Max was also the lightest in the 3,000 to 4,500 SEK class.
As always, it seems odd to be talking about new equipment when the season is barely underway. Particularly more so this year when as this is written, much of the United States has yet to see skiable snow. But like the auto industry, the ski industry continues to press on with new models and innovations for the 2007-08 ski season. Several recently championed themes have now become mainstream, particularly women-specific gear, with virtually every manufacturer presenting its own versions. Poles will be a big item for 2007-08, as almost every ski manufacturer will now also have its own line of poles. Recent innovations such as the NIS integrated system and the Pilot boot/binding have begun to trickle down into second and third tiers of equipment. And speaking of NIS, Salomon will roll out its own version, the SPS—Smart Plate System. Some of the mergers and acquisitions of last year also seems to be beginning to bear fruit, with several advancements in common and a cross pollination of technology.
Here are a few highlights for what's to come next season. Cross Country Skier will present a more in-depth overview of new gear in our October 2007 issue.
atomic
At Atomic, just about the only thing unchanged for the 2007-2008 season are the Worldcup skis.
Atomic's new Carbon Skate Boot, the lightest boot ever made by Atomic and possibly the lightest on market, has a higher cut carbon cuff and utilizes torsion control and stabilizing technology via a carbon laminate in the sole. The new Carbon Skate has met with early success on the Tour de Ski.
The introduction of the Pilot Touring system, which can be released manually or used as a step-in will make it easier for less experienced skiers to get in and out of their bindings. The new Pilot Touring system will also help with downhill control, particularly with softer, lower end touring boots, making it easier for the casual tourer to snowplow and descend. The Pilot Touring system will be available in Atomic's Motion, Fitness and Balanze boots in both skate and classic boots.
In 2007-08 Atomic will incorporate the new G2 Waxless base design in all of its waxless skis. While the traditional waxless base has straight cut grips, the G2 has hook shape grips that not only grab better, but also allow far better glide, reportedly comparable to waxable skis. The G2 will available on Motion, Fitness, Balanze, Pro, ProRace and Vasa classic skis. Atomic sees potential for this base to be utilized by elite racers when encountering varying snow conditions.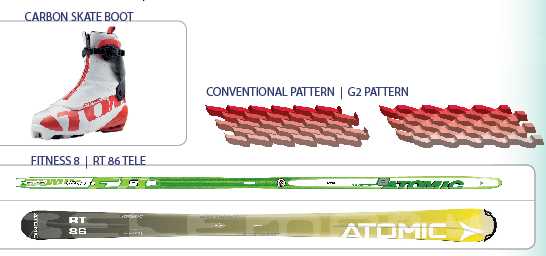 Atomic will also offer a new line of BC boots and bindings, Explorer 1 and Explorer 2, which will have the SNS BC binding.
Atomic has developed a new construction and design for their AT and Telemark skis referred to as "Nomad" technology. The new skis have a series of cutaway sections, where the core and the topsheets have been literally cut way in the forebody and tail to improve flex. Each of these cut away sections is referred to as a TFC, Torsion Flex Control. The result is a smoother and more even longitudinal flex that is completely void of any hinge points. Atomic incorporates this technology with two models: RT 80 and RT 86. The new skis are 20 percent lighter than previous Atomics with the same sidecuts and core materials, but the new skis have a tighter turning radius than earlier models with similar sidecuts.
fischer
As previously announced, a major change for Fischer will be the switch to the NNN system. This change encompasses bindings and boots, as well as several skis that will now be offered as Nordic Integrated Systems (NIS). All racing model skis will be offered with both NIS and flat.
Highlights of specific race models for 2007-08 include RCS Carbonlite Skate available with Cold and Plus bases in medium and stiff flex. Each version is available with the Nordic Integrated System (NIS) or flat. All will have Worldcup sidecut. The RCS Carbonlite Classic will be available in the Plus base, with soft and medium flex options and an arrow-shaped sidecut 41-44-44. The RCS Crown has a new model for 2007-08 and will be available in medium and stiff flexes. The entire line will feature new graphics.
For 2007-08, Fischer's Vision collection is expanded into higher performance categories. The Vision Skate Pro NIS (RCR construction) will be offered as NIS in both skate and classic versions, each with two stiffness categories. Vision Skate and Vision Classic models also join the performance category.
All Vision sport/recreational models continue to be based on the popular Nordic Cruising Series. Unique to the Vision models is the Vision Camber; a lower and longer camber pocket designed specifically for women skiers. All models in this category are conveniently offered pre-mounted and boast strong new graphics to appeal to women skiers. Models also feature several improvements including new construction.
Improvements have also been made with Fischer's Crown Tech with the introduction of Micro-Steps. This new pattern technology allows for additional pattern to be applied to the skis for improved grip. The Micro-Step pattern will be found on the Elegance and Mystique models.

Vision Elegance, the lightest and narrowest model of the series, offers in-track performance for sport and advancing intermediate skiers. The Vision Mystique is designed for entry-level through intermediate recreational skiers with superb stability and easy handling for use both in-track and out. Vision Passion is an entry-level ski, comfortable for infrequent skiers and in and out-of-track skiing. The Vision Desire is an attractively priced ski/binding entry-level package.
All come in sizes S164, M174, L184. All models have updated graphics. The Vision Cruiser boot is now NNN based, and Vision poles are also available.
Fischer will expand its pole collection and enter the high performance category. The entire pole collection for 2007-08 will be designed and built by Fischer. Model highlights include:
RCS Carbonlite, an Ultra High Molecular Carbon shaft offered both as a kit and fully assembled. The RCS pole is 100% high molecular carbon and is also offered as a kit or fully assembled. All other sport and recreational poles will be updated with new graphics.
karhu
For 2007-2008, the XCD GT and Pinnacle get a new, lighter construction, turnier sidecut and slimmer profiles and come with the award-winning Omnitrak base, Greenlight cores, wider modern shapes and full metal edges.
The Widetrak Series of skis and boots has been updated again, bringing modern, wood core cap construction to the shorter, wider platform of these maneuverable Nordic skis. The Escape (60-55-56) remains the top ski in the Widetrak line, with an air-channeled wood core for light weight and performance. The new Solstice (65-55-60) is the all-purpose Nordic ski, skiing easily over groomed trails and through powdery meadows. For the off-trail enthusiast, the Solstice XT (65-55-60) shares the same dimensions as the stable, easy-to-ski Solstice, but with a partial metal edge for extra security on firmer snow. The new Pioneer (60-55-56) packages Widetrak performance with great value for cross country newcomers. The Escape, Solstice and Solstice XT all use the Omnitrak NoWax base. The Widetrak comes in just three sizes, Small (160cm), Medium (175cm) and Large (190cm).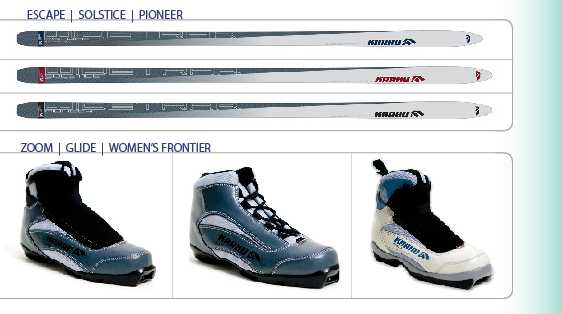 Karhu is launching a completely redesigned boot line for 2007-2008 that offers enhanced comfort and performance matched with its XCD and Widetrak Series. In XCD, the new XCD Traverse and XCD Tour boots blend backcountry touring and downhill ability that are significantly lighter and less bulky.
The XCD Traverse and XCD Tour offer similar features and performance with the option of either the Traverse's 75mm Vibram Outback or the Tour's NNN BC system outsoles. The fit has been improved with a new 3D-Stitched Tongue that is shorter with a firmer form down low to hold the foot more securely in the heel pocket. 3D-Molded Insoles provide superior comfort. The insoles have a felt lining for added warmth, supplementing the all-weather insulation of 200g Thinsulate. Both boots feature High-Wear Rubber Rands for durable protection against ski edges and come with D-rings for use with gaiters.
For the Widetrak line, Karhu redesigned the Frontier, Zoom, Glide and Glide Jr. For the Frontier and Zoom, the support of a 3D Molded Insole, a 3D-Stitched Tongue with a firmer lower and a new lacing system that wraps the whole foot has been added to the shape of men's and women's lasts. Lace covers and 200g Thinsulate insulation keep your feet warm and dry, and a molded thermoplastic cuff provides lateral support for men's and women's models. The Glide and Glide Jr. bring exceptional value to the new standard of comfort in light touring boots. All of the Widetrak boots have enhanced flex up front and a D-ring to hold gaiters in place in off-trail snow. New this year, the Frontier uses the NNN BC sole, and the Zoom, Glide and Glide Jr. use the NNN sole.
Karhu's poles have also been overhauled for 2007-2008, offering the XCD Pole and the Glide Pole. The XCD Pole uses a 7000-series aluminum shaft, alpine-style basket, cork grip and padded biathlon strap for durability and strength in backcountry snow. The Glide Pole features a padded biathlon strap with a 6061 aluminum shaft, dual-material grip and touring style basket, in both adult and junior sizes.
exel
Exel Sports will introduce NTech® an innovative technology to be used for its cross country racing poles.
Exel's new NTech® technology concept combines integrated carbon nano-particles with the Exel computer animated co-wound production technology that will provide better swing weight and a higher strength to weight ratio. The NTech® Carbon technology offers a six percent reduction in weight and 30 percent increased stiffness. In the first phase, NTech® will be used in Exel's World Cup and Black Feather cross country racing poles. Once the technology is established, NTech® Carbon will be used in the other Exel Nordic poles.

madshus
At the top of its racing line, Madshus adds a new ski to the Champion Series—the Nanosonic. The Nanosonic is 40g lighter per pair, more forgiving and has a higher degree of dampening. The Hypersonic stays in the line at a little lower cost for a well-equipped race ski with a new core construction. It will have two skating and one classic configuration.
To its boot line introduced last year, Madshus adds a couple new models and updates that take the boot line to a new level. At the Champion Series level, the Hyper and Athena get slight changes with a new cuff pivot in the Skate and Universal with an insert and cuff rivet. The Race Performance Series will move to standard lacing, which offers better performance. The Nordic-X/Touring line is completely new, with 11 new models. For juniors, Madshus continues to offer a whole line of boots for first-time skiers all the way through junior racers. The Hot Rod and Butterfly equal the mid-performance of the NX series, with graphics that match the Hot Rod and Butterfly junior skis. The Snow Raider is a no-lace boot for first-time skiers.
Madshus' biggest news for 2007-2008 is the introduction of a high-quality line of poles. Thirteen new poles will be introduced to the U.S. in 2007-2008, with some real innovation in the product design. At the Champion Series level, the Carbon 100HM won its cross country World Cup debut. The Carbon HM has an incredibly light swing weight and uses the Madshus Power handle with a slight angle to the hand position for stronger forward propulsion. The cork of the handle goes higher for more cork feel in hand, and the top section narrows significantly for a comfortable feel. The Carbon 100HS pole uses a straighter handle, but with the same added cork up high and narrow upper handle. Both use Madshus' new WC contour race strap, which is 3D-molded for secure hold of the hand where it locks for more strength. Both Carbon 100 poles use the Aero basket and a narrow tungsten carbide tip.
In the Race Performance Series, the Carbon Race 70 uses a shaft that blends 70 percent carbon and 30 percent fiberglass, and uses the 3D-molded strap and a larger basket. The Carbon Race 40 and 40W offer similar performance at increased value. Matching up with the Nordic-X and Touring series, the NX A7000, NX A6000 and Mountain poles offer the durability of high-strength aluminum with more touring-oriented baskets and straps. For the younger set, Madshus offers poles that complement the entire range of junior skis and boots, with the Carbon Race Jr, NX A7000 Jr, NX A6000 and Kid's Glass poles.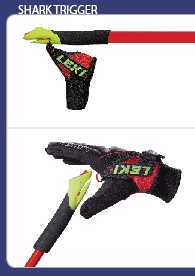 LEKI
In 2007-2008 LEKI will introduce a refined Shark Trigger grip/strap system to cross country poles. Previously introduced on its high end poles, the advanced hand-to-pole interface, which LEKI calls a Ski Pole Binding, is a completely new mechanism for strap attachment and release that provides recreational cross country skiers and racers with convenience, performance and releasability.
The Shark Trigger features direct power transfer from hand to pole plant. The hand is firmly connected to the pole with a redesigned, removable Power strap containing a small yet strong corded loop that attaches to the back of the pole grip. The pole grip features a manual release button, or trigger, for removing poles. The grip itself has been redesigned, giving it an appearance that resembles a shark's head at the top of the pole. The shape of the grip has been redesigned to provide optimal release and return during the poling motion. The integrated loop that attaches to the pole grip is made of Dyneema, a strong fiber used in parachute cord and yacht racing. It has a breaking strength of 500 lbs., is impervious to water and is resistant to ultraviolet light. The Shark Trigger gives optimal connection to the grip, power transfer to the pole and the convenience of a quick, click-in, single-handed function in and out of the strap.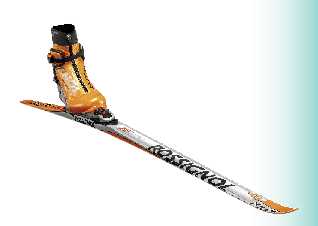 rossignol
Lots of new and exciting products in the Rossignol Nordic line for 2007-2008… Rossignol's race category, For Women line and telemark/AT categories will see the biggest changes. The Evo, X Tour and BC families remain relatively unchanged except for new cosmetics for the X Tour skis. Also upgraded are the X5 and X3 boots with new ankle support. The composite pole line has been completely revamped.
In Rossignol's race category the red/silver color/graphic gives way to a new racing color: Solar. The new X-ium skating ski has a new side cut (40/44/43/43), new full length Carbon deck and new internal side wall. Rossi's classic skis retain the Sure Kick concept, but with the new Solar color. X-ium level boots are also changing color. New poles in 100 percent carbon complete this package. X-ium, Delta and Max skis will be available only with NIS "slide-on, click-on binding," the first year the Delta model will use the NIS system.
Completely new offerings for women will debut from the top to bottom of the line, including skis, boots, bindings and poles. Construction will be similar to unisex skis, but with more women's specific aesthetics and a new visual appearance. The new women's specific look will run through the entire line, from the X-ium women's ski with X-ium World Cup FW boots to the Attraxion 1 with X fashion boots.
There will be new cosmetics for all skis in Rossignol's telemark/AT category; product names and sidecuts will remain unchanged.
salomon
In 2007-2008 Salomon introduces the Pilot Sport, Pilot binding technology that will now be available to recreational skiers. The Pilot Sport has two axes to provide maximum torsional rigidity for more control. It is "bumperless," with no flexor in front of the toe giving natural forefoot rolling and better kick and glide. The Pilot Sport has automatic step-in and an option of either push button step-out or manual lever step-out. It is available in skate and classic versions for men and women.

The Salomon Smart Plate System (SPS) debuts in 2007-08 for easy and fast mounting. Snowscape 8 and 9, the New Equipe 8 Skate and Equipe 8 Vitane Skate will come premounted with the SPS plate. Pilot Sport skate and classic bindings will also come with the SPS plate system, which can be mounted, on any flat ski.
Salomon's new "Black Beauty" race skis unveil new construction on the new Equipe 10 Skate and Equipe 10 Classic skis. With new Nomex cores, the Black Beauty is very light weight and has a precise flex. Its new "Spaceframe" 3D shapes are designed to enhance performance and transfer power to the edges of the ski; the classic for accurate pressure distribution. The new "heel toe" camber on the classic skis insure that the wax pocket is in full contact with the snow while weight is applied to the forefoot and is released when the foot is flat during the glide phase. The Equipe 10 skis will have the same sidecuts as before with a carbon powered plate on the skate ski and Zeolite G5 bases.
In 2007/08 Salomon rolls out a new G2 waxless base developed in conjunction with Atomic with an improved gliding zone and sharper grip edge for better grip during the kick phase. It will be available on all '07 Salomon waxless skis—Snowscape, Equipe 9 Grip, Elite 9 Grip and Elite 5 Grip.
swix
For 2007-2008, in its Racing Category all the Swix composite racing poles will have new graphics and several will have new increased stiffness shafts, but otherwise there will be no major changes to the components.
In Swix' Recreational Category, however, an all-new women's program debuts. The Women's Line includes: RCW 70 Emerald, with a superlightweight 100 percent carbon shaft, cork handle and comfort strap; the RCW 71 Pearl with a superlightweight 80 percent carbon shaft, cork handle and comfort strap; and the ETW 70 Opal, an aluminum alloy pole with a cork handle and comfort strap. All are suitable for use on groomed trails for classic or skating or cruising.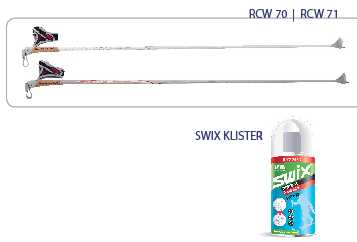 In wax, tools and accessories, Swix has a number of new items including:
P40 Liquid Cross Country Kit consisting of F006L Blue Glide and V0040L Blue Grip and T20 Cork.
Large Liquid P41 Cross Country Kit with V0040L Blue Grip, V0050L Violet Grip, F007L Violet Glide, I61 Base cleaner, T151 Fiberlene and a T20 Cork.
P42 Skating Kit Liquid Line containing F006L Blue, F007L Violet, F008L Red, I61 Base cleaner, T151 Fiberlene and T20 Cork.
Several new package designs for V95 Quick Kick, K65 Universal Quick klister, K70 Universal Quick klister and N04 Easy glide/Schuppen spray.
Only two rollers (instead of three) at .3mm and .5mm with the Swix Rilling tool. Additional rollers will be available in .75mm and 1.0mm.
A new Oval Horsehair brush as well as the T0196 Combi Cork/Fine Nylon brush with a new concave shape.
The addition of the T0015HS Double Brush with horse hair and fine steel (.1mm) in Swix Roto Brushes. Other new Roto brushes include a Fine Steel brush and a blue nylon brush.
A new Cross Country Economy Steel profile bench as well as a Profile set in steel that fits tables plus a new Travel bench.
toko
Toko's clothing line will generate the most excitement for the brand. Toko's Nordic Jacket is a technical softshell warm-up jacket with a women's specific counterpart, the Nanna Women's Jacket.
The Nordic Pant is Toko's full zip softshell warm-up pant. The women's specific version of this pant is the Nanna Women's Pant.
Toko will also roll out new racing suits, hats and mid-layers for the 2007-08 season.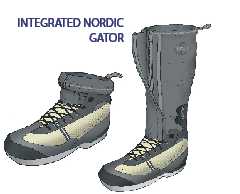 whitewoods
For 2007-2008, Whitewoods will introduce the Integrated Nordic Gator (ING). The waterproof ING system keeps the snow out of the skier's boots and keeps legs warmer and drier. The Whitewoods ING system is a 12 inch waterproof Supplex gator sewn into the upper of the boot, eliminating the need for complicated traditional gaiter strings or clips. As a full gaiter the ING zips up the front after the boot is put on and then sealed with a full line of Velcro up the front. An elastic drawstring and cordlock secure the top around the calf. A dual elastic band symmetrically seals the bottom against the tongue of the boot. An easy to attach hook secures the front onto the nearest lace. The ING system can also be easily converted to an in-track snow collar by simply releasing the elastic calf drawstring and rolling the gaiter down to the ankle. A second internal drawstring now becomes available to secure the snow collar around the ankle.
The new Whitewoods NNN models 704L and 705, come with the new Integrated Nordic Gator. The boots will also have waterproof and breathable panels on the upper for moisture management in the footbed. Moisture vapor from inside the boot that can cause cold feet, travels out while the waterproof membrane keeps feet dry. The boots also include 200 grams of Thinsulate.