2002 Olympians Highlight '03 Nordic Teams
Luke Bodensteiner, Nordic Director for the United States Ski Team has announced members of the 2003 team. The group includes six cross country racers, three ski jumpers and five Nordic combined skiers.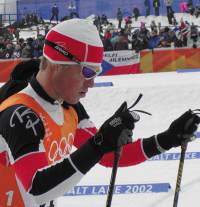 Cross Country
Kris Freeman, 21, Andover, NH;
Andrew Johnson, 24, Greensboro, VT
Torin Koos, 21, Leavenworth, WA
Carl Swenson, 32, Boulder, CO
Justin Wadsworth, 33, Bend, OR.
Wendy Wagner, 28, Park City, UT
Jumping –
Alan Alborn, 21, Anchorage, AK
Clint Jones, 17, Steamboat Springs, CO
Tommy Schwall, 18, Steamboat Springs, CO
Nordic Combined –
Bill Demong, 22, Vermontville, NY
Nathan Gerhart, 19, Steamboat Springs, CO
Todd Lodwick, 26, Steamboat Springs, CO
Johnny Spillane, 21, Steamboat Springs, CO
Carl Van Loan, 21, Webster, NH
The lone non-Olympian was Gerhart, who won the bronze medal in combined at the 2002 Nordic World Junior Championships in
Schonach, Germany.
Bard Jorgen Elden, former World Cup athlete and a coach since the 1999 season, has been named head coach for Nordic combined. Denver University Coach Trond Nystad has been appointed head coach for the U.S. cross country program. Pete Vordenberg was named assistant coach. Chris Grover, who was the assistant coach last year has been promoted to Development Coach. Katie Gould is the Team manager. Chris Hall, who has been waxing for the US Team for going on three years, and Ola Berget, will serve as wax technicians.
Members of the 2003 Development Team include Andrew Newell, Kristina Trygstad-Saari and Lindsey Weier. Collegiates Aubrey Smith and Melissa Oram, two Northern Michigan University athletes were also named to Development Team.
Send the Kids Outside!
According to the U.S. Centers for Disease Control and Prevention (CDC), American kids have a major weight problem. The percentage of children and adolescents who are defined as overweight has more than doubled since the early 1970's. The CDC report states that almost 13 percent of children and adolescents are now overweight. Childhood obesity contributes to health problems such as diabetes. On a positive note, the Outdoor Industry Association reported a 3.6% increase in number of teenagers who participated in outdoor recreation activities in 2001.
Gates Named Chair of Industry Association
The Cross Country Ski Areas Association announced Janet Gates of Hardwood Hills, ON was named chair for the 02-03 season. The CCSAA is a North American trade group representing 350
Nordic centers and equipment suppliers.
Janet Gates is a senior consultant with the Ministry
of Tourism, Culture and Recreation's Investment and Development Office. She owns and operates the Inn
at Hardwood and was a manager at Hardwood Hills Cross Country Ski and Mountain Bike Centre. Under her leadership CCSAA is poised to develop a marketing plan for cross country skiing and refocus its attention on continuing education for its Nordic centers.
Newly elected representatives to the CCSAA Board include:
Ian Harvey of Toko Wax and Yoko Gloves;
Eric Anderson of ABR Trails, MI;
Eric Boyle-Wight of Sunday River Inn XC, ME;
Jay Richards of Maplelag, MN;
and Charlie Yerrick of Trapp Family Lodge, VT.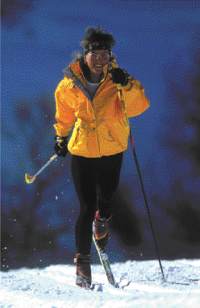 Atlas Snow Shoe Company Announces Strategic Partnership with Women's Sports Foundation
The Atlas Snow Shoe Company announced a strategic partnership with the Women's Sports Foundation® to promote the
sport of snowshoeing to a larger audience of women. The Women's Sports Foundation works to ensure participation and leadership opportunities for all girls and women in sports. Information about the Foundation's work
will be found on each of the Atlas Elektra brand women's specific snowshoes. Money raised from Elektra sales and events
will go to support the Foundation's work.
"The Women's Sports Foundation is delighted to be working with Atlas," said Julie Foudy, president of the Women's Sports Foundation. "With their support, we are able to increase awareness of the Foundation and encourage more women to lead healthier lives by participating in sports and fitness activities."
For more information, please call the Foundation at 800-227-3988 or visit www.WomensSportsFoundation.org or visit Atlas Snow Shoes www.atlassnowshoe.com.
End of the Season Sales Report Specialty Stores Down 3.8%
The sales of winter sports products fell 4.8 percent in 2002 compared to the same period in 2001, according to the SnowSports Industries America (SIA) Retail Audit.
In dollars, that translates to $2.1 billion in sales compared to $2.2 billion last season.
All equipment (alpine, snowboard and Nordic) in specialty stores rose slightly at 0.7 percent to $664 million compared to $659 million in 2001 though units were down (2.1 percent). Alpine ski equipment was down 1.9 percent to $449.2 million as compared to $458.1 last year.
Nordic equipment rose 4.2 percent to $26.8 million in sales compared to sales of $25.7 million in 2001.
Nordic skis climbed 18.0 percent to $10.9 million followed by boots (up 3.5 percent to $9.2 million). Both bindings and poles saw declines in dollars, down 2.4 percent to $4.4 million and 25.8 percent to $2.2 million, respectively.
Apparel and accessories both saw losses at 5.3 percent and 8.0 percent, respectively. Sales for apparel tracked at $451.5 million while accessories were $491.2 million.
Last season sales for apparel were $476.9 million while accessories were $534.2 million.