By Lou Dzierzak
"Where are your skis?"
That's the most frequent comment Jeremy and Christy Nash hear when they stride past onlookers with their ski poles in hand near their home in Sanford, Maine. The couple are certified instructors in the relatively new sport of Nordic Walking.
Originated in Finland in 1997, Nordic walking has come to America. Initially practiced in the 1930s by Finnish cross country skiers who used their poles during the summer season to maintain their endurance and fitness levels, the sport was formally launched in 1997.
Exel, a well-known manufacturer of ski poles, collaborated with the Finnish Health Institute to launch a new exercise program they called Nordic Walking.
Designed to get the Finnish population involved in fitness, interest has grown exponentially. By 2000, 500,000 people actively participated in Nordic walking. By 2003, statistics showed over 10% of the Finnish populations Nordic walk on a regular basis.
The best way to describe Nordic walking is to think of it as cross country skiing without the skis. Nash recalls, "When we started Nordic walking around our home town, people would say, "Where are your skis? Where's the snow? Now people accept it a lot more. By next spring we really expect it to take off in Maine."
Across the country in Santa Monica, California Malin Svensson sees the same increase in interest. Svensson, the International Nordic Walking Association's first Master Trainer in the United States says, "People are surprised how fun it is. The biggest surprise is how the whole body is involved in the workout."
Nash, Svensson and other instructors often encounter initial skepticism. "I know how to walk. Why is adding poles such a big deal?" Nash hears this often. "If I can get people to walk with the poles for five minutes the skepticism goes out the window. You can really feel the workout in your upper body," he said.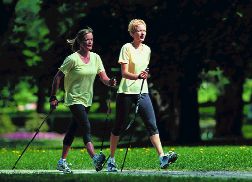 Exel, with the help of the Cooper Institute in Texas, has documented the benefits Nordic walkers receive from the exercise. In tests conducted in 2002 by the Cooper Institute, scientists compared normal walking with Nordic walking. The findings show "Caloric expenditure increases when using poles on average 20% compared with ordinary walking." Study participants also reported a "Lower rate of perceived exertion for a given workload."

Svensson stresses the importance of education. "There are certain techniques to learn to get the most out of the exercise. You need to learn to use the product. Exel provides purchasers with an instructional DVD when they purchase Exel poles. Svensson and Mark Fenton, PBS host of Walk America narrate the film. Classes and demonstration events are being held across the country. Once the basics are explained, instructors get the class outside to start walking. Classes usually last 45 minutes with five-10 minutes of warm-up, 30 minutes of walking and a five-minute cool down. No other specialized equipment is needed other than the poles and dressing appropriate for the weather.

"Compared to walking fast, using the poles makes you feel like you are really driving your body forward. The pole becomes an extension of your hand. You can set your own pace and get benefits regardless of speed," reports Svensson. People attending classes come from all age ranges and interests. Nordic walking converts are using the exercise program for fitness, weight loss and rehabilitation of knee and hip injuries. Both genders are represented.

Growing up in Sweden, Svensson is an experienced cross country skier. She believes skiers will benefit by trying Nordic walking in the off-season. "Skiers can use it to maintain their fitness levels. Once you try it you're sold," she said.

For more information about Nordic walking techniques, events, products and instructors visit these web sites.

LEKI www.leki.com
Exel www.nanordicwalking.com
Swix www.swixsport.com
International Nordic Walking Association www.inwa.nordicwalking.com
Although Nordic Walking resembles cross country skiing without skis, the poles are not the same. Like high end Nordic ski poles, walking poles are made with lightweight carbon composite materials. The major difference is length. Since Nordic walking doesn't require a long glide stroke, the poles are shorter than ski poles. Nordic walking poles also feature a smaller basket to reduce swing weight. Some models come with an angled tip called a rubber asphalt paw. The tip is curved to keep your momentum moving forward.
Exel, LEKI and Swix are the major suppliers of Nordic walking poles in the U.S.
Exel offers four different models based on the user's experience level. The Nordic Walker Trainer features a lightweight, durable tapered carbon fiber shaft. The ergonomic grip was designed specifically for Nordic walking technique. A quick release system allows the user to change the grip and tip options. The line also includes the Nordic Walker Sport, Walker Stride and Walker Active.
LEKI offers a line of Nordic Walking Poles that are modified versions of their popular trekking poles. Manufactured with high-grade aluminum, the LEKI line features a narrow cross country ski style grip with an adjustable trigger strap.
Swix's six-pole line-up of Nordic walking poles runs a full spectrum from 100% carbon fiber to various levels of carbon composite to aluminum. All come with cork or synthetic grips and Pro Fit or SR2000 straps. The line also includes one model of adjustable poles.

© Cross Country Skier: December 2004, Vol. 24 Issue 2