"Heather, this looks like the spot." Our search began in early fall of 2002 as we scanned the web sites of backcountry ski operators in British Columbia for a spot that would satisfy our divergent visions of what would make a great ski holiday. I was after the steep and deep with lots of vertical while my wife, Heather, preferred to be surrounded by spectacular scenery and do some ski touring on easier terrain. We were almost ready to give up our search since it seemed that most backcountry lodges either catered to the advanced hard-core skier or offered basic ski tours, but not both. Then we clicked on Purcell Lodge. No question about Purcell Lodge's exceptional terrain! And it appeared that a good percentage of the 17 others who joined us during our five-day stay had come for the same reasons we had: the varied daily treks designed for a broad range of fitness levels and abilities that comprise many skiing couples.
We arrived in late December as part of a New Year's Eve group of roughly half Canadians and half Americans. Just getting to Purcell Lodge is an adventure in itself since we had a 15-minute flight by helicopter over a three spectacularly rugged ridge lines just west of the scenic community of Golden, B.C. The five-passenger A Star helicopter shuttled us in several trips to get the entire group into the lodge.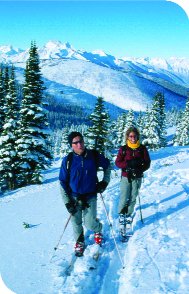 Although the winter had been tough on many lower elevation alpine and cross country ski areas in B.C. and Alberta, due to the lodge's elevation at 7,250 feet, the 4.6 feet snow pack at the lodge was fine for us. "We are high enough we almost never have a snow problem," said Paul Leeson, Purcell's long time owner-manager. The long ski season running from late December to late April echoes Leeson's sentiments.
During our indoor briefing shortly after we arrived, Leeson updated us on snow conditions: "We did have a nasty layer of surface hoar form just before Christmas, so the new snow we've had over the last few days is sitting there like a deck of cards. We will not be skiing any steep slopes unless they are in the trees, and everyone will have to pay close attention to the guides." Leeson continued his warning, "We have never had an avalanche fatality here, and we don't want to start with this group."
Following our snow condition orientation, we moved outside for an avalanche transceiver lesson. With quickly improving weather, we were itching to get in a run before dinner. Each with a guide, we broke into three groups, starting out either across the flats or up a well-named run called "Kneegrinder." Gradually, the scenery surrounding us emerged from the clouds, and from the top of Kneegrinder summit, we saw the diverse backcountry skiing opportunities that Purcell Lodge could deliver.
To the north, rolling open meadows stretched for several kilometers terrain ready-made for beginning skiers or snowshoers. An elevated meadow dropped off to the east and west, creating superb tree skiing down to the Spillimacheen River. Further west, we could see the shear rock walls of the rugged Selkirk Mountains including Terminal Peak, Uto Peak, Avalanche Mountain and the crowning glory Mt. Sir Donald at 10, 700 feet.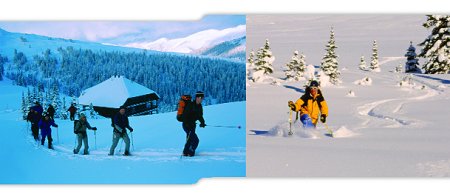 "Any chance we can get to that peak this week," I asked Leeson, pointing to the northeast at a snow covered dome. Leeson responded, "That's Copperstain, and it is a great descent it has a very consistent 25 – 30 degree slope and if we can stick to the less steep slopes, and we get a good day we may be able to do that. We will certainly keep it in mind." With that, he pushed off, and we followed him down into the valley. The snow was so deep that we needed a significant slope just to get moving.
Once we reached the steeper, treed slopes, he paired us up and said, "Take off your pole straps, put on your goggles and look for the spaces between the trees." We watched the snow billow past Paul as he headed down and then it was our turn. Although the trees seemed tight, the consistently deep snow made telemarking easy. When we regrouped in a clearing, the grins said it all.
Nearing dusk, we put on skins and climbed back up to the lodge, whose beaconing lights looked like a Christmas card with alpenglow highlighting the surrounding mountains. We returned to a gourmet meal of Pacific salmon, veggies and rice topped off with a pecan tart drizzled with chocolate sauce.
Everything about Purcell Lodge is first class from its spacious common areas to its compact, nicely appointed bedrooms and well-presented meals. It even has a wood-fired sauna. Purcell Lodge certainly is wilderness luxury at 7,000 feet. And so the days unfolded after an all you can eat breakfast, we made our lunch from a side table laden with meats, cheeses, bagels, fresh bread, cookies, trail mix and various fruits. The guides presented us with three different tours, and off we went. One group explored the meadows or chose easy descents to the Spillimacheen River Valley while the intermediate group headed for telemark lessons on some short open slopes before descending into the trees. The advanced group searched out some of the steeper lines through the trees and ranged further a field.
Divided almost evenly in terms of telemark and alpine touring gear, along with one person riding a split-snowboard, my group reflected the diversity of people the lodge attracts. Levels were all over the map, from one person with no backcountry skiing experience to another who had climbed and backcountry skied in Alaska and all over the Washington Cascades. And ages ran the gamut from early 20s to almost 80. One woman was seven months pregnant, and another had returned to Purcell Lodge on five previous occasions!
Certainly the highlight for most people was New Year's Eve day which dawned sunny with light winds. Two groups headed for Copperstain and another traversed the meadows to a small hill named Bus Stop. Their trek revealed magnificent vistas of Mt. Sir Donald which lay directly across the valley, while for us the open powder slopes of Copperstain called. Four of us climbed to the 8,561 foot summit of Copperstain and then descended almost 1,500 feet of open slope. Due to snow conditions, Leeson kept us off the steeper slopes, but we turned until our legs burned. As we dropped in elevation, the snow improved, getting lighter and deeper with each telemark turn. Because the snow was so good, we donned skins for another partial run before the lowering sun forced us to start back. What a way to end the year!
Aside from diverse skiing options and luxurious setting, Purcell Lodge prides itself on its eco-friendly impact on the environment. One might ask how a lodge that requires a fuel-consuming helicopter for access could be low impact, but given that exception, much thought has gone in to environmental concerns. For instance, the lodge runs its own sewage treatment plant and generates its own electricity with a mini-hydro plant. It uses efficient fluorescent lighting, has passive solar heating and has R 60 insulation in the ceiling. To apportion the 4,500 watts generated by the mini-hydro plant on an as needed basis to the coolers, microwave, lights, dishwasher and other appliances, the lodge uses an intricate computer-controlled switching system. When you think about it 4,500 watts is about what three hairdryers use, but it was enough to serve the needs of over 20 people.
With its attention to detail and spectacular setting, Purcell Lodge answered our dreams.
We were one skiing couple who both went home satisfied.
Contact:
Purcell Lodge
P. O. Box 1829
Golden, BC, Canada V0A 1H0
places@rockies.net
www.purcell.com