Ski Illinois. It's not an oxymoron. Ask any one of a hearty breed what it would take for a cross country explosion in the Land of Lincoln
, and the answer is simple. "All it takes is snow." But that doesn't always happen. If you want to ski, you can't be a wanna-be. You find a way.
Each February, as the colorful pageantry of the American Birkebeiner begins to unfold in the hamlets of northwest Wisconsin, hundreds of skiers drive six or more hours from northern Illinois. Their goal is not just to participate, but to compete against their Nordic brethren from more snowy latitudes. It's a phenomenon that takes place year after year. How these Illinois skiers prepare for a race of this caliber is a story of imagination, determination and fascination.
It's early December in Crystal Lake, Illinois, about 50 miles northwest of the Chicago Loop. An inch or two of snow has covered the partially-frozen outfield grass on a local baseball diamond. As daylight gives way to nightfall, the park security lights come on. Working his way across the baseball field, veteran Illinois skier Bill Kopanda takes the marginal conditions in stride. His home course is providing an hour of early-season preparation not likely to be tolerated by a skier from whiter climes. It's not his snow field of dreams, but Kopanda, with more than 20 Birkies to his credit, calls it his "Olympic Training Center." Nothing is a stretch when it comes to Illinois skiing!
"It is difficult to make my Olympic Training Center sound interesting, but I'm glad to have it," said Kopanda, who regularly finishes high in the Birkie results despite the thin snow cover on his home turf. "It is a good spot because it is a baseball field, and it tends to be 'stone free' to quote Jimmy Hendrix. There is enough ambient light to ski at night, and there is a small hill to climb just off of the fields. I have skied it on a good frost when the moisture is high and often when the grass is taller than the snow." Kopanda summed up his training center, "It is an Illinois art to ski on such poor conditions."
Welcome to the world of Illinois cross country skiing. This is where Nordic skiing is sometimes more a state of mind than anything else. It's where a few inches of snow can be your friend. It's where you use your imagination, whether it's on a ball diamond, a snow-covered pond, on artificial snow at a local downhill slope, or more likely on a limestone trail, local street, bike bath or even a beach. Illinois skiers know where to best find alternatives to the real thing when nature is out of synch.
In other words. No snow? No problem.
The secret is to be ready when the snow falls. All over Chicagoland and in Rockford, small groups roller ski together through the fall and winter. Others take on the challenge by themselves. Their goals are first to ski and second to be ready for meaningful performances at the big races, including the Birkie. That means pre-season preparation is very important. Strategic planning is required to get the biggest return from whatever opportunities present themselves—skiing or simulated skiing.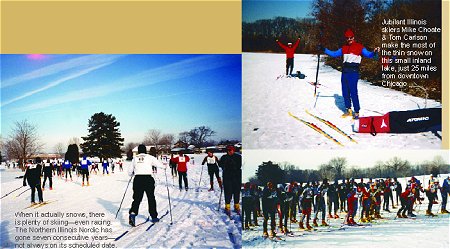 Kielo Sauvala of Mount Prospect, a northwest suburb of Chicago, is a native of Finland who adapted to ski life in Illinois. She runs, bikes, swims and lifts weights in the off-season. Having been raised on skis gives her a technique advantage, but without her Illinois routine, Sauvala would not be one of the state's top two or three women in the Birkie results. She knows what it takes, and she takes the time to get it done.
"For cross country ski training, I go to the forest to walk with ski poles," Sauvala said. "I suppose it's called Nordic walking. If possible, I go off the path so that I really have to lift my feet over branches. I do this three to four hours at a time, one or two times a week." Preferring the woods, Sauvala confessed that she sold her roller skis some years ago. She continued, "I also try to find a nice, long hill—usually in the Kettle Moraine (southern Wisconsin) where I can jump up with ski poles 15 – 20 times." When snow falls, even a little, Sauvala pulls out her skis. "If there is more than five centimeters of snow, I am able to ski on the golf course with rock skis," explained Sauvala. "That's it. That's all I do before there is enough snow."
Jeff and Chris Palmquist of Geneva, a far-west Chicago suburb, not only deal with the fickle weather patterns of northern Illinois, but they juggle training time with raising two young kids. They've also seen the weather change. In northern Illinois, consistent ski snow lasts no more than a couple of weeks. "In the old days, we would ski ourselves into shape throughout December to be ready for the January and February races," Jeff Palmquist said. "Now, with tenuous snow, serious racers must be fit with little or no snow time."
"To survive as serious skiers in Illinois, I think we rely heavily on camaraderie of our particular groups to get us through those depressing 20-degree rolls (fluctuations) in January, those windy hill repeats at Wilmot Mountain or the tedious circles around Katherine Legge Park, a groomed three-kilometer course in Hinsdale," explained Palmquist. "I would encourage any would-be skier to hook up with one of the numerous informal groups that are out there."
The Palmquists tend to push to the limit as they prepare for skiing. There's no other way as far as they are concerned. And unlike years past when they would regularly drive to the snow, they stay closer to home now, driving less and training more consistently.
"The foundation for me is me is my running," Palmquist said. "This is the best, most efficient form or cardio training." From March to autumn, Palmquist also enters marathon canoe racing, supported by a strong training regimen. "This provides long two- to three-hour training sessions, ball-buster racing and works on the upper body and core," he continued. "My canoeing and running program transitions to running and roller skiing in the fall, and I try to get in one long run per week."
For training without snow, Palmquist advocates roller skiing. "I was never all that fond of roller-skiing," he confessed, "until I purchased a pair of V2 150 Aero off-road skis last year." He recommends these for miles of hard-packed limestone forest preserve trails in the area. "Without too much imagination," he commented, "when traversing the forest preserve trails in late autumn, it's almost as good as being on snow."
Palmquist advocates a training regimen that doesn't necessarily rely on significant hours, but on quality. "Chris had one of her best Birkies with only 20 hours on snow last year—as did I," he remarked. "Her program consisted of a good running base, quality Wilmot workouts, some good early winter rolls, including one of three hours, and two strategically timed medium-to-long skis at Greenbush near Plymouth, WI."
When snow can't be found for miles, another way to hone competitive edges is actual roller ski racing. On most fall weekends in Rockford, Illinois, groups of four to eight skiers go at each other unofficially. Come February, the toughness and skill developed on pavement pays dividends at the Birkie.
"They are informal races," said Tom Detzner of the Rockford group. "We warm up, clear our chronographs and someone says go. There are no awards or fees, but we are definitely racing each other. Anyone is welcome and we do keep unofficial course records. These workouts continue until there is skiable snow."
And, yes, it does snow. Eventually. Trails are groomed in Illinois, and three or four races take place most years. For places to go, check out Illinois' cross country skiing areas: Camp Sagawau in Lemont, Arrowhead Golf Club and Herrick Lake
in Wheaton, Katherine Legge Park in Hinsdale, Waterfall Glen in Darien, Woodruff Golf Course in Joliet and Rock Cut State Park in Rockford.
After months of dryland skiing, marginal snow skiing, long-distance travel for quality skiing and a lot of running, cycling, weight lifting and just about every other form of exercise known to man and woman, the serious Illinois skier packs up his car and heads north for the Birkebeiner. As well-known Chicago-area elite skier Jim DiDomenico described it, "It's Nordic judgment day."
And for Illinois skiers, there is no
dispensation.